Recommended Reading:
Digital Alarms
Our digital personal alarms offer the most up to date technology and features, yet remain easy to set-up and use. They are 'future-proof' against BT's upcoming Digital Switchover and provide you with more features, greater reliability and better-quality alarms to be used to keep you or your loved ones living safely and independently.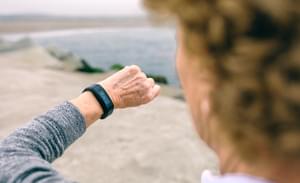 Gadgets for Seniors who want to Remain Independent
Article by

Daniel Westhead

Quick Links
Navigate to the section you want to read quickly by clicking on the quick links below:
Independence can provide seniors with a sense of purpose and accomplishment, whether it's from contributing to the lives of family, friends, and neighbours, enjoying the activities they've always enjoyed, or facing and dealing with the unique challenges of ageing directly.
For those who have spent their entire lives living independently, working, raising a family, and making their own decisions, it can feel isolating to lose your independence due to ageing, and this can often lead to feelings of loneliness, depression, mental health issues and a lower quality of life.
While ageing can sometimes make independent living more challenging, there are lots of helpful gadgets and devices that can help seniors to live independently, safer and for longer.
Smartphones for seniors
The ability to use a smartphone is probably one of the most-needed digital skills for elderly people. There are specialist phones designed for the elderly, however, many standard phones can be customised with accessibility features, such as text size. Read our guide to mobile phones for the elderly for more tips on the best smartphones for seniors.
Virtual home assistants for seniors
Virtual home assistants can be a great addition to your home – in fact, around 29% of adults aged 50 and over have purchased digital assistants, according to AARP.
Digital assistants for seniors, such as Amazon Alexa or SureSafe Guardian Plus, are designed to blend nicely and discreetly into your home.
With Alexa, you'll need a smart speaker such as the Amazon Echo to get started, and you'll need to activate the voice settings. The Alexa is great for anyone, acting not only as a virtual assistant but also as a smart home controller (for if you have smart bulbs and plugs in your home), an entertainment source, music/radio speaker and much more. They are particularly useful for those who have mobility/memory issues or medical requirements; you can receive reminders to take your medication at a certain time, add something to your shopping list, turn off the lights or even ask for a recipe suggestion via a simple command.
However, there are privacy concerns around smart speakers and how they collect information as, if you have the speaker on, it will record everything you say. Some people can also find them too complicated and difficult to set up. In addition, smart speakers can be hacked so it is wise to be selective about what information you are sharing with the assistant.
As an alternative, the Guardian Plus is a fantastic option for seniors as it not only offers medication reminders like Alexa, but it also has a lot of useful features that can help to make older people feel safer and happier living independently in their homes, such as periodic 'Are You OK' welfare checks, home temperature alerts, the ability to contact up to 5 chosen contacts in an emergency, and much more. If you are looking to keep an eye on your loved one's safety, the Guardian also allows you to check up on their activity throughout the day to make sure they're ok.
The Guardian is also very easy to use and simple to set up for older people, and it erases the security concerns mentioned before that people may have with smart speakers.
Smartwatches for seniors
In 2019 around 22% of people aged 56 plus own a smartwatch or health tracking device, according to Statista. This figure is likely to have increased over the last few years due to the pandemic and people wanting to keep a closer eye on their health.
Lots of smartwatches offer handy health tracking features that make them great gadgets for seniors. They are comfortable and worn like a traditional watch, usually with different strap style options for your preference. Here are some popular options for older people:
Apple Watch
The health and emergency features offered in the Apple Watch are great for older people. The below considerations apply to the Apple Watch Series 4 / watchOS 5.1.2 and newer models:
Pros: ECG heart rate monitoring (with a built-in app, all you need to do is hold your finger on the digital crown for 30 seconds to obtain a reading), you can also tap to add readings if you're feeling ill which are tracked in the Health App, Irregular Rhythm Notifications – notifies the wearer if five irregular rhythms are detected over a minimum of 65 minutes, built-in heart rate app, Emergency SOS and fall detection, easy to use, you can send and receive phone calls/text messages from the watch itself, accessibility features such as zoom, option to download external apps.
Cons: Works best with an Apple iPhone. The most expensive option on our list. Not the easiest to use for someone who isn't keen on technology. Fall detection doesn't call for help if a fall is detected. Regular charging required.
Fitbit
Our research suggests that the best Fitbit for seniors is the Fitbit Charge 5. It includes lots of helpful features for those looking to keep a closer eye on their health. Here are some of the pros and cons of the Fitbit:
Pros: ECG monitoring which helps you keep an eye on your heart health, an EDA sensor which can indicate your body's response to stress, built-in GPS to pinpoint your location and map walking routes, as well as blood oxygen monitoring which can help indicate important changes to your overall wellness. Also offers sleep tracking and up to seven days of battery life. Apple & Android compatible.
Cons: To access a lot of the features, you will need a Fitbit Premium membership, which is around £7.99 a month. No physical buttons and the screen is said to feel very small, which may be more difficult for older people to read. No emergency SOS. No fall detection. No external apps. Not a lot of customisation or accessibility options.
This attractive personal alarm watch is the newest and most-advanced product in our range, delivering a catalogue of features within a modern smartwatch design. It offers a fantastic range of incredibly useful features for seniors to help keep them safe and independent. Unlike most smartwatches, this includes a pre-installed SureSafe Mobile SIM card with advanced 4G and GPS technology.
Pros: Call family and friends at the touch of a button. Built-in fall detection, which calls for help when it does detect a fall. Emergency SOS. Heart rate monitor. Customisation options. Easy-to-read and use screen. GPS tracking (also alerts your family and friends where you are if you need help). No Movement Alarm (texts nominated family and friends with an alert). 'Find Me' Function (loved ones can send a text and we will reply with the wearer's location). Geo-Fencing option (set a safe zone and your loved ones will receive a notification when you leave this area). Stylish, discreet and lightweight. Easy to set up and use straight out of the box. Two days of battery life.
Cons: No ECG, however, it does measure heart rate. No external apps (everything is already downloaded and ready to go).
Our essential guide on digital skills for seniors has lots of further information on using a smartphone, as well as gadgets for the elderly living alone and more.
Household gadgets for seniors
Not all gadgets for seniors wanting to live independently are high-tech, some are designed to simply help out with everyday tasks. Here are some unique household gadgets you may not be aware of:
Jar lid remover
We all struggle with opening jars at times, and these simply make opening jars much easier, helping to prevent potential injuries.
Button hook
Another handy gadget for the elderly, these can help those with arthritis, who have reduced grip or reduced eyesight. They allow you to hook a buttonhole over a button in one simple move.
E-Reader
These are great for those struggling with eye strain or who can't hold heavy books. Devices such as the Kindle allow you to adjust the text size, are very light to hold and are much kinder to your eyes while reading.
Long-handled objects
You can purchase long-handled hairbrushes, shoe horns and more which help make daily tasks easier to perform by yourself.
Key turners
These are very cheap but can be of great use for those who struggle with reduced grip or shaking hands. They usually come in the form of a rubber fob that fits over the head of your key to make easier to hold and handle when opening the door.
Personal alarms
Personal safety alert devices for the elderly are designed to help keep people living independently in their own homes, safer and for longer. Our personal alarms are available in a range of different styles with helpful features to suit your needs. They offer the reassurance that someone will be there if needed, while allowing senior citizens to live independently and without worry.
Call SureSafe's team on 0800 112 3201 to learn more about our gadgets for seniors and how they might benefit you or a loved one.