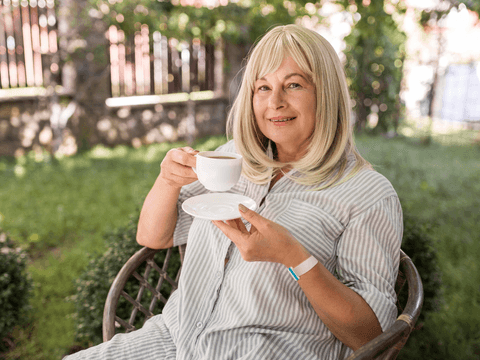 Wrist Alarms for the Elderly
A wrist alarm gives you and your loved ones the peace of mind that, should you get into difficulties, help is always available at the touch of a button. Designed to be easy to use and comfortable to wear, a wrist alarm gives you independence while ensuring you stay safe.
Order Now
Wrist worn personal alarm
SureSafe's personal alarms have been designed to provide older people, lone workers, or anyone who may be vulnerable, complete peace of mind that, should they get injured or suddenly become unwell that help can be quickly summoned.
Lightweight, easy to wear and unobtrusive, a wrist-worn alarm allows you to go about daily life as usual, while knowing that, should an accident happen, help is available at the touch of a button. Less obvious than wearing a pendant, a wrist alarm can remove the stigma some people worry comes with having a personal alarm. SureSafe's broad range of wrist alarms for the elderly even look like Fit-Bits and 'smart watches'.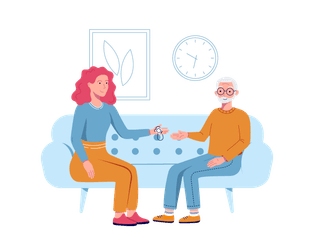 Get a discreet and comfortable to wear wrist alarm to keep you living safely and independently!
How do wrist personal alarms work?
A wrist worn personal alarm gives you access to help whenever you need it. But how does it work?
Depending on the model that you choose, once you press the SOS button on your wrist alarm, it will connect either through your home landline, mobile phone signal or digitally to call for help.
This means that, should you become unwell or fall, there's no need to worry about trying to find your mobile phone or get to the landline – with a wrist worn alarm you can call for help directly. It is physically on you all the time, even in the shower!
You can opt to nominate family or friends who will be alerted when you press the button, or your call can go through to SureSafe's 24/7 monitoring centre who can get you the help you need.
Additionally, not everyone can use a mobile phone. An elderly person may have difficulties due to shaking hands, sight problems or forgetfulness – they may also struggle to find it or use it during a sudden illness or fall. A personal alarm wristband can provide you or your loved one with the independence and confidence to live their lives how they like, whether they're in the garden, out to see friends or enjoying a spot of shopping.
With a speaker in the wrist personal alarm, you can have a two-way conversation with a SureSafe Operator or one of your chosen nominated contacts. You can wear the wrist alarm at all times, even when in bed or in the shower – you don't need to depend on your telephone. Your emergency button is with you all the time you are wearing your wrist alarm for the elderly.
Choose from our broad range of wrist alarms for the elderly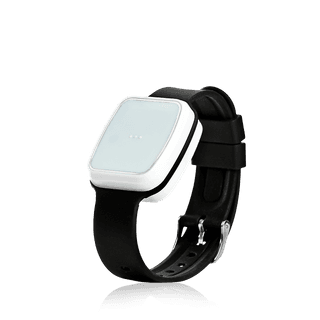 FallSafe
Wrist worn fall detector alarm that can detect a fall and get you or a loved one the help they need.
Helping People Stay in their Homes Longer

Showerproof

Uses Landline
View Details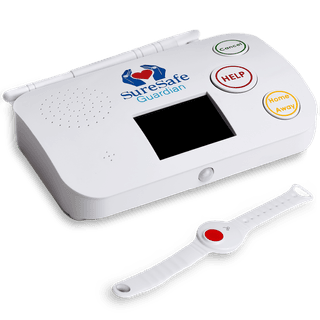 SureSafe Guardian Plus
Fully Digital Device Friends & Family Personal Alarm
One-touch Personal Alarm

Fully Digital

Friends & Family App
View Details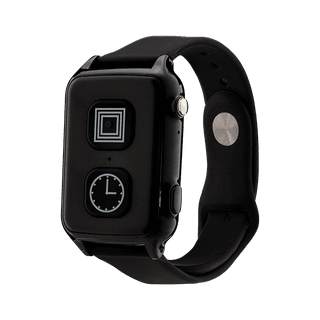 SureSafeGO Plus Family Monitored
Mobile GPS smartwatch tracker alarm. Be safe anywhere, 24/7 monitored with fall detection, talking smartwatch and family app.
Fully Mobile

Automatic Fall Detection

GPS Tracking
View Details
Why you should choose a mobile SureSafe wrist alarm with two-way communication
What happens if you or your loved one has a fall in the bedroom, bathroom, or kitchen?
Most standard alarms, especially lower-quality models, are based on dated technology which will only have a base unit that plugs into your landline. The base has an integrated speaker which you speak to when you need help – you can't talk through the pendant. Additionally, with traditional alarms, if the speaker inside the base unit doesn't have a good enough range, your voice won't even be picked up.
If the 'standard type' alarm is plugged into the telephone socket in the hallway downstairs, the chances are you won't be able to speak to the respondent once pressing the SOS button, so they won't know what you need. What's worse, if you're in the garden when you fall or feel unwell then there's no chance of two-way communication.
Therefore, a SureSafe mobile wrist alarm can mean the difference in you getting the help you need, when you need it. SureSafe talking wrist alarms for the elderly are fitted with advanced technology, so you can be sure that when you press the SOS button you will hear the person you have contacted loud and clear, and more importantly, they will hear you. Get the help you need, fast, and the peace of mind hearing a friendly voice on the other end of the line telling you help is on the way.
Why choose a personal alarm for the wrist
A wrist worn personal alarm is one of the easiest types of personal alarm to wear. All of our personal alarm bracelets are waterproof, so like a watch very rarely need to be taken off.
Should the worst happen, time is of the essence. Should you suffer a trip or fall, or get into a medical emergency, quick access to medical attention can make all the difference to your recovery. Having a personal alarm bracelet can get you the help you need fast.
In the case of stroke or heart attack, calling the emergency services at the earliest possible time can mean the difference between life and death.
If you wear a wrist alarm and press the panic button, you will get assistance right away, and someone can immediately call for help. For devices with fall detection, you don't even need to press the button, help with be summoned even if you fall and become unconscious. SureSafe offers a range of personal alarm bracelets, complete with fall detection. Keep reading for more details.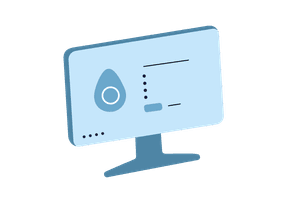 Wrist worn fall detection
Many of our wrist alarms come with automatic fall detection.
These wrist worn fall alarms are equipped with special sensors which can identify if you fall.
The change in air pressure, speed of movement of device and any impact when hitting the floor can be detected by the elderly alarm bracelet, and can trigger the alarm. If the fall detection sensor is triggered, the elderly alarm bracelet can then automatically call for help from either your family and friends, or our dedicated help centre.
When it comes to falls, minutes matter. Studies have shown that in 80% of fall cases, rapid action means both a better chance of survival, and also a faster recovery time for the person who has fallen. Don't take a chance, have peace of mind, choose a SureSafe elderly alarm bracelet with fall detection.
What do most people buy?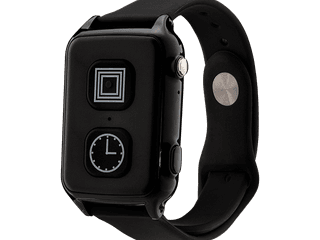 SureSafeGO Plus Family Monitored
Mobile GPS smartwatch tracker alarm. Be safe anywhere, 24/7 monitored with fall detection, talking smartwatch and family app.
Fully Mobile

Automatic Fall Detection

GPS Tracking
Buy Product
Wrist alarms wherever you are
At SureSafe we offer a variety of wrist personal alarms which are suitable for different circumstances. The FallSafe is a wrist alarm which is ideal for home use. It uses your landline to contact either our monitoring centre or your nominated contacts and has a range of 100m so is perfect for using when at home or in the garden. It also comes with automatic fall detection. It's also showerproof, so can be worn while in the bathroom, one of the most likely places in the home for a fall to take place.
The FallSafe also has 24/7 Monitoring, which means your elderly alarm wristband can always be connected to a SureSafe operator at our UK-based response centres, 24 hours a day, 7 days a week.
For those who like to get out and about, the SureSafeGO Plus model offers a wealth of benefits. It's designed like a smartwatch so is stylish to wear and offers the features you would expect of any smart watch including a pedometer, GPS tracking and a heart rate monitor. It also offers automatic fall detection, so if you or your loved one suffers a fall, the device will detect it and automatically call for help without the button needing to be pressed.
The SureSafeGo Plus model allows you to nominate contacts to be altered should the wearer need help. The device will call up to 5 friends and family members and will cycle through these until a call is answered by a real human – it knows when it gets through to voicemail and will continue to call through your contacts.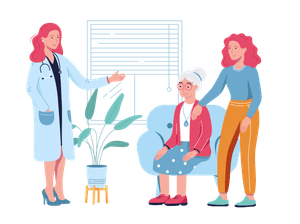 Benefits of a wrist worn alarm
Easy to wear so can be worn day or night
All our wrist worn alarms are shower proof, so idea for bathroom use
Depending on your model, the SureSafe operator or your nominated contact can phone the emergency services immediately
Should an accident happen, help can be summoned straight away.
Peace of mind for both you and your family
No landline needed. Mobile or internet based versions available
Our objective is to always provide our clients and their families with complete peace of mind and allow older people to remain independent for as long as possible. Wearing a wrist alarm means that you never need to worry that you are alone.
Choose a wrist alarm to suit your lifestyle
Compare our selection of wrist alarms for the elderly to find the best model for your needs and circumstances
Product Comparison
#
suresafego-plus
FallSafe
suresafe-guardian
24/7 Monitoring
No
Yes
Yes
#
suresafego-plus
FallSafe
suresafe-guardian
Wristband Range
Unlimited
100m
50m
#
suresafego-plus
FallSafe
suresafe-guardian
#
suresafego-plus
FallSafe
suresafe-guardian
Automatic Fall Detection
Yes
Yes
No
#
suresafego-plus
FallSafe
suresafe-guardian
Waterproof?
Showerproof
Showerproof
Showerproof
#
suresafego-plus
FallSafe
suresafe-guardian
One-touch Personal Alarm
Yes
Yes
Yes
#
suresafego-plus
FallSafe
suresafe-guardian
Wearing Options
Wristband
Wristband & Pendant
Wristband or Pendant
suresafego-plus
FallSafe
suresafe-guardian
Compare our best-selling wrist alarm plans
SureSafe's range of wrist alarms fare feature packed, easy to use, and trusted by tens of thousands of people across the UK. Compare the best-selling wrist alarm services and see how affordable they are. The best wrist alarms for the elderly available, but at an affordable price. Get round the clock 24/7 monitoring with a bracelet alarm elderly for you, or your loved one, for as little as 48p per day.
Price Comparison
#
suresafego-plus
FallSafe
suresafe-guardian
Equipment Purchase
£189.95
n/a
from £99.95
#
suresafego-plus
FallSafe
suresafe-guardian
Monthly Package
n/a
£35 + £15.99 p/m
n/a
#
suresafego-plus
FallSafe
suresafe-guardian
Annual Package
n/a
£175
n/a
suresafego-plus
FallSafe
suresafe-guardian
Bracelet Alarm Elderly Reviews - What Our Customers Think
Wrist alarms can make a real difference to our customers and their families, but don't just take our word for it read our bracelet alarm elderly reviews to see for yourself...
This company deserves the highest of recognitions. I dealt with a lady called Angela, she was extremely helpful, made the whole process of getting a fall alarm for my mum so easy. No hassle and very straight forward. I cannot thank you enough for all your help. I have no hesitation in recommending this company. First class throughout.
Melanie
2 years ago
My grand daughter bought me an alarm for my birthday, I can talk through it and it tells the lovely people at suresafe if I have a fall and I can press a button. I can now walk my dog further and for longer. In a world gone mad with Covid, you can still be sure SureSafe will keep you safe,
Hilda
2 years ago
My father (91) recently had a fall at home (he lives by himself) and he used the SureSafe button that he was wearing to call for help. They quickly contacted my sister-in-law but the phone line was bad and the connection could not be made. So SureSafe then called the local emergency services in my father's area and two police officers came to get him back on his feet. I would definitely recommend this company and their service for elderly people who may need help if they get into any difficulty.
Will Irwin
3 years ago
Exceptional Customer Service and Excellent Product. This company have completely exceeded my expectation... I can not speak highly enough about them. They went over and above to ensure that was able to achieve my goal of receiving my Fall Safe urgently and have it set up in super fast time. I would recommend them in a heart beat. My father was really pleased with the alarm warn on the wrist which is totally waterproof which means he does not need to take it off. I could see him visibly calm just knowing that someone would be there should he have a fall....... and I actually slept for the first time in a week! Great product, so easy to set up (you just plug it in), simple instructions, had a message to test the system when we were ready, very polite service centre. 5 STARS!
Sandy
3 years ago
I was unsure about getting a pendant alarm, but am so thankful I did. It gives utter peace of mind to family and friends, but also to me. I never worry about going walks on my own, even in isolated spots, as I know I can get help very speedily, should I be unwell. Having the satellite tracking system, and also the falls alert, gives peace of mind. The centre rings me if I forget to charge the device and they never mind if you ring by accident. The service is excellent and when I recently needed an item, it came within 24 hours. Thank you!
Esther
3 years ago
I needed something for my elderly mother who had suffered from some falls. The equipment was delivered quickly and was easy to use. It gave me great peace of mind knowing help would come quickly. Support was available, and was very responsive. I would highly recommend this service. Les
Les
3 years ago
This is the 3rd alarm we've bought for our 90 year old mother from various companies and so far it is the most reliable. As she lives in a rural town, signal coverage has always been an intermittent problem but with her tracker now choosing the best from O2, EE and Vodafone, we can see exactly where she is all the time. A big improvement. SOS and fall alerts are working well too so well pleased. The company were quick to dispatch and help set up which was pretty easy. It could do with an app so you can view the routes the tracker has taken but the company say they are working on this. However by just sending a text to the tracker you can find out within seconds where she is, and when you phone it she can speak to us despite it being buried under her jumper when she's out for a walk.
Rob
3 years ago