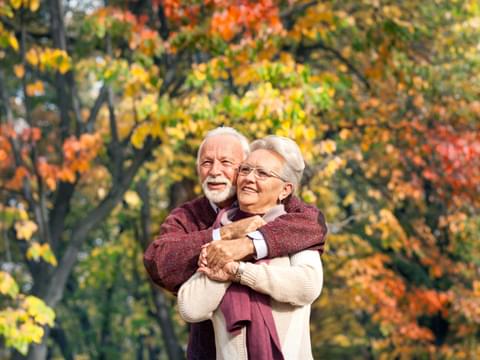 Personal Trackers & Elderly GPS Trackers
Personal trackers let us know where you are when you need help. This includes any time the SOS button is pressed, or a fall is detected. They send a map of your location - wherever you are - at home or 'out and about'. Older people find these very reassuring. GPS trackers for the elderly also make great dementia trackers.
Order Now
Fully Mobile Alarms with GPS Tracking
A fully mobile alarm with GPS tracking is a personal alarm that can be taken and used anywhere. Unlike traditional alarms, that only work in the home, our mobile 'Go Anywhere' alarms can be used anywhere. You can use them to stay safe and have peace of mind at home, in the garden or 'out and about'. This can include walking the dog, visiting friends, or going to the shops.

Our personal tracker alarms come packed with features to help you live independently. In addition to being 'Go Anywhere' alarms, all SureSafe mobile alarms come with fall detection, the ability to talk through the pendant, the ability to wear it in the shower, as well as it being a GPS tracker.
A personal tracker for the elderly is technology that's used to track and share the location of someone. We use this type of technology every day of our lives, be it in our mobile phones or in our cars. Thanks to this technology, SureSafe have designed a personal alarm that incorporates GPS tracking in the pendant. So we know where you are when you need help, and can send the help to the right place.
If you have a fall or feel unwell, there's no time wasted trying to find you. The system will send a map showing your location. It helps the emergency services and/or your contacts to get to you quickly when you need it.
What is a GPS Tracker for the Elderly?
SureSafe's GPS tracking system is installed inside the SureSafeGO Pendant and the SureSafeGO Plus Smartwatch. The tracking unit uses mobile phone networks to transmit the signals that tell your nominated contacts where you are.
With our 'family monitored' models, the 'Find Me' feature will send a map to your contacts mobile phone or tablet that gives your location within 5 or 10 metres. Your friends and family need to know where you are if you need help or medical assistance and you're not at home.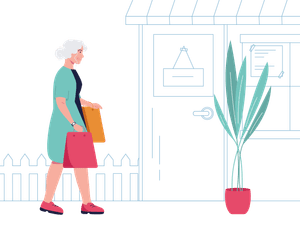 What GPS Tracking Does
Standard alarms without GPS tracking won't be able to locate you if you get lost or become confused. A standard alarm is only useful when you are at home. The SureSafeGO with GPS fall detection and tracking mean your contacts or our SureSafe operators can always find you to get you the help you need.
GPS Tracker Alarms to Help Stay Safe when `Out and About`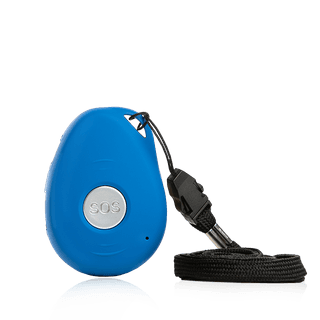 SureSafeGO
Mobile GPS tracker alarm. Be safe anywhere, either 24/7 Monitored or Family Monitored
Fully Mobile

Automatic Fall Detection

GPS Tracking
View Details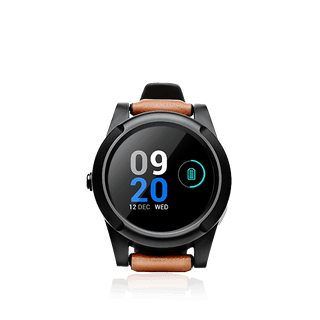 SureSafeGO Plus
Mobile GPS Tracker Alarm with smartwatch features. Be safe at home or out and about with Family Monitoring.
GPS Tracking

Staying Safe When Out and About

Step/ Activity Counter
View Details
Why You Should Have a Personal Tracker
If you want to keep your independence and live at home, a personal alarm with a GPS tracking system will give you peace of mind.
It's the device that allows you to get out into the garden, meet friends, and enjoy days out. You know that if you feel unwell or have an accident, help is at hand at the touch of a button.
Being able to pinpoint your location means you can get medical help quickly if you need it. Getting to hospital in a short time reduces the risk of further injury and can prevent dehydration or hypothermia. You are more likely to make a good recovery and return to daily life if your accident is dealt with promptly.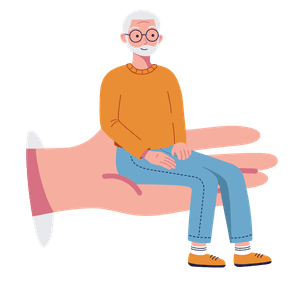 Get GPS with Fall Detection for Extra Protection
You can also have fall detection as part of your GPS tracker for the elderly. A GPS fall detection system detects falls without you needing to press the button. It will call through to the response centre, or family & friends, when a fall is detected. This can be vital if you or your loved one cannot move following a fall or sudden illness.
The Benefits of GPS Tracking
It lets you have your independence – leave your home with confidence
Get the help you need, wherever you are
Allows loved ones to find you if you can't be located
Enables medical assistance to get to you fast
Gives you confidence and peace of mind
Upgrade to GPS fall detection available
GPS Tracker for Dementia Sufferers
If you're living with dementia, a dementia tracker will ensure family and friends can reach you at all times. The dementia tracker watch or pendant lets you do the things you want to do outside your home. You can feel safe in the knowledge that you can call for help when you need it, and your family can locate you should they need to.
Peace of Mind with GPS Tracking
The discreet, lightweight pendant means you're never alone. At the touch of a button, you can ask for help at any time of the day or night. 365 days of the year. Stay at home longer and enjoy life with one less worry. And, if you're loved one's are worried about your memory loss, then the GPS tracker for dementia can put their minds at ease.
Contact us at SureSafe on 0800 112 3201 if you're interested in a dementia tracker for the elderly, or to learn more about our GPS tracker for dementia sufferers or buy online today.
What do most people buy?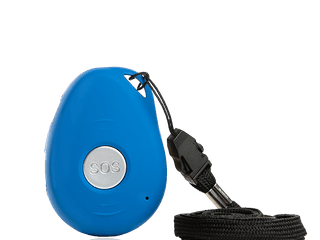 SureSafeGO
Mobile GPS tracker alarm. Be safe anywhere, either 24/7 Monitored or Family Monitored
Fully Mobile

Automatic Fall Detection

GPS Tracking
Buy Product
What our customers think of our elderly GPS trackers
Elderly GPS trackers can make a real difference to our customers and their families, but don't just take our word for it read our reviews to see for yourself...
Absolutely brilliant product and company and I cannot praise them highly enough. We bought the alarm when my father stumbled and fell into the bath one night and was unable to get out himself. As he still liked to go shopping we bought the alarm with the SIM card and the automatic fall detection. The staff at SureSafe were amazing about getting us set up with the right product, the whole process was so simple from start to finish. In all their dealings with us, SureSafe were incredibly friendly and highly professional. Dad was a bit reluctant to use the alarm at first as he once pressed it while asleep and the emergency services were soon there. They were fine about it and said they would rather be called out once too often than not enough. After that, he felt more at ease and really did wear it all the time. The automatic fall detection was brilliant. When he finally did fall and broke his arm, the ambulance crew was there in no time and called me to let me know what was happening. Before he finally entered a care home, this alarm gave me me so much peace of mind that my father was able to stay in his own home and that I could be sure he would not be lying injured without anyone finding him. Very reasonably priced too.
Christine
1 year ago
This company deserves the highest of recognitions. I dealt with a lady called Angela, she was extremely helpful, made the whole process of getting a fall alarm for my mum so easy. No hassle and very straight forward. I cannot thank you enough for all your help. I have no hesitation in recommending this company. First class throughout.
Melanie
1 year ago
My grand daughter bought me an alarm for my birthday, I can talk through it and it tells the lovely people at suresafe if I have a fall and I can press a button. I can now walk my dog further and for longer. In a world gone mad with Covid, you can still be sure SureSafe will keep you safe,
Hilda
1 year ago
My father (91) recently had a fall at home (he lives by himself) and he used the SureSafe button that he was wearing to call for help. They quickly contacted my sister-in-law but the phone line was bad and the connection could not be made. So SureSafe then called the local emergency services in my father's area and two police officers came to get him back on his feet. I would definitely recommend this company and their service for elderly people who may need help if they get into any difficulty.
Will Irwin
1 year ago
Exceptional Customer Service and Excellent Product. This company have completely exceeded my expectation... I can not speak highly enough about them. They went over and above to ensure that was able to achieve my goal of receiving my Fall Safe urgently and have it set up in super fast time. I would recommend them in a heart beat. My father was really pleased with the alarm warn on the wrist which is totally waterproof which means he does not need to take it off. I could see him visibly calm just knowing that someone would be there should he have a fall....... and I actually slept for the first time in a week! Great product, so easy to set up (you just plug it in), simple instructions, had a message to test the system when we were ready, very polite service centre. 5 STARS!
Sandy
1 year ago
I was unsure about getting a pendant alarm, but am so thankful I did. It gives utter peace of mind to family and friends, but also to me. I never worry about going walks on my own, even in isolated spots, as I know I can get help very speedily, should I be unwell. Having the satellite tracking system, and also the falls alert, gives peace of mind. The centre rings me if I forget to charge the device and they never mind if you ring by accident. The service is excellent and when I recently needed an item, it came within 24 hours. Thank you!
Esther
1 year ago
I needed something for my elderly mother who had suffered from some falls. The equipment was delivered quickly and was easy to use. It gave me great peace of mind knowing help would come quickly. Support was available, and was very responsive. I would highly recommend this service. Les
Les
2 years ago
This is the 3rd alarm we've bought for our 90 year old mother from various companies and so far it is the most reliable. As she lives in a rural town, signal coverage has always been an intermittent problem but with her tracker now choosing the best from O2, EE and Vodafone, we can see exactly where she is all the time. A big improvement. SOS and fall alerts are working well too so well pleased. The company were quick to dispatch and help set up which was pretty easy. It could do with an app so you can view the routes the tracker has taken but the company say they are working on this. However by just sending a text to the tracker you can find out within seconds where she is, and when you phone it she can speak to us despite it being buried under her jumper when she's out for a walk.
Rob
2 years ago
Choose a personal GPS tracker to suit your lifestyle.
Compare our broad range of personal GPS tracker alarms for the elderly and find the best one for your needs and circumstances. Not all personal GPS tracker alarms work the same way, or have the same features, so we have put together an easy way to compare the best-selling personal tracking devices in the UK. SureSafe has the right alarm for every need. Compare the best personal tracking devices in the UK below.
Product Comparison
#
SureSafeGO
SureSafeGO Plus
24/7 Monitoring
Optional
No
#
SureSafeGO
SureSafeGO Plus
Pendant Range
Unlimited
Unlimited
#
SureSafeGO
SureSafeGO Plus
#
SureSafeGO
SureSafeGO Plus
Automatic Fall Detection
Yes
Yes
#
SureSafeGO
SureSafeGO Plus
Waterproof?
Showerproof
Showerproof
#
SureSafeGO
SureSafeGO Plus
One-touch Personal Alarm
Yes
Yes
#
SureSafeGO
SureSafeGO Plus
Wearing Options
Pendant
Wristband
Compare our best-selling personal GPS tracker plans
SureSafe's range of personal tracking devices for the elderly are feature packed, easy to use, and trusted by tens of thousands of people across the UK. Compare the best-selling personal tracking devices and see how affordable they are. The best personal tracking devices for the elderly available, but at an affordable price. Get round the clock 24/7 monitoring with GPS tracking for you, or your loved one, for as little as 48p per day.
Frequently Asked Questions
Have a question? Take a look at some of the common questions that people have before buying a SureSafe alarm:
What is a GPS tracker?
If you have a personal alarm with a GPS tracker it means you can get out and about away from home with confidence. The GPS technology in the pendant alarm enables your family or a SureSafe Operator to locate you should you need help. If an alert is sent out and your contacts don't know where you are the GPS will send out a map that pinpoints your location between 5 and 10 metres of where you are.
The tracker works in the same way as a GPS on a car. It uses mobile networks to track your location when you are away from home.
With SureSafe's family monitored devices, the tracker can also be used in other ways. If you have an elderly relative who tends to wander or gets lost easily, you can create a Geo-Fence. The Fence works by having a certain area within the system which is safe for you to visit. If you leave this area your contacts will receive an alert and they can speak to you to make sure you haven't lost your way or become confused.
The FindMe feature allows your family members to obtain a map of your whereabouts if they are trying to locate you. The map is accurate at pinpointing your whereabouts and means either a family member or the emergency services can get to you without the delay of trying to find your whereabouts.
A GPS tracker means you can live independently but with peace of mind. You and your family know they can find you when you are away from home. You don't have to speak to people you don't know or try and understand complicated directions.
With the touch of a button, you can get help from people you know and trust.
What type of GPS personal alarms are available?
Our SureSafeGO and SureSafeGO Plus dementia tracker watch use a built-in GPS tracking system that works anywhere you have a mobile phone signal in the UK. The GPS personal alarm uses a SureSafe Mobile SIM which will always pick up the strongest network wherever you are at that time, enabling you to continue with your day-to-day life.
The GPS system also means your location is shared when you need help. You get the help you need, where you need it. This can give your nominated contacts added reassurance that you are safe.
The SureSafeGO also comes with an automatic fall alert, which will trigger even if your elderly relative is not able to press the SOS button. You can then use the GPS personal alarm to find their location and get help quickly.
Knowing that the GPS personal alarm will let you know where your relative is located will give them the confidence to get out of the house to go shopping, visit friends or take a gentle stroll. The GPS system means your relative can speak to you if they feel ill or have a fall. They don't have to rely on strangers for help.
Why should I get a personal alarm with a built-in GPS?
If you get easily confused, or you have early-stage dementia you might find you are becoming more forgetful. This could mean you set off from home to do some shopping, but you confuse the buses and end up somewhere you don't know well or recognise at all.
If you are wearing a personal alarm with a GPS, then with one touch of the SOS button you know you can get help and reassurance from either a nominated family member or a SureSafe operator.
Having someone who you can speak to through your personal alarm pendant will reduce your anxiety and help you to stay calm while you wait for help to arrive. That's the benefit of GPS. You don't need to try and explain where you are. Your family contact will get a map sent to their mobile phone that pinpoints your whereabouts within 5 to 10 metres.
All you need to do is to find somewhere to wait safely for your family member to come and get you.
You don't need a family friend to come to you, maybe all you need is them to tell you the number of the bus you need to get back home. Either way, the GPS tracking in your pendant means you can go out of the house with confidence and without anxiety.
Our pendant personal alarms are lightweight, simple to use and easy to set up. They allow you to continue doing what you love, with the assurance that help is only the push of a button away. Our personal alarms with built-in GPS help you or your loved one to live independently longer and enable them to stay safe when away from home.
What is a GPS tracker for dementia patients?
One of the symptoms of dementia can be that a person becomes forgetful. As a result, they can sometimes wander off without telling anyone. Other times they might already be out but the become disoriented and cannot remember where there are, or how to get to where they are going. A GPS tracker for dementia patients is a simple way to be able to locate them should they wander or get lost. A GPS tracker for dementia patients allows the person using the device to call for help at the touch of a button, to let their loved ones know where they are. They also allow family members to request the location of the tracker.
The SureSafeGO is a very popular GPS tracker for dementia patients. It is a lightweight pendant based dementia tracking device that is carried anywhere the person goes. It uses GPS technology to share its location when needed. They provide great peace of mind for loved ones who are concerned that their loved one might wander off, or might get lost. Another option is the SureSafeGO Plus dementia tracker watch. It has a lot of similar features, but is worn as a watch rather than a pendant.
Why do people use tracking devices for people?
Tracking devices for people can be useful for a number of reasons. For children, giving them a tracking device for people to wear, or place in a bag or pocket, can give parents peace of mind that they can find them if the happen to get lost. Equally tracking devices for people can be very helpful in helping disabled adults live more independently in the community. The ability for the individual to be able to call for help if they got lost, or disoriented, is very valuable. For the person's carer, they can have peace of mind that the person can have more freedom, without the need to worry about them getting lost. The can get the location of the tracker at any time by sending a simple text message, meaning they can find the person immediately should they ever need to.
For older people, trackers can be very useful for people who have certain medical conditions, or simply those people who are becoming a little forgetful but want to maintain their independence. People with dementia can be known to wander, or get lost, when 'out and about'. Have a tracking device for people with them could mean the difference between them being lost for hours, or finding them in minutes. The SureSafeGO is the most popular dementia tracking device for people. It has a 'find me' function that allows the person's loved ones to get a Google Maps link to the alarm's location by simply sending a single text message.
Why do people buy trackers for people with dementia?
Dementia and Alzheimer's can make people lose familiarity with people and places. People with dementia and Alzheimer's will often get lost or confused about where they are. This can result in them getting lost when they are out and about. It is known to happen at any stage of the disease, not just at the latter stages.
The Alzheimer's Association estimate that 60%, or 6 out of 10, people with the disease will wander at least once. They further state that many will wander a lot more than once.
Wandering is the main reason people buy trackers for people with dementia. If a person wanders off out of the house unannounced, it can take hours to try to find them. Having a dementia tracking device on them can mean that they can be located within minutes.
Another reason people by trackers for people with dementia is in case they got lost. They may go out of the house with full awareness. They know where they are, and where they plan to go. However while out on their journey, they may become disoriented or forgetful, and what was a normal trip out becomes a bad experience. Having a tracker for people with dementia means that their loved ones can find out where they are at any time. The SureSafeGO dementia tracking device allows loved ones to send a text message to request their location, meaning that they can be found in seconds.
My dad has dementia, but he won't wear a pendant. What are my options?
If a loved one has dementia, but refuses to wear a pendant, a dementia tracker watch for the elderly, or dementia tracker bracelet for the elderly could be the best alternative.
The SureSafeGO Plus is a dementia tracker watch for the elderly that can be worn on the wrist and might be less likely to be taken off by the user. It looks and feels like a smartwatch, but it is actually a dementia tracker bracelet for the elderly.
It is packed full of features. It has an SOS button in case the user needs help. In an emergency they simply press the SOS button and help can be on the way. If they have a fall, the automatic fall detection can detect it and call for help without the user needing to do anything. This can be vital if they fall and lose consciousness as a result. Additionally, the GPS feature makes it the perfect dementia tracker watch for the elderly. When the alarm calls for help it automatically includes a Google Maps link to its location. If a loved one is worried about where the alarm user is they can request its location with a single text message.
Additionally, it has a heart rate monitor, a step counter and it also tells the time with both analogue and digital watch face options. It is easy to see why the SureSafeGO Plus is the most popular dementia tracker bracelet for the elderly on the market.
Which GPS tracker is most reliable?
When purchasing a GPS tracker for the elderly, reliability is a very important consideration. You need to be able to feel confident that it will work when needed.
SureSafe's range of GPS trackers are tried and trusted. Our flagship product, the SureSafeGO, is the leading GPS tracker for the elderly in the UK. With tens of thousands sold since 2015, you can feel confident that you are in safe hands.
Going hand-in-hand with reliability comes accuracy. SureSafe's GPS location services will pinpoint the alarm user's location to within 5 metres. You will have no concerns about being able to locate them in an emergency.
Additionally, SureSafe's mobile SIM card offers even more reliability. Our SIM cards are cross-network SIMs, which means they can use all the three main UK mobile phone networks. You can have peace of mind that you have the best chance of getting the best signal available, when you need it most.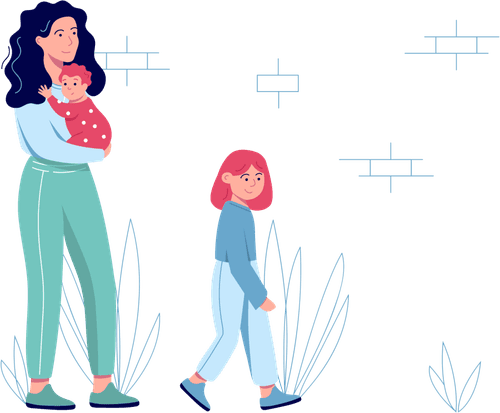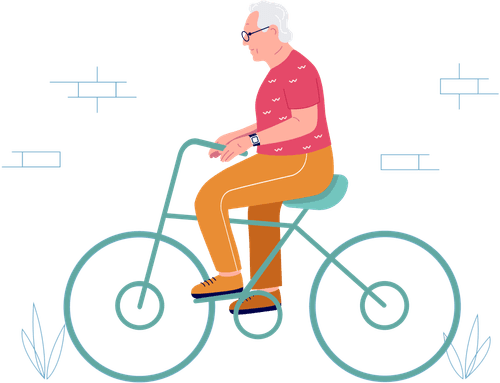 Peace of mind for you and your family
SureSafe is the leading provider of personal alarms within the UK.
More about how it works
We're always here to help
SureSafe is the leading provider of personal alarms within the UK.