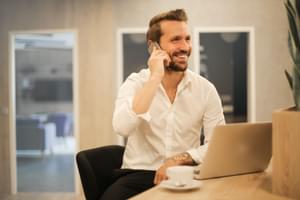 Who is Daniel Westhead
Daniel Westhead is the Managing Director at SureSafe Alarms. He started in the industry in 2012 and has worked all across the world, building one of the leading brands of personal alarms. His experience spans the UK, Australia, USA, and parts of Europe.
During his time running the UK business, he has gained a wealth of knowledge and experience of all aspects of the telecare and personal alarms industry. He has also become a subject matter expert on the broader topics that affect SureSafe's customers and their loved ones on a day-to-day basis. This includes topics such as health and wellbeing, technology for the elderly, sport and activities, hobbies and interests, dementia, falls, the digital switchover and many more.
Professionally, Daniel launched mobile GPS alarms to the mainstream market back in 2015 when SureSafe introduced the SureSafeGO 'Anywhere' Alarm. Although mobile alarms were already available in the UK, they were expensive and not broadly available. Under Daniel's leadership the SureSafeGO became affordable and accessible for all. It is now the best-selling mobile alarm in the UK and Australia - keeping tens of thousands of people safe, and living independently, each and every day.
Daniel leads SureSafe UK in the onboarding of new products and has recently co-developed two products that have introduced new technologies and features to UK customers for the first time.
Daniel started SureSafe, with business partner Joel, back in 2012. Daniel and Joel's grandparents were both reaching ages where they needed a little more help to live safely in their own homes, and their families were becoming increasingly worried about them when they were by themselves. When researching the market for assistive technology it became clear that what was on offer was either too expensive for the majority of everyday people, or of insufficient quality to give family members peace of mind that loved ones would be able to get help when needed. Daniel and Joel's vision was to supply the best quality technology to keep people living safely and independently, at a price that would be affordable for all. Eleven years later SureSafe has sold over 150,000 alarms worldwide, and stayed true to the goal of having the best quality products, using the newest technology, while still being easy to use and affordable for all.
Daniel has been writing content for the site for over 5 years and wants to be an information resource for customers and their families to help stay living safely and independently, and with peace of mind. Daniel sees technology as only one part of the puzzle when it comes to living a fuller and happier life as we get older. Providing information on how to eat healthier, enjoy your free time more, get medical help quicker when needed and other helpful things that people might need to know as they get older can help not just improve their safety, but also improve their quality of life.
Outside of SureSafe, Daniel enjoys spending most of his spare time with his family. He is regularly attending his children's football and dance events, as well as being out for walks with his wife and their dog - Shelby. Daniel is a big football fan, is a keen runner and likes to listen to music and BBQ (weather permitting of course!).