Read some of our great reviews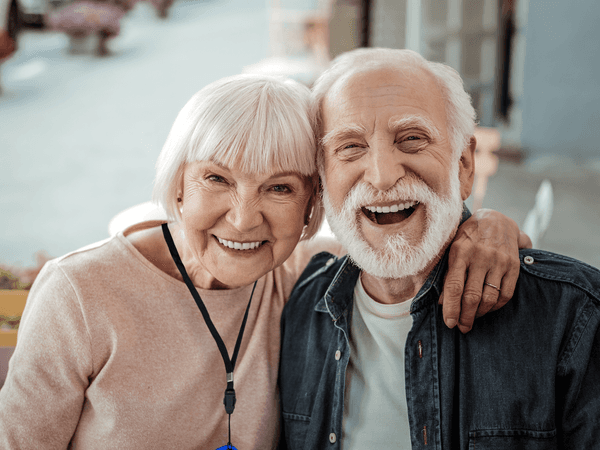 We've 1000's of happy customers
Read some of the great things that people have to say about our service and the difference a SureSafe personal alarm has made to their lives.
Great products and very helpful staff when making contact. We purchased a watch after my husbands health deteriorated. He wears the watch daily and has the option to long press the button to call my phone, it also has fall detection so if he falls at all it calls me automatically. It then follows up either with a text with his location so I could find him if needed for any reason. Great peace of mind and has given him a lot of independence back.
Sarah Calver
2 weeks ago
Fantastic service from initial enquiry to set up. Very helpful and courteous staff. Excellent product. Would highly recommend for peace of mind.
Trish Valentine
3 weeks ago
Excellent service and support! I selected SureSafe based on previous reviews and from the technical details provided on their website. The pendant with cellular service provided the very best features ….panic alarm, fall down alarm, built in speaker and microphone, plus GPS. Being based in USA did not present any difficulties for getting this service set up for my 90 year old mother in Hampshirite, UK. Peace on mind what critical for me. The cost is very reasonable and my Mother had to use the service several times. A few times were false alarms but a few were for a real need. Alerting other family members, neighbors could not have been easier and help soon arrived. Independent living is no longer an option for my Mother and she is now in a Care Home where she can get 24 hr support. Cancelling the service was simple. Do I recommend this….absolutely! The pendant is still usable and it can be transferred to other family members as and when their need arises. Then it's just a case of activating the service.
Jonathan Guest
3 weeks ago
Excellent customer service - informative professional representative - Richard Sheil explained the product options and capabilities fully and it is ideal for my elderly parents requirements. Having purchased one for each of them, I now feel that they are fully protected & safe , which has made me feel comfortable that they now have the support they need should there be a requirement.
Derrick Heatley
3 weeks ago
Suresafe Alarms supplied an alarm system for my elderly father. It was simple to set up and worked very well. My father used the alarm on at least two occasions and I was alerted by Suresafe to go to his assistance. I would not hesitate to recommend this company.
Name Withheld
3 weeks ago
I searched on line for a monitored alarm for my wife who has Motorneuron Desease . I found Suresafe Alarms and other companies on google, but I found their website very easy to use and found exactly what we need AND the prices were all there as well. I sent an email request on saturday not expecting a response till monday but John phoned me within an hour. He was very professional, polite, and definately not pushy. He asked what I wanted to acheive and quided me to the right system. I set up the contract and bought the alarm within 15 minutes. Excellent service and I am confident of the company being as good as John in supporting the system. I am happy now knowing that if my wife falls anywhere she will be helped. Thank you John.
Rob Wood
3 weeks ago
Saturday morning about 11am I sent a request to SureSafe by email asking for clarification of purchase options. Saturday afternoon 3pm i received a phone call from John at SureSafe. He spent about 20 minutes with me explaining the various options functions costs etc. He also asked about the physical condition of the recipient to help with the decision. I ultimately chose one option and with his help there and then purchased the products to be sent out as next day delivery on the next working day Monday. Excellent service.
Al
3 weeks ago
Great service from John and great product. Purchased for my Mum who's hard of hearing but she does hear the pendant really well which I was surprised at. Within the first 48hrs of her having it she was contacted by a very nice representative to advise the battery was running low, she was very impressed. Thank you, we're relieved she has this device with her.
Liz Howells
3 weeks ago
Great product and great service. From the initial call with John and selecting the right product all the way through to now using the product and company. Great support from the customer care team and the peace of mind I now have is well worth the cost
Holly Farrell
3 weeks ago
Will definitely be recommending the product and service from SureSafe. Bought this SureSafe GO for my nan and its changed her life. She now has more freedom than she has had for a long time and the peace of mind is value for money. John from the 1st point of contact and Jo from the customer care team once we recieved the device are both professionals offering great advice and service.
Stephen Simpson
3 weeks ago