Recommended Reading:
Digital Alarms
Our digital personal alarms offer the most up to date technology and features, yet remain easy to set-up and use. They are 'future-proof' against BT's upcoming Digital Switchover and provide you with more features, greater reliability and better-quality alarms to be used to keep you or your loved ones living safely and independently.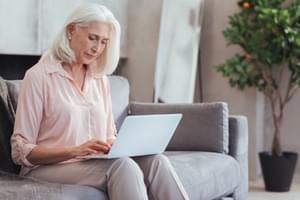 Seniors and Digital Skills: An Essential Guide
Article by

Daniel Westhead

Quick Links
Navigate to the section you want to read quickly by clicking on the quick links below:
There is no doubt that we live in a digital era. Services, shopping and even control of our homes can now be accessed via the touch of a button, and for many, our social lives are organised and even take place online.

However, for those who lack digital skills, it can be easy to feel left behind or become isolated as the convergence between the real and online worlds start to merge more than ever.
Digital skills can present a specific challenge for older people – with barriers to using digital services including not knowing how to use the technology available, physical impairments that can make using a laptop or smartphone harder or feeling worried about the security of accessing certain services such as banking or utilities online.
Older people and technology
It can be somewhat of a fallacy to think that older people don't adopt digital. In fact, according to 2019 figures from the Office of National Statistics, almost half of the UK's population of over 75's were recent internet users.
And with many older tech users getting online for the first time during the pandemic, these figures are likely to rapidly increase.
However, there are still a marked number of older people who are digitally disenfranchised. According to the 2018 UK Consumer Digital Index, which was undertaken by Lloyds Bank, 8% of the UK population could not perform any of the five straightforward digital tasks assigned. Of those, 76% were over the age of 65.
The digital tasks provided were:
1. create something new from existing online images, music or video or audio,
2. solve a problem you have with a device or digital service using online help,
3. verify sources of information you found online,
4. buy and install an app on a device
5. download/save a photo you found online.
Of course, while many of the above are not necessary to navigate the digital world, there are many ways in which being able to use technology can help older people to manage everyday life.
Essential skills for digital literacy for seniors
Much is written about digital literacy from the point of view of education and can cover a wealth of activities from simply staying safe online through to basic coding.
However, for older people, the skills needed may be a little less complex.
The benefits of being able to use and understand technology and the online environment change a lot when you are older. For example, if a user is retired, understanding complex CRM systems is not likely to be necessary.
More likely an older user will want to use the internet for things like online shopping, paying bills or banking, using social media, or accessing entertainment services such as Netflix or Amazon Prime.
Digital skills – using a smartphone
Probably one of the most needed skills for many older users is the ability to properly use a smartphone.
While many people live day to day without home internet, being able to get online using a phone has revolutionised communication.
While there are specialist phones designed just for the elderly, a large number of standard phones can be a great way for older people to stay in touch with friends and family, and gain access to the internet.
Read our guide to mobile phones for the elderly for more tips on the best phones for seniors.
iPhone basics for seniors
While often considered a phone which is cutting edge, the iPhone is actually equipped with some great features which can be helpful for older people.
There are lots of customisation options available to make the usability and viewing experience much easier, for example:
Display: there are several features that make the display much easier to read for those with poorer eyesight, including Display Zoom (increases size of icons such as apps), increasing the text size and enabling Speak Selection (allows the iPhone to read any text that you select out loud)
Volume & LED Alert flashes: for those who are hard of hearing, the iPhone easily allows you to increase the volume of calls and notifications, as well as enabling vibration options to reduce the chance of missing calls. For a visual cue of notifications, you can enable the LED Flash for Alerts feature which flashes the camera light for incoming alerts.
Magnifying Glass: this visual accessibility feature turns your iPhone into a magnifying glass. This makes reading anything from newspapers, instruction manuals or menus easier to read for anyone with low vision.
Siri: This is the iPhone's built-in, voice-controlled personal assistant which can help you navigate your phone. Siri lets you speak to set reminders and alarms, send messages, make calls and much more.
Android basics for seniors
Samsung and Google phones are both equipped with the Android operating system. Android phones and devices can also be simplified with several settings and features for ease of use:
Easy Mode: this is an excellent feature which makes the interface easy to use and read with larger on-screen items, a longer touch-and-hold delay to prevent accidental actions, and a high-contrast keyboard for better readability. For those Android devices that don't have Easy Mode, third-party options are available.
Display: similar to the iPhone, you can increase text size, screen zoom, and enable Select to Speak on Android devices for an easier user experience.
Turn off Gesture Navigation: while this is a great feature, it can be a little unintuitive to the elderly. To make the device a little easier to use, switch the settings back to 3-button navigation which uses the three buttons at the bottom of the screen.
Android launchers: these apps can make any Android smartphone senior-friendly by allowing you to add up to nine important apps on the home screen with large icons and text. A popular suggestion is Simple Launcher.
Gadgets for the elderly living alone
Tablets
Tablets are the perfect mid-point between a smartphone and a laptop. They are particularly helpful for older people who aren't too confident with modern technology for a number of reasons; they offer an ideal screen size for those who struggle with their eyesight, and some tablets even feature retina displays which make reading on the screen easier; their smaller size in comparison to laptops makes them an ideal companion for travel and moving around; they are also lightweight so they won't cause any pain or strain to your arms or legs.
Amazon Alexa
Everyone's heard of the Amazon Alexa - they're popping up in homes everywhere and it's not hard to see why. It's an all-rounder device, acting as a virtual assistant, smart home controller, entertainment source, music/radio speaker and much more. It's a great device for anyone, but it can be particularly helpful for those who have mobility and memory issues or medical requirements: you can get reminders for you to take your medication at a certain time, order a box of cat food from Amazon, turn off the lights and even ask for recipe suggestions via a simple command.
Pedometers and smartwatches
An active and healthy lifestyle is something that can help prevent and even cure certain health issues. A pedometer is a great tool for those in need of a little fitness motivation or if you're looking for accountability to your health and fitness goals. They are comfortable and can be worn all day, every day to track your daily movement and steps. Many fitness trackers and smartwatches can further monitor other key health indicators such as heart rate, sleep and calories burned.
Our SureSafeGo Plus is simple to set up and use, making it an ideal choice for seniors. It monitors your health and offers all of the above features, while also being equipped with GPS Tracking, a No Movement Alarm which texts nominated family and friends with an alert if the alarm doesn't detect movement for a while, alongside many other useful features for elderly people.
Personal alarms
Personal safety alert devices are designed to help keep people living independently in their own homes, safer and for longer. Our personal alarms are available in a range of different styles with helpful features to suit your needs, including fall detection, GPS tracking and easy usability, all the while being discreet, lightweight and stylish. They offer the reassurance that someone will be there if needed, while allowing senior citizens to live independently and without worry.
Call SureSafe's team of experts on 0800 112 3201 to learn more about our personal alarms and how they might benefit you or a loved one.