Recommended Reading
Fall Alarms for the Elderly
An elderly personal alarm with automatic fall detection can detect a fall and call for help without you needing to push the button. This is vital is you are unconscious or immobile following a sudden illness or a fall. The call will automatically go through to either your nominated contacts or a SureSafe operator, depending on which service you have chosen. You will be able to get the help you need fast, even if you are unable to press the button.
Recommended Product

SureSafeGO 24/7 Connect
Mobile GPS tracker alarm. Be safe anywhere, 24/7 monitored with fall detection, talking pendant and family app.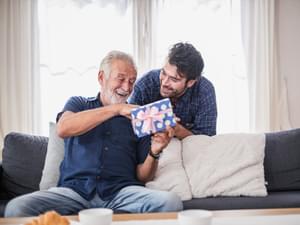 Gifts for Elderly Men Who Have Everything
Article by

Daniel Westhead

Quick Links
Navigate to the section you want to read quickly by clicking on the quick links below:
If you're searching for standout gifts for elderly men, you're in the right place. From practical presents, like walking aids and digital alarms, to luxury hampers and experience vouchers, we've rounded up some of the best options for the special seniors in your life. Interested? Keep reading to find out more.
Best birthday gifts for elderly men
Senior-friendly phone
It's tricky to know what to buy an elderly man – the best gifts are thoughtful and personalised but useful in everyday life. Luckily, senior-friendly phones tick all the boxes. As well as being highly stylish and sought-after by tech-savvy consumers, they make it easier than ever to contact loved ones.
So, what features can you expect? Large buttons with high-contrast numbers, extra-loud volume controls and superior blocking functionality to restrict spam callers. Our favourite model is the BT4000 because it's hearing aid compatible.
Brain-boosting games
Perhaps, you want to help your dad or grandad stay mentally sharp? In which case, you can't beat brain-boosting games like Scrabble and chess. Not only are they bucket loads of fun, but activities that focus on memory, problem-solving and reasoning could potentially slow down the onset of Alzheimer's and dementia.
On top of this, board games are a fabulous excuse to spend more time with the whole family. The best present is your presence, so why not set aside some time to play together?
Pendant alarm
Thinking about the future isn't macabre. Instead, it's the only way to guarantee independent living for as long as possible, especially if your loved one has a progressive illness. Giving them extra peace of mind with a personal safety alarm shows you care, and there's an option to suit every situation and budget.
Pendants with fall detection are handy for people with arthritis and epilepsy. The device automatically contacts a SureSafe operator, family member or friend in an emergency. Alternatively, mobile alarms with GPS tracking let you keep a closer eye on the wearer at all times, without being invasive.
Best Christmas gifts for elderly men
Luxury hamper
Gifts for elderly men who have everything don't get much better than luxury hampers. It's almost impossible to go wrong because you can customise the contents to reflect the recipient's interests. Plus, hampers feel wonderfully festive. We suggest stuffing them with delicious treats, cosy knitwear and a bottle of the strong stuff – good wine and whisky always go down a treat!
Gardening items
There's no better time than Christmas to start thinking about your garden. After all, spring is only around the corner.
Gardening is a fantastic activity for older men and something couples can do to bond. Moreover, it boasts a treasure chest of psychological and physical benefits. Time and time again, research shows nature promotes feelings of wellbeing. Plus, weeding, watering and working outside count towards gentle exercise. Keeping as mobile as possible with age is the only way to prevent falls and joint deterioration.
Of course, it's a little too early to be investing in plants and seeds. However, you could treat the special man in your life to some brand-new tools or decorative items. Ornamental bird baths, personalised shed signs and high-tech lawnmowers are at the top of our list.
Festive jumper
We know it's a bit cliché, but who can resist a glorious festive jumper? It's fun, toasty and reasonably priced, so you don't have to worry about breaking the bank. Best of all, it'll appeal to your loved one's silly side, particularly if they love bad dad jokes and cheesy cheer!
Best Valentine's Day gifts for elderly men
Gym membership
If you want to spoil your partner for Valentine's Day, how about a gym membership that helps them feel their best? Confidence is the key to a healthy, happy relationship at any age – not to mention longevity.
Many gyms and health centres have experts on hand who specialise in exercises for older people. These include walking on a treadmill, swimming and light strength training to preserve muscle mass. Yoga is another brilliant option that combines physical fitness with mindfulness practices.
Experience voucher
What could be more special than making memories that last a lifetime? Experience vouchers are becoming increasingly popular as people prioritise hobbies and spending time together over shop-bought tat. There are countless options to choose from, including dinner and theatre packages, spa days and art classes.
Ultimately, it's never too late to learn a brand-new skill. Vouchers are a brilliant way to encourage your loved one to step outside their comfort zone and meet like-minded individuals. Not sure where to start? Check out Virgin Experience Days or Red Letter Days.
Best Father's Day gifts for elderly men
Ancestry kit
Wondering what to buy an elderly man for Father's Day? An ancestry kit is a perfect way to honour his roots and flesh out the family tree. As people age, they tend to become more reflective. Websites like ancestry.co.uk help them trace their unique histories with a mammoth database of 40 billion records.
Going one step further, your nearest and dearest might prefer DNA testing. It's slightly more expensive but combines family tree builders with wellness and health disposition reports. Science buffs will love geeking out over the in-depth data!
Memory album
Last but not least, memory albums are treasured keepsakes for dads and granddads. Include plenty of pictures of the grandkids and wider family to remind your loved one of all the amazing times they've had together. You could also include special occasions, beloved pets and old houses.
While sweet, photos serve a bigger purpose. They can be a valuable way to help someone with dementia, comforting them when they feel lost, confused and scared.
The ultimate gift is extra peace of mind
Above all else, the best gift is making sure your loved one feels safe and secure in their own home. That's why we've designed a range of easy-to-use and discreet safety pendants with fall detection, 24/7 monitoring and GPS tracking.
Want to find out more? Contact us today on 0808 109 4093, request a call back or use our live chat.