Recommended Reading
Fall Alarms for the Elderly
An elderly personal alarm with automatic fall detection can detect a fall and call for help without you needing to push the button. This is vital is you are unconscious or immobile following a sudden illness or a fall. The call will automatically go through to either your nominated contacts or a SureSafe operator, depending on which service you have chosen. You will be able to get the help you need fast, even if you are unable to press the button.
Recommended Product

SureSafeGO 24/7 Connect
Mobile GPS tracker alarm. Be safe anywhere, 24/7 monitored with fall detection, talking pendant and family app.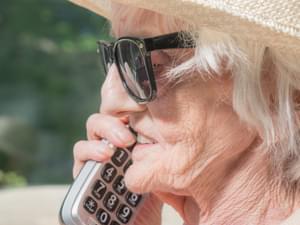 6 Best Landline Phones for the Elderly
Article by

Daniel Westhead

Quick Links
Navigate to the section you want to read quickly by clicking on the quick links below:
Having access to a reliable and senior-friendly landline is crucial for independent living. But with so many models on the market, how do you know which is best?
Luckily, we're here to help you cut through the confusion. Keep reading as we share everything you need to know about phones for the elderly, including a list of our top recommendations.
What makes a good phone for the elderly?
So, what makes a good phone for the elderly? Here are three key considerations:
Does the phone have big buttons?
Can you turn the volume up?
Do you prefer cordless or wired?
Big buttons are especially important for older adults with arthritis and swollen joints. There's no need to get frustrated with a fiddly pad that demands fine motor skills because the numbers are easy to locate and press. On top of this, the larger the buttons, the better for people who are visually impaired. Our best advice? Choose something with bold, white numbers on a solid black background.
The simplest phones for the elderly also have unbeatable volume control. Of course, this is a must-have for those who are hard of hearing. Simply turn the sound up to drown out background noise and adjust the ringtone to suit your needs. Best of all, most senior-friendly phones also flash when someone's calling, so you don't have the rely on sound alone.
Lastly, are you a fan of cordless or wired landlines? Cordless phones for the elderly are especially handy in emergencies because they can be used anywhere in the house. For additional peace of mind, combine this with a personal safety alarm designed to be future-proof against the big digital switchover in 2025. While we love cordless phones for their convenience, some people might prefer the continuity of wired landlines.
6 best phones for the elderly
BT4000 Big Button
The BT4000 Big Button cordless landline is one of the most popular options for older adults. Not only is it easy to read with large high-contrast numbers, but there's a bright amber backlight to accentuate display text. Plus, it's hearing aid compatible with an amplify button that boosts the volume whenever you need it.
The "Avoid Nuisance or Unwanted Calls" feature also prevents spam, which can be distressing for anyone, let alone seniors. You can rest assured you won't be bothered by incessant, ill-intentioned messages.
BT Big Button 200
Despite advances in technology, there's plenty of demand for wired telephones for the elderly. Dementia patients rely on the continuity, while some simply prefer the ease of use. The BT Big Button 200 corded landline is a classic model with streamlined features and extra-large keys. Most importantly, you can still walk and talk. The loud hands-free speaker offers similar freedom to cordless versions.
If you're worried about not reaching the phone in an emergency, invest in a safety alarm with GPS tracking. Whether you're at home or out and about, our knowledgeable SureSafe operators are always on hand to help.
BT Premium Phone
The BT Premium Phone is slightly more complicated for tech-savvy seniors but still wildly accessible. Although the keypad is a little smaller, you won't find better blocking functionality – perfect if you're concerned about fraud calls and spammers.
There's a dedicated block button to filter unwanted messages and customisable settings to give you complete flexibility. Plus, the award-winning trueCall blocking technology is like having a home receptionist. It intercepts and denies unrecognised numbers for enhanced security.
Panasonic Digital Cordless Phone with Answering Machine
Panasonic's Digital Cordless Phone with Answering Machine boasts a user-friendly design with an illuminated keypad, enhanced volume control and call-blocking features. The 40-minute answering machine is another highlight, allowing friends and family to leave detailed messages while you're occupied.
The maximum receiver volume is around twice as loud as standard Panasonic devices, so you'll be pressed to find something better for people who are hard of hearing.
Doro PhoneEasy® 100w Duo
Doro specialises in creating big button, cordless phones for the elderly. The Doro PhoneEasy® 100w Duo is brilliant value for money, offering two cordless handsets to place in different areas of your home. You won't be disappointed with the large display, easy-to-read characters and powerful audio boost button that amplifies sound by up to 30dB.
Alternatively, choose a corded model like the Doro PhoneEasy® 312cs. The visual ring indicator flashes for incoming calls and the display shows who's calling if you don't immediately recognise the number. How clever is that?
Swissvoice Xtra 2355
Simple phones for the elderly don't get much better than the Swissvoice Xtra 2355. Alongside superior blocking functionality, you can put pictures on the base corresponding to the handset's A, B, C and D keys. This makes it easier to call your favourite people without typing in their numbers. The big button keypad also comes with talking digits to make typing a doddle.
There's nothing more annoying than hard-to-hear messages, which is where the 30-minute digital answering machine steps in. You can slow-play calls as many times as you like and increase the volume with the 40dB audio boost key. Thanks to these accessible features, you'll never miss a word again.
Do you need a landline phone?
You don't necessarily need a landline to live confidently and independently. Mobile phones for elderly people are arguably better because they're portable and readily accessible. Don't fancy a high-tech iPhone? Browse the Doro 8050, Alcatel 3080 and Nokia 110 instead.
We also have a range of safety pendants that work without a landline, including the SureSafeGO 24/7 Connect and SureSafeGO Family Monitored. Both have automatic fall detection and GPS tracking to improve your quality of life.
Expert support is only a phone call away
Combining a reliable landline or mobile phone with a personal safety alarm is the secret to independent living. Best of all, there's an option to suit everyone, from the most nervous technophobes to the savviest digital users.
Need further support? Don't hesitate to contact our professional, friendly team today on 0808 109 4093, request a call back or use our live chat.