Recommended Reading
Fall Alarms for the Elderly
An elderly personal alarm with automatic fall detection can detect a fall and call for help without you needing to push the button. This is vital is you are unconscious or immobile following a sudden illness or a fall. The call will automatically go through to either your nominated contacts or a SureSafe operator, depending on which service you have chosen. You will be able to get the help you need fast, even if you are unable to press the button.
Recommended Product

SureSafeGO 24/7 Connect
Mobile GPS tracker alarm. Be safe anywhere, 24/7 monitored with fall detection, talking pendant and family app.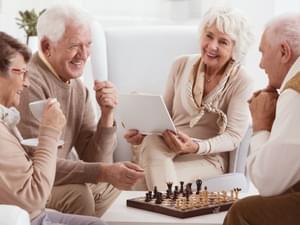 The Best Memory-Boosting Games for the Elderly
It doesn't matter whether we're eight or eighty – we never lose our childlike passion for games! Besides making rainy days much more exciting, a few rounds of Scrabble or Solitaire can actually boost cognitive function. Who'd have thought a humble pack of cards could be such a powerful brain-boosting activity?
If you or someone you love needs a little entertainment, keep reading as we share our favourite group and independent games for the elderly.
What kind of activities do the elderly enjoy?
Firstly, it's worth considering what kind of activities the older generation enjoy. The answer is pretty much the same as everyone else! Board games are great for gathering everyone together and creating memories that last a lifetime. Card games enhance memory and concentration – you must think two steps ahead to clinch the top spot.
What about outdoor games? Studies show sports and exercise decrease the risk of dementia and other age-related diseases, so we suggest staying as active as possible. Kicking a ball around might be a bit ambitious, but there are plenty of low-impact activities that are equally effective, such as bowls, chair yoga and walking.
Benefits of playing games for the elderly
When it comes to cognitive performance, experts agree – use it or lose it. While more research needs to be done, observational studies suggest brain-training games and stimulating activities could potentially prevent cognitive decline. You don't need to overhaul your lifestyle to reap the rewards. Most newspapers and magazines have a daily crossword, word search and sudoku puzzle to feed your mind.
On top of this, playing games together banishes boredom and feelings of isolation. Seeing as loneliness is linked to serious health conditions like dementia, heart disease and stroke, there's no excuse to bail on Bingo or chicken out of chess club! Plus, having fun with old and new friends is the best antidote to poor mental health. Struggling to find a group? Churches and community halls often host local meetups.
Best group games for the elderly
Group games are brilliant bonding opportunities for people of all ages. Perhaps you're searching for something to do with your nan and grandad? Maybe, you need a brand-new activity to share at your next games night? Whatever the reason, nothing beats gathering your loved ones for a heart-to-heart and some healthy competition.
Scrabble
Scrabble is a classic word game suitable for up to four players. The rules are straightforward – simply pick seven tiles, identify gaps on the board and connect letters crossword style. The person with the highest score wins, so remember to hit those triple and double squares!
Articulate
Articulate is a fast-paced and tongue-twisting board game where you work in teams to describe words from six categories: object, nature, random, person, action and world. Sound easy? There's a catch – players can gesticulate and act, but they can't say the word itself or any derivatives. Oh, and you only have 30 seconds on the clock. When people inevitably crack, you'll get some hilarious guesses. Of course, you can easily increase the time limit if you want to make things easier for elderly players.
Chess
Chess is a fantastic game for the elderly that challenges perseverance, planning, and problem-solving. You'll have to engage all your mental prowess to keep your opponent guessing your next move. Most importantly, it's one of the best memory-boosting activities. One study found that chess enthusiasts had better recall abilities than non-players.
Bingo
Who can resist a classic game of Bingo? It's a wonderful pastime that gives older people an excuse to dress up, head out and giggle the night away. Best of all, many care homes also run bingo nights – listen closely for legs eleven and two fat ladies!
Bowls
The NHS recommends adults aged 65 and over stay as active as possible. Alongside light daily activity, aim for at least 150 minutes of moderate-intensity exercise or 75 minutes of vigorous-intensity exercise per week. It might sound like a lot, but movement games are the best way to improve strength, balance and flexibility.
Bowls blends physical fitness and coordination. The ultimate goal is to roll asymmetrical balls (bowls) as close as possible to a smaller white ball (the jack).
What games can the elderly play on their own?
If you're stuck inside or unable to find a local group, don't worry – there are countless solo activities and games for the elderly to explore. You'll still receive all the amazing brain-boosting benefits while enjoying some well-deserved downtime.
Jigsaw puzzles
There's a reason why so many older people love jigsaw puzzles. Not only are they easy to set up and clear away, but they improve visual-spatial reasoning, short-term memory and emotional wellbeing. You don't have to complete everything in one go – keep coming back for a welcome distraction whenever you feel stressed or overwhelmed.
Crosswords
Crosswords are great for people of all abilities and test your general knowledge and vocabulary. Simple crosswords might be more suitable for those with dementia and mood disorders, whereas cryptic crosswords present more of a challenge. You can find daily puzzles in newspapers or magazines, pocketbooks and online.
Solitaire
Solitaire is a popular solo card game that's easy to learn and bundles of fun. The objective is to create four piles of cards in every suit, beginning with the ace and ending with the king. You can also play solitaire on a computer, tablet or mobile phone if you've accidentally misplaced your deck.
Colouring books
Colouring is a healthy way to relieve stress. Focusing on repetitive movements is akin to meditation. As you fill the page in rainbow swirls and twirls, you'll feel all your tension melt away. Plus, art is accessible to everyone – you just need a comfy chair, a cup of tea and your favourite crayons.
Enjoy lasting independence with a SureSafe Alarm
By improving cognitive function, games for the elderly are just one way to maintain independence over time. If you need more assistance, however, browse our range of best-selling SureSafe Alarms. Whatever model you choose, you'll benefit from handy features like GPS tracking, fall detection and 24/7 monitoring.
Got any questions? Don't hesitate to get in touch. Call us on 0800 112 3201, request a call back or use our live chat.