Recommended Reading:
Dementia Tracker
Dementia trackers help people with dementia remain living independent in their own homes. They also give families peace of mind that their loved ones are safe. They includes an optional SOS button. They also include fall detection. They have GPS tracking which means loved ones can locate the alarm user instantly in the family & friends app. They include geo-fencing, which can help people at risk of wandering stay safe.
Recommended Product:

NEW SureSafeGO Family Monitored
Mobile GPS tracker alarm. Be safe anywhere, Family monitored with fall detection, talking pendant and family app.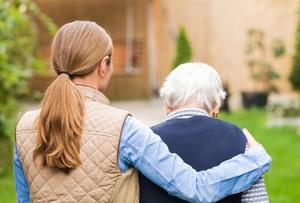 How to Help an Elderly Person With Dementia
Article by

Daniel Westhead

Quick Links
Navigate to the section you want to read quickly by clicking on the quick links below:


Most of those who care for elderly people with dementia have no formal training or experience. This is because, prior to the later and more advanced stages of dementia, it is often the responsibility of family members and friends to oversee their care.
The first and most important lesson to learn about dementia care is that it is far from a one-person job. Even with all the specialist skills and knowledge in the world, a much broader support network is needed to provide the care dementia patients need.
By accepting you cannot shoulder the responsibility alone, you immediately put yourself and the individual are you are caring for in a much better position.
Even so, caring for a person with dementia can be overwhelming at times. Particularly if you have no experience of caring for a dementia patient, even knowing where to start can be difficult, and you may be anxious that you're doing the right thing.
With this in mind, we explore how to help someone with dementia.
Everyday care of elderly dementia patients
The key to providing the best possible care for those with dementia lies in helping them maintain their independence and pride for as long as possible.
A few helpful tips and guidelines for providing everyday care for dementia patients:
Try to get into a routine that's convenient for you and the patient, and then stick to it to ensure familiarity.
Encourage and help the person you care for to take notes and record events on calendars, while maintaining a to-do list for daily reminders.
Incorporate activities that the patient likes in their everyday schedule, dedicating as much time as possible to what makes them happy.
Keep a close eye on their use of medications but encourage them to manage their own intake where possible.
Allow the patient to manage as many aspects of their personal care as they can, providing only the intimate support they need (dressing, bathing etc.)
Serve meals you know they like and ensure they are served at consistent times in a familiar setting.
Give them plenty of time to complete tasks and never give the impression that they are being rushed.
Be gentle, respectful, and empathetic - be mindful of anything that could be interpreted as patronising or condescending.
Tell the patient what you are going to do when you are helping them with something, rather than springing it on them as a surprise.
How best to communicate with someone suffering dementia or Alzheimer's
Communication can be one of the most difficult and distressing aspects of dementia, often causing those affected to become anxious, agitated or angry. The inability to remember things can also lead to embarrassment, making those affected shy away from communicating entirely. If you are caring for a loved one with dementia, maintaining honest and open communication holds the key to providing the best possible care.
Some tips from dementia experts on how to communicate effectively with dementia patients:
Kindly and empathetically remind them who you are if they forget, without showing any surprise or concern that they do not remember.
Do not show any signs of an emotional response if the patient becomes angry or upset, due to their communication difficulties. Speak calmly, reassure them, and listen to everything they have to say.
Never cut the person off before they have finished speaking or react with clear confusion if you are not sure what they are trying to say.
Take your time, give them all the time they need and avoid asking any potentially difficult questions.
Encourage them to talk about whatever subjects make them happy, irrespective of how often they repeat the same conversations or topics.
Surround the person with their most beloved objects and reminders of their past, which may help stimulate their memory and encourage conversation.
Do not try to force a person with dementia to talk, if they are clearly in a distressed or anxious state at the time.
If you encounter difficulties communicating with words, try bringing visual aids like photographs or books into the exchange.
Helping elderly dementia patients to maintain an active lifestyle
As dementia progresses, it gradually destroys an elderly person's capability to maintain healthy lifestyle habits. Eating healthily and exercising independently can become practically impossible, calling for outside support and supervision.
Helping a dementia patient maintain a healthy and active lifestyle can be achieved in the following ways:
Match the activities you bring into their schedule with their capabilities, being sure not to push them too far.
Remember that physical activity does not have to be limited to conventional exercise. Cooking, gardening, baking and even basic housework can be just as beneficial. Take a look at our resources that provide ideas for activities for the elderly.
Try to make the experience as joyful and pleasant as possible, as people with dementia may find it difficult to maintain focus or motivation.
Where possible, focus on activities you know the patient already knows and enjoys. Introducing new activities to dementia patients can sometimes cause confusion, though in other instances can have a positive effect.
Make every effort to get out and about in the open. The physical and psychological benefits of spending time outdoors are well documented - both for dementia sufferers and their carers. A dementia tracker can be helpful in keeping your loved one safe outside of the home.
Never give the impression that exercise is a chore or something that 'has' to be done, as opposed to being a pleasure to be enjoyed.
Learn how to make healthy versions of the patient's favourite dishes and baked goods, enabling them to continue enjoying their preferred foods while staying healthy.
Always give the person the final say on what they eat and what they do. Don't attempt to force things upon them that go against their own preferences and will.
Cook together at every opportunity - a fantastic way to combine physical activity with healthy eating.
Keeping your loved one safe in the home
Caregivers also play a key role in ensuring that the individual they care for lives in a safe and healthy environment.
Simple yet essential tips for boosting home safety for dementia patients include the following:
Ensure that every set of stairs is accompanied by a secure handrail that can support the weight of the patient pulling on it.
Clear away any electrical cables that could create trip hazards and insert safety plugs into empty sockets.
Check for anything that could cause the person to slip or fall, including loose rugs, raised room dividers and other articles.
Make sure the property in its entirety has good lighting, and perhaps consider fitting motion detectors for safer night-time movement.
Turn down the thermostat to a safe level to prevent burns and scalds from overheated water or radiators.
Ensure the patient has access to an emergency alarm, which they can use to call for help at the touch of a button from anywhere in their home.
Tips for caregivers – maintain your own health and wellbeing
Last but not least, providing quality care for dementia patients is only possible when you take appropriate care of yourself.
While performing your duties, maintain your own health and wellbeing in the following ways:
Don't struggle or suffer in silence - ask for help when you need it.
Contact your local authority if you cannot provide the level of care they need.
Take regular breaks and enjoy plenty of indulgences in your free time.
Talk every day with friends and family members, while maintaining the patient's discretion.
Join forums and chat with other people who care for dementia patients - great for sharing advice and experience.
Exercise, eat well and get plenty of fresh air. Indulge in the hobbies and activities you enjoy most, as often as possible.
Distance yourself from your duties on occasion, perhaps in the form of a weekend break or a longer holiday.
Don't let your mental health suffer - consult with a counsellor or a suitably qualified professional if at any point things begin to get on top of you.
While it can be bewildering when a loved one is suffering from dementia, knowing how best to help them, will allow you to feel more secure and in control.
Call SureSafe's team of experts on 0800 112 3201 to learn more about how you can help keep loved ones suffering from dementia safe.