Recommended Reading:
Talking Pendant Alarms
This feature has a speaker and microphone built in to the elderly personal alarm pendant or wristband which allows you to have a two-way conversation between you and your nominated contacts, or one of our SureSafe operators. Wherever you are in the home or garden, or even when 'out and about', you can speak directly to the person answering the alarm call. This means that you can tell them exactly what type of help you need, so you get the right help – fast!
Recommended Product:

SureSafeGO Family Monitored
Mobile GPS tracker alarm. Be safe anywhere, SOS button, fall detection, calls family & friends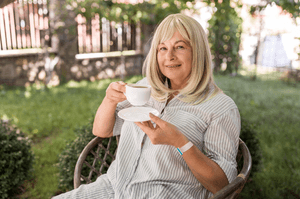 Pendant Alarms for the Elderly
Article by

Daniel Westhead

Quick Links
Navigate to the section you want to read quickly by clicking on the quick links below:
The vast majority of us want to stay in our homes for as long as possible. Research carried out by the Strategic Society found that 80% of homeowners wish to stay in their own homes as they age.
However, as we grow older it can be that we require just a little more assurance and support when living alone. A pendant personal alarm is a small and unobtrusive device that can provide this support by alerting carers in the event of a fall or emergency.
However, with a vast array of personal pendant alarms available, it can be difficult to know what to look for when choosing a pendant alarm.
With this in mind, we explore the pendant alarms for the elderly.
What is a pendant alarm?
A personal pendant alarm is a device that can be worn around the neck or on the wrist. It is usually linked to a carer or monitoring service, who can provide assistance in the event of an emergency. Pendant alarms are often used by people who live alone, or by those who have medical conditions that mean they may need assistance quickly.
How does a personal pendant alarm work?
Pendant alarms usually work by the user pushing a button on the device, which will then send a signal to the carer or monitoring service who will then be able to provide assistance if needed.
Generally, there are two ways in which a personal alarm is monitored:
Family and Friends Monitoring
This can be an affordable option for those who have a good support network of people who can be called for help when required. This type of monitoring works by connecting telephone numbers of those who you wish to be contacted in the event of an emergency – the device will then contact them if you raise the alarm.
Response Centre Monitoring
This is where your pendant alarm is connected to an expert operator who can get you the help you need or connect you with a loved one as and when you need it. This type of monitoring provides complete reassurance that any time of the day or night, you will always have someone on hand to assist you.
Choosing a pendant alarm
Pendant alarms can give peace of mind to both the wearer and their family and friends, knowing that help is available at the press of a button. They can also be used to monitor elderly or vulnerable people who may be at risk of falling or wandering off. If you are considering buying a pendant alarm, there are a few things you should bear in mind.
First, consider whether the pendant alarm will be used inside the home only, or also when 'out and about. Some models only work within a certain range of the base unit, so if it is going to be used outside in the garden, make sure that it has a good range. If you want to use it further afield then make sure you choose a fully mobile pendant alarm. Fully mobile pendant alarms have an unlimited range and can be used anywhere. Second, think about who will be using the pendant alarm and what their needs are. Some models have extra features like fall detection or GPS tracking, which may be useful for some users. Finally, consider the cost of the pendant alarm and any ongoing costs, such as subscription fees for monitoring services.
What is a talking pendant alarm?
A talking pendant alarm is equipped with a speaker within the pendant so that you can speak to either a loved one or a response centre directly from the device.
This differs from many pendant systems which only offer a speaker in a base unit which is connected to a landline. The downside of only having a speaker in a base unit is that, should you fall or get into difficulty whilst out of range of the base unit, you will not be able to speak to anyone directly.
Do you need a landline for a pendant alarm?
It depends. Some require a landline, and some do not. Those pendant alarms that don't require a landline use a mobile phone network to connect to the monitoring service, or to a family member or loved one.
At SureSafe we have a wide range of personal alarms which do not require a landline. These alarms give both the user and their loved ones far more reassurance as they can be used while out and about and cover all areas of the home – including in the garden and areas which may be out of range of a base unit.
As we increasingly ditch our landline phones and go fully mobile, these solutions, which run on either mobile reception or internet indoors, are an ideal solution for many.
Additionally, by 2025 traditional analogue phones will be switched off by BT as they turn digital. Find out more about the switch to digital phones here.
How do pendant alarms help the elderly?
Pendant alarms can be very beneficial for elderly people, as they can provide peace of mind and a sense of security. They can also help to reduce the risk of falls or other accidents, as the carer or monitoring service will be alerted if the user needs assistance.
Can you get a personal alarm for free?
Only in a few very limited circumstances. Many councils provide community alarm services to help to support people to live independently. You can apply for a community alarm on the YouGov website.
However, in most cases, the alarms offered will only be the most basic models, and there is still a subscription payment for monitoring of the alarm. More often than not, that subscription is more expensive than you would pay for one of SureSafe's market-leading alarms.
Many local authority funded alarm systems also rely on a landline and base unit, and therefore are only suitable while in certain areas of the home, and for those who actually have a landline system.
Can I get Careline for Free?
Generally speaking, any careline will need to be paid for, even when the personal alarm is provided by your local authority. This is because of the costs attached to monitoring the alarm in terms of staff costs and tech.
In many cases, SureSafe's 24/7 monitoring is less expensive than Carelines offered by other providers and is also better in terms of the quality of product and service, and the features that they offer.
Pendant Alarm Features
When assessing which pendant alarm to choose it's wise to consider your or your loved one's lifestyle and needs. For example, if you're particularly active, or have a loved one who is at risk of getting lost due to dementia, choosing an alarm which works both inside and outside the home and has GPS tracking could be a good solution.
There are several features of pendant alarms that many find useful which include:
GPS Tracking
Pendant alarms with GPS tracking can be a great way to keep track of your loved ones or give yourself reassurance that, should you fall ill or get into difficulty when out and about that someone can find you easily and quickly.
These alarms are fully mobile which means that they can be used anywhere both inside and outside of the home.
All of SureSafe's mobile alarms come with GPS tracking and automatic fall detection, meaning that, even if you are unable to press the alarm yourself, help can still be on its way.
Automatic Fall Detection
Pendant alarms which include automatic fall detection give real peace of mind as there is no need to press the SOS button to get help following a fall. Instead, they use fall detection sensors which will raise the alarm if you are unable to.
No Activity Alerts
In addition to reactive ways to look after your loved ones, our Guardian Plus device offers proactive alerts and features that give you peace of mind that your loved ones are safe when you're not around. This includes alerts if there is no activity from your family member or friend, allowing you to make your own welfare checks.
Waterproof personal alarms
Up to 80% of falls in the home occur in the bathroom. This is fairly unsurprising when you consider the combination of slippery floors and shower/bath surfaces and the movement of getting in and out of the bath or shower.
Choosing a pendant alarm which can be worn when bathing means that help can be on hand should you fall in the bathroom.
Whatever you need from a pendant alarm, here at SureSafe we have a wide range of solutions which are designed to give you complete reassurance that day or night and wherever you are, help is only ever a press of a button away.
Call SureSafe's team of experts on 0800 112 3201 to learn more about our pendant alarms and how these might benefit you or a loved one.