Recommended Reading:
Fall Alarms for the Elderly
An elderly personal alarm with automatic fall detection can detect a fall and call for help without you needing to push the button. This is vital is you are unconscious or immobile following a sudden illness or a fall. The call will automatically go through to either your nominated contacts or a SureSafe operator, depending on which service you have chosen. You will be able to get the help you need fast, even if you are unable to press the button.
Recommended Product:

SureSafeGO Family Monitored
Mobile GPS tracker alarm. Be safe anywhere, SOS button, fall detection, calls family & friends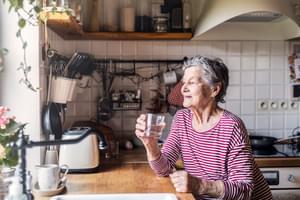 How do I get a personal alarm for an elderly person?
Personal alarm devices offer a wide range of benefits for the elderly, helping them live safely and independently in their own homes for longer. They can offer peace of mind for both yourself and your loved one that if they need help, it's just the click of a button.
Nowadays, there is a huge variety of elderly personal alarms available in many different styles, from pendants to watches. Depending on the alarm, there are lots of useful features such as automatic fall detection and GPS, so it can be tricky trying to decide which one is right for you or your loved one.
If you're looking for a personal alarm for an elderly person, you may have questions like 'how much does a personal alarm cost?' Or 'which is the best personal alarm for the elderly?'. We'll give you all the information you need on how to get a personal alarm for an elderly person, and the types of personal alarms available to you.

How much does a personal alarm cost?
The starting price for a SureSafe Guardian Alarm is from £169.95 with no monthly fees. This alarm allows you to call family and friends with the touch of a button, add up to three nominated contacts and is available as a wristband or a pendant. Our other models can also offer 24/7 monitoring, automatic fall detection, GPS tracking and many more useful features such as Geofencing or medical alerts.
Depending on the needs of your loved one, our alarms offer two types of monitoring to consider:
Family-monitored alarms
If you're looking for an alarm to call friends and family directly, a family-monitored personal alarm will call nominated friends or family when triggered, so your loved one can be reassured that somebody will be contacted when you need help. The SureSafe Guardian Alarm has advanced technology meaning that the alarm will keep trying the nominated numbers until it gets through to somebody. It cannot be fooled, even if it goes through to voicemail. Once it reaches someone, your loved one can then talk to them through the base unit.
24/7 monitored alarms
If you want an alarm that offers the peace of mind of being connected to a 24/7 response centre then look no further than the SureSafe 24/7 Connect Alarm. You can get around-the-clock monitoring for your loved one from as little as 37p a day, and the Response Centre is a great solution for family members or friends that struggle to be available for their loved ones 24/7, for example, if they work long hours, or they live quite some distance away. It's also a great option for elderly people who don't have family or friends nearby to help in an emergency.
What's more, our operators are trained and experienced in handling alarm calls so you can be confident that your loved ones' needs will get the best response, fast. Our two monitoring centres currently look after over 170,000 people 24/7, so you can feel confident that you are in safe hands.
Things to consider when purchasing a personal alarm for the elderly
Wearable alert devices can help to reduce both worry and risk, and it's been shown that those who worry more about injuring themselves are more likely to do so. This is because they may be less keen to move around as a result of a fear of falling. Unfortunately, this only increases the risk of falling, reducing movement also reduces mobility, muscle strength and bone density and makes falling more likely. A wearable alert device can be a great way to help to restore confidence, knowing that assistance is just the press of a button away.
The reasons people buy a personal alarm for an elderly person depend on a few factors, such as if they like to go out and about often, if they are prone to falls, if they suffer from any medical or health conditions, or if they have any cognitive disorders such as dementia, amnesia or Alzheimer's.
Some useful features for elderly people include:

Automatic Fall Detection
The NHS reports that one in three adults over 65, and 50% of people over 80, will have a fall each year. After a fall, minutes matter. You only have to be immobile for between 30 minutes to an hour for muscle cells to start breaking down. You don't need to worry about this if your loved one has a fall detection alarm. These alarms measure changes in air pressure and airspeed, as well as the impact of the pendant hitting the floor, to detect falls. When it does detect a fall, it will automatically call for help without the need to press the lifeline button. This means that even if the user is unconscious and unable to press the SOS button themselves, help will still be on the way.
GPS Tracking
If you are looking for an alarm that can offer an elderly person protection both at home and away from it, we recommend a device equipped with GPS tracking. These alarms can work at home, in the garden or when out and about. They allow respondents to know where to send help in the event of an emergency. Additionally, they can lower the risk of your loved one getting lost if they tend to 'wander', providing peace of mind for them and for you. This is because you can locate them easily.
GeoFencing
This feature allows you to set a 'safe zone' for your loved one and notifies you if they leave this area. Again, this is a great feature if they suffer from cognitive conditions such as dementia or Alzheimer's and are in danger of wandering and getting lost.
No Movement Alarm
Devices equipped with this feature will alert nominated friends and family with a text if it doesn't detect movement for a while. This can be a great feature to let you know, for example, if your loved one has not gotten out of bed in the morning by a certain time.
What is the best elderly alert system in the UK?
There are many types of alert devices on the market for elderly people, ranging in price depending on the features you are looking for. SureSafe offers the broadest range of panic buttons for the elderly on the market. Our goal is to be able to have the perfect alarm solution for everyone's needs, so we go the extra mile to ensure we have options to suit people's different needs and budgets:
Fall Detection Alarms
With an elderly fall alarm, you do not need to press the SOS button to get help if you have a fall. We have lots of models that offer fall detection, some of which are 24/7 monitored for complete peace of mind.
GPS Tracker Alarms
For protection both at home and away from it, we recommend you have a look at the SureSafeGO or SureSafeGO Plus alarms. These mobile alarms can work at home, in the garden and also when your loved one is away from the home. They come with fall detection as standard and include GPS tracking so people know where the user is if they need help. The SureSafeGO is a pendant-style which is discrete and worn around the neck, while the Plus model is in a watch style and offers a variety of extra features such as a step/activity counter, heart rate monitor, geofencing and a 'no movement' alarm.
Home Units
Our newest device is the SureSafe Guardian Plus, featuring the latest technology in in-home personal alarms for elderly people. It comes with a small, lightweight help button that can be worn either on the wrist or around the neck. When this button is pressed, it will activate a call sequence of up to 3 telephone numbers of your choice (5 if you opt for the SureSafe Guardian Plus plan). Nominated family and friends can download our free family & friends app which allows you to better care for the alarm user remotely. The app has access to additional information that can provide insights into how your loved one is doing at home. This can include temperature, movement, time to bed, time awake in the morning, medication reminders and whether your loved one has marked themselves as being at home or away from it. You can check on the wellbeing of your loved ones during the day using the Guardian's 'Are You OK?' check-in feature. This is a fantastic option if they suffer from a medical condition or if they have dementia and need a little more checking on.
How do I get a personal alarm?
It's easy to order a personal alarm with SureSafe. We offer the broadest range of personal alarms on the market. Take a look at our full range to find a personal alarm to suit your needs. Alternatively, you can give us a call on 0800 112 3201 and our friendly, knowledgeable team can help pick the best personal alarm for you.
Once you've selected and ordered your chosen personal alarm, we aim to deliver it the next working day. All of our alarms are very easy and simple to set up, ready to use out of the box. If you have any questions, our team is always happy to help you out with your SureSafe device.
Call SureSafe's team of experts on 0800 112 3201 to learn more about our range of personal alarms.