Personal Safety Alert Devices: Elderly Safety Made Easy
At SureSafe we have designed industry-leading and smart personal safety alert devices and elderly safety watches, to help keep people living independently in their own homes - safer and for longer. If you're looking for a personal alarm for yourself or your loved one, you may have questions like where to buy personal alarms? Or Which is the best personal alarm for elderly relatives? We're going to give you all the information you need to make the right decision for you and your loved one.

How do SureSafe personal safety alert devices make you feel safe?
We have a range of personal safety alert devices in different styles and with different features to suit your needs. These include neck alarms for the elderly, SOS pendant alarms and elderly safety watches with fall detection.
These alarms are discreet, lightweight and stylish. The aim is that they allow your loved one to live independently, but be reassured that someone will be there if they need them, preventing panic - we even have alarms that come with a GPS tracker for elderly relatives who still want to stay active.
Fall Detection Alarms
Personal alarm fall detection devices use the latest technology. Our fall detection personal safety alert devices can automatically detect a fall and call for help without the need to press the lifeline button. It measures changes in air pressure and airspeed compared with the position of the sensor to detect falls. It then sends an alert to one of our trained Response Centre Operatives.
This makes it a helpful fall alarm for elderly relatives but it can also support other conditions and is often used as an epilepsy alarm. It means if a loved one is unconscious they will be able to get help. There are a few different styles available and the main things to way up is whether or not it will be used away from the home and if you're looking for an elderly safety watch or an elderly pendant alarm.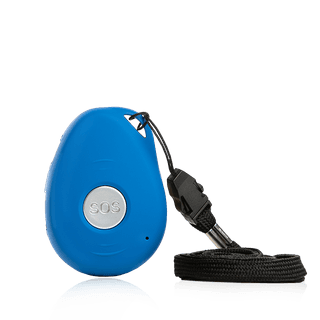 SureSafeGO
Mobile GPS tracker alarm. Be safe anywhere, either 24/7 Monitored or Family Monitored
Fully Mobile

Automatic Fall Detection

GPS Tracking
View Details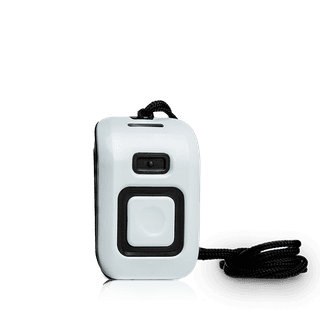 Fall Alert
Neck worn personal alarm that can detect a fall and call for help.
Helping People Stay in their Homes Longer

Showerproof

Discreet and Lightweight
View Details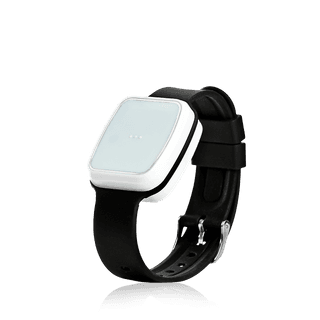 FallSafe
Wrist worn fall detector alarm that can detect a fall and get you or a loved one the help they need.
Helping People Stay in their Homes Longer

Showerproof

Uses Landline
View Details
Do you want to be able to talk using the pendant?
Many of our personal alarms let you have a conversation using the elderly alarm pendant or elderly safety watch. This has been a real breakthrough in the design of lifeline alarms. Before, if someone had a fall away from the plug-in monitor of their personal alarm device they would not be able to communicate with anyone.
A talking pendant means that our trained Response Centre Operators can get the right help to the wearer quickly, saving important minutes with no need to panic, especially if there has been a fall.
SureSafeGO 'Anywhere' Alarm
This is a personal safety alert device with an inbuilt automatic fall alarm, personal alarm and GPS tracker to provide safety not only at home but outside as well. It can do this because the personal alarm is linked to mobile phone technology. In an emergency, the wearer can activate it by pushing the button. It will also trigger the personal fall alarm when it detects a fall.
When activated, the panic alarm then contacts our response centre, which monitors it 24/7, and then sends them the location of the wearer. The pendant is lightweight, requires no programming and is ready to use right out of the box.
Unlike conventional security systems, this SureSafe device uses mobile phone technology with a roaming sim so that you don't need a landline, you just need to buy PAYG credit every so often.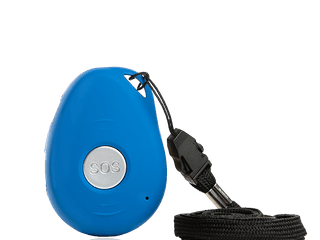 SureSafeGO
Mobile GPS tracker alarm. Be safe anywhere, either 24/7 Monitored or Family Monitored
Fully Mobile

Automatic Fall Detection

GPS Tracking
Buy Product
Who can help my elderly relative?
SureSafe's personal alert safety systems are monitored by our response centre, which is immediately alerted every time any device is activated. One of our trained Response Centre Operators then calls the user's nominated contacts. Depending on the circumstances, they may also send an ambulance. This could be to your loved ones home or elsewhere depending on the GPS location.
Using a SureSafe personal alert safety system has other benefits though. It's widely agreed that a personal alarm helps fall prevention. This is because the wearer feels more confident and so keeps active which makes them more stable on the feet. It is also suggested that using an alarm necklace for elderly relatives makes them feel safer. This is because they know if they're worried about anything, they can simply press their SOS pendant to raise an alarm and, if they can't, the personal alarm fall detection will be triggered to alert help.
Which is the best personal alert safety system for us?
Now that you've considered the different functions, you probably have a better idea of what you need from your personal alarm. As we've said before - deciding which alarm to chose really does depend on the needs of you or your loved one. Take a look at our full range to find a personal alarm to suit you.