Recommended Reading:
Dementia Tracker
Dementia trackers help people with dementia remain living independent in their own homes. They also give families peace of mind that their loved ones are safe. They includes an optional SOS button. They also include fall detection. They have GPS tracking which means loved ones can locate the alarm user instantly in the family & friends app. They include geo-fencing, which can help people at risk of wandering stay safe.
Recommended Product:

NEW SureSafeGO Family Monitored
Mobile GPS tracker alarm. Be safe anywhere, Family monitored with fall detection, talking pendant and family app.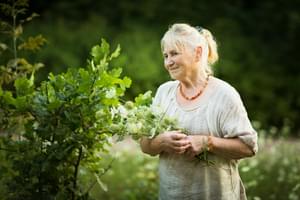 What is the best GPS tracker for Alzheimer's patients?
Article by

Daniel Westhead

Quick Links
Navigate to the section you want to read quickly by clicking on the quick links below:
The number of people with dementia is steadily increasing. In 2019, it was estimated that over 850,000 people in the UK were affected by dementia, according to the Alzheimer's Society. This represents 1 in every 14 of the population aged 65 years and over.

Alzheimer's is a physical disease and is the most common form of dementia. It attacks the connection between networks of neurons in the brain which affects the memory and causes difficulty in thinking, problem-solving and speaking.

We understand that promoting a sense of independence in elderly Alzheimer's patients is essential, particularly in the early stages. However, it can be a frightening prospect for the person with it and those who love and care for them.

Devices that are equipped with GPS tracking to locate a person can be extremely useful. Not only do they lower the risk of someone with Alzheimer's getting lost, but they can provide peace of mind for them and their loved ones.

How do I track my elderly parents?
The care of ageing parents is something that many will be balancing alongside working, taking care of family and a myriad of other daily challenges.

There are lots of non-intrusive devices which can help ease your mind and monitor your parent(s) to ensure they are safe. It is imperative to check with your elderly parents that they are happy for you to track their activity before going forward with any of the following:

Find My iPhone (Apple) / Find My Device (Google)
If your parents have a smartphone, this can be a great option if you are just looking to track them to check their whereabouts. However, if your parent has cognitive loss or impaired memory, they may not remember to bring their smartphone out with them - a GPS tracking device would be a more suitable option.

Alexa Care Hub
This is a new feature on Amazon Alexa designed to help family caregivers monitor their older loved ones. It will create a list of activities from what the senior person has asked Alexa to do, such as playing a song at 11:52 am (it won't list the specifics, just the generic action), so you know they are up and all seems well. If they ask Alexa for assistance, an alert will be sent to the caregiver's smartphone.

GPS Tracking Devices
Many people opt for GPS tracking devices to ensure their parents' safety, particularly if they are more mobile or tend to go out and about. These are available in several formats, including smartwatches and personal alarms. Alarms that use GPS tracking let respondents know where to send help in case of an emergency.

The SureSafeGO is an excellent choice for elderly people - it is discreet, fully mobile and equipped with GPS tracking, featuring a talking pendant, one-touch personal alarm and automatic fall detection so you'll know your elderly parents are safe, wherever they go.
Can you get a tracker for an elderly person with dementia?
Yes, tracking devices may be a great way to keep a loved one with dementia safe. Alzheimer's disease and dementia erase an individual's memory so that their surroundings become unfamiliar, leading to disorientation and "wandering" - a compulsion to leave the home that affects up to 60% of dementia sufferers (Robinson et al., 2007). This is a serious concern for many caregivers who worry that their loved ones may become frightened, get lost or even walk into a dangerous situation.

As we touched on before, lots of people use GPS tracking devices to help care for their loved ones with dementia. They can allow a person with dementia to remain independent and live a normal life. This is because they know if they need help, get lost or start to feel poorly, a loved one will be able to easily find them. However, you should ask the person with dementia if they agree to you using this kind of device. Explain carefully what a tracking device is and why you think it could help them, and discuss any concerns they may have.

What is a dementia watch?
These watches are designed to help elderly people with the common symptoms of dementia. People who suffer from cognitive loss or impaired memory may lose track of time; these watches can offer features such as voice prompts to identify alarm actions, helping patients stay orientated.
What is the best way to track someone with dementia?
Those who suffer from dementia or Alzheimer's disease often exhibit erratic behaviour and can be more difficult to monitor. If you don't want to put your loved one in a care home, the following options can help you keep a closer eye on them to ensure their safety, equipped with some useful features for dementia patients:

Baby monitors
Gone are the days when baby monitors were used just for babies - lots of people now purchase them to monitor their pets and elderly parents. Baby monitors can be a convenient option to keep an eye on them remotely. Some models come with two-way audio, night vision, 360-degree rotation and even room temperature readings. However, if your parent(s) tend to wander out, you'll need something that can be attached to them, such as a GPS tracking device. Furthermore, some may feel it's a little invasive and might not feel comfortable having a camera monitoring them throughout the day, so sensors, alarms and tracking devices may be a better option.

Movement sensors
These can come in the form of bed pads and area rugs. They contain pressure sensors that will trigger an alarm to sound as soon as your parent leaves the bed or steps on a rug. These can be particularly useful if your parent struggles with mobility issues or incontinence.

GPS Tracking Devices
These can be particularly helpful for looking after someone with dementia or Alzheimer's. If your loved one tends to wander, alarms that are equipped with GPS tracking let respondents know where to send help in case of an emergency. Some devices, such as the SureSafeGO, also feature Geo-Fencing which allows you to set a 'safe zone' and notifies you when your loved one leaves this area. They are also equipped with fall detection so if your parent suffers a fall, someone will be alerted even if they are unable to press the SOS button.

Digital in-home personal alarms
Digital in-home personal alarms are digital devices that use the internet already in your home to allow you or your loved one to call for help in the event of an emergency. The SureSafe Guardian is equipped with a host of useful features for Alzheimer's patients. It comes with a small, lightweight help button that can be worn on the wrist or around the neck; when the button is pressed, it will activate a call sequence to up to 5 telephone numbers of your choice (depending on the model purchased). This helps increase safety and confidence for the user and brings peace of mind to loved ones. The Guardian can offer periodic 'Are You OK' welfare checks. It can also send 'not out of bed', 'unexpected activity', home temperature and 'no activity detected' alerts, as well as medication reminders.

Can I put a GPS tracker in my body?
Although this sounds a little 'futuristic', scientists are exploring ways to track people from implants in the human body. At present, this is not an option available to the general public. Efforts have been made to develop GPS systems that can track inside the body. However, the levels of accuracy aren't quite high enough to see the technology implemented any time soon to be used in clinical testing. This might be something we need to wait another 10 or 20 years for!
We know that Alzheimer's and dementia can be bewildering for those suffering from the disease, and for their loved ones. Knowing how to both help them and keep an eye on them will allow you to feel more secure and in control. Read more about how to help someone with dementia.
Call SureSafe's team of experts on 0800 112 3201 to learn more about our GPS trackers and how they can help you or a loved one.