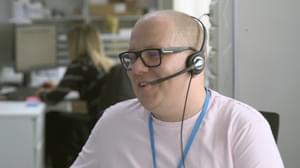 What is a Personal Alarm Response Centre?
Article by

Daniel Westhead

A Response centre is where we monitor your personal alarm activity and answer the emergency calls if the SOS button on your or your loved ones' personal alarm is pressed. If the personal alarm has an automatic fall detection feature, it will then automatically connect to the Response Centre when a fall is detected.

Who are the Response Centre Operators?
We have two UK based monitoring centres, one in Greater Manchester and one in Yorkshire. If the SOS button on your device is activated, you will be connected to one of these Response Centres. With having two separate centres, it means that we can always be online in the unlikely event that one of the centres ever experiences an issue.
What does the Response Centre do?
The Operators have regular training (certified to the Quality Standards Framework) so they can respond quickly no matter the situation. Whether the call is from a user not feeling very well and wanting to contact their family, or an emergency call connected after a fall, you can count on the operators to know exactly what to do next.
When a Response Centre Operator is connected to an SOS call they firstly assess the wellbeing of the alarm wearer by talking to them via your alarm's base unit. This screening process is really important to check their wellbeing and know how to deal with the situation. Depending on the outcome, they will either contact family or friends, and/or the emergency services to make sure the alarm wearer is safe and well.

What if I can't speak through the base unit?
We are not always able to speak to our alarm customers when they push their button. This could be because they are in a room too far away to hear the speaker in the base unit, or they are unconscious.
Don't worry though. With SureSafe's response service we have you covered. No alarm call goes unanswered. When we can't speak to you directly we will first of all try and call you on your landline or mobile. If there is no answer there we will call your nominated contacts and ask them to check on you. If no nomination contacts are available we will then call the emergency services and ask them to visit you and check that you are OK. You are never alone with SureSafe.

Why is the help of a Response Centre so important?
The Response Centre is a great solution for family members or friends that struggle to be there for their loved one around the clock. To be there for anyone 24 hours a day 7 days a week is really difficult and having another support system to be there when you can't be is really settling. This is also a great option for alarm wearers that don't have family or friends nearby to help in an emergency.
What's more, our operators are trained and experienced in handling alarm calls so you can be confident that your loved ones' needs will get the best response, fast.

With our two monitoring centres currently looking after over 170,000 people 24/7, you can feel confident that you are in safe hands. Both are also TSA accredited (TEC Services Association) which gives family & friends pure peace of mind that the quality of service they receive will be extremely high. In 2020, from one Response Centre alone, they have received close to 92,000 calls from people that had fallen and on top of this, the Operators have made nearly 80,000 calls to the emergency services in order to assist. In these types of situations minutes matter, and without the support of a response centre, the outcome could be very different for the alarm wearer. To buy an alarm that uses a Response Centre for 24/7 monitoring, and to see what options are available to you, click here.