What is a Panic Button for the Elderly?
Do you have concerns about what would happen if an accident should occur and nobody is around to help? The answer could be a panic button for the elderly.
When you need a solution to help you rest easy, a panic button for yourself, or elderly relatives, gives you the additional security you seek. Giving older people the confidence to stay in their own homes, panic buttons offer a safe and reliable way of calling for assistance from family, friends or the emergency services, whenever they feel at risk or vulnerable.
Best selling panic alarm for elderly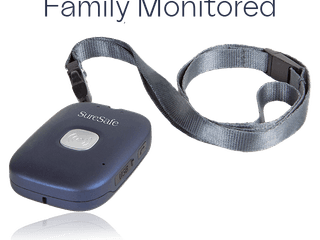 NEW SureSafeGO Family Monitored
Mobile GPS tracker alarm. Be safe anywhere, Family monitored with fall detection, talking pendant and family app.
Fully Mobile

Automatic Fall Detection

GPS Tracking
Buy Product
How Can A Panic Button For The Elderly Help?
A panic alarm for the elderly is an extremely useful tool for people wanting to maintain their independence long into their old age. As panic buttons allow the user to summon assistance should they fall or become unwell, both the user and their family and friends are afforded greater peace of mind knowing their loved ones are being looked after. The alarm can also be used if the user feels distressed at all, for example if they have an unexpected or unwanted caller at their door, or feel in danger in any way.
For elderly people living alone, this service can be a vital lifeline. Family members may not always be able to reach their aging loved ones quickly when they call. With a 24-hour monitoring service, older people can remain independent, living in their own homes for longer whilst still feeling confident and secure.
More options for panic buttons for the elderly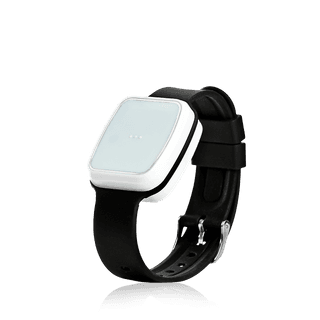 FallSafe
Wrist worn fall detector alarm that can detect a fall and get you or a loved one the help they need.
Helping People Stay in their Homes Longer

Showerproof

Uses Landline
View Details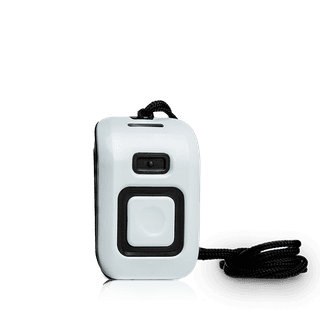 Fall Alert
Neck worn personal alarm that can detect a fall and call for help.
Helping People Stay in their Homes Longer

Showerproof

Discreet and Lightweight
View Details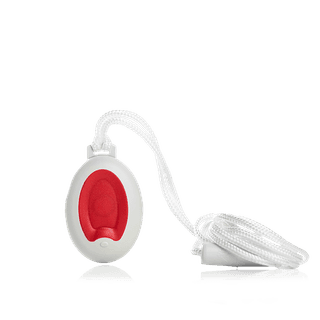 SureSafe 24/7 Connect
Monitored alarm system for the elderly giving 24/7/365 days peace of mind.
Bath & Showerproof

Available as a Wristband or a Pendant

Add Fall Detection (Additional Purchase Required)
View Details
How does a Panic Button for the Elderly Work?
A panic alarm for the elderly can work in a variety of ways, depending on the particular model you choose. Different alarms have different features and benefits, so it is important to think carefully before you choose the one that you feel suits you best.
What most panic alarms have in common is how they help people in the event of an emergency. Most panic alarms are wearable devices that allow the user to call for help by simply pressing the SOS button. Multiple wearing options are available, with most alarms coming with both wrist and neck worn options. If the wearer needs help, for example if they suddenly feel unwell, all they need to do is press the button and the alarm will automatically call out for help.
We're the best, but don't take our word for it...
Excellent service in every way. Very responsive and helpful on the phone. Very good equipment and the monitoring service is very good. The app is great. Overall, a very good service that has given us peace of mind.
Consumer
2 days ago
My Dad lived alone and over the past decade has had a SureSafe Alarm system in his home.
There have been very many occasions over the years when Dad has had a medical emergency. Each time he has pressed his pendant, he has had excellent supportive service from the call centre staff.
Whether that has been contacting people on the contacts list to check on him, or dispatching an ambulance when deemed appropriate, the correct response has been carried out each time.
Without this service, Dad would not have been able to live at home alone for as long as he did. And it was a reassurance for his family who don't live nearby.
So thank you, to everyone who has responded to Dad's many alarm calls over the years and made sure he's received physical support and care as quickly as possible.
Dad is now, at 96, in a care home. It's the right time.
Yesterday I contacted SureSafe to cancel our subscription. Within 24 hours, this has been done, the Direct Debit has been cancelled at their end, and I have just received a pro-rata refund by bank transfer faster payment. Such administrative efficiency is rare these days. They have certainly exceeded my expectations.
So, for customer service received during use, and admin service at the end, I recommend using SureSafe Alarms for vulnerable people living alone, to enable them to stay independent for as long as possible.
Janet Lees
1 week ago
I purchased one of the FallSafe alarms for my 84 year old grandmother who has always been keen to keep her independence. I had researched various products and had a few questions about the FallSafe alarm. I contacted SureSafe and John was very helpful and informative, friendly and polite. There was never any pressure to buy the product or upselling of any kind, which was very refreshing. John explained the process clearly and the alarm arrived promptly in the post. Easy to set up and test, very reassuring to hear a calm, friendly voice on the end of the line. The wrist warn alarm feels just like a watch and doesn't impede movement or activities, although my grandmother keeps looking at it as if it's going to reveal the time! She does however, feel safer in her home knowing that she has a lifeline to the outside world. I'm hoping she never needs to use it, but if she does, I feel reassured knowing that it's there. I would definitely recommend the FallSafe alarm from SureSafe to anyone who wants peace of mind knowing that their loved ones have help on hand should they ever need it.
2 weeks ago
Excellent service. My request for assistance via the web site received a response within a few minutes and the requested spare part was delivered the next working day.
2 weeks ago
I need someone - or something - to watch over my aged father while I am asleep. Hiring a carer is too expensive in the long term, and a fall alarm is much more affordable. When it came I had various problems with the setup, but the staff at SureSafe were incredibly helpful - one Yvonne Taylor particularly stands out - and always got back to me very quickly. They are prepared to spend a lot of time making sure things work properly. Also, on the tests of the alarm, the monitoring office always answered within a minute. Highly recommended.
Mr King
3 weeks ago
These guys sell by far the best personal alarm I have ever used! My grandfather is 100 years old and I wanted something simple that contacted me directly if he had a fall. This is the product that has saved him laying on the floor for hours, wondering if someone is coming! It just works, and it's been super reliable for over 5 years now. Just had to purchase a new wrist button, but I tell you what, that's good going considering how long it's worked for. Honestly one of the best purchases I have made to keep my grandfather safe in his own home.
Name Withheld
1 month ago
Just works. Easy to setup, easy to operate by my 80 year old dad
Chris Martin
1 month ago
Easy to research, good reviews. Ordered and arrived quickly.
Easy to set up with good instructions.
First night at 2am mum was pressing the button to go to the loo!!! So woke us all up.
It definitely works.
Karen Goodman
1 month ago
Bought for my mother. Team at Suresafe so helpful; always returned calls; real caring human beings.
My mother wears it every day and I have peace of mind.
Maggie Spring
1 month ago
Absolutely brilliant experience all round. John was so helpful and explained everything we needed to know from start to finish. It's a great system and Dad feels safe in our home.
Lois Owen
1 month ago
What types of Panic Alarm for the Elderly are there?
As mentioned above, most panic buttons for the elderly work in a similar way in terms of having an SOS button to press. As also mentioned above, beyond the headline similarities, there are a lot of different options for the features and benefits you can get from you panic alarm.
SureSafe offers the broadest range of panic buttons for the elderly on the market. Our goal is to be able to have the perfect alarm solution for everyone's needs, so we go the extra mile to make sure we have options that can suit peoples different needs and budgets.
If you want an alarm with the peace of mind of being connected to a 24/7 response centre then look no further that the SureSafe 24/7 Connect Alarm. If you prefer your alarm to call your family and friends directly then the SureSafe Personal Alarm might be better suited for you as it will call up to 3 numbers of your choice when activated. If you want the additional safety of having a fall detector, where the alarm can actually detect falls and call for help by itself, check out the FallSafe and Fall Alert as potential options, which also both come with 24/7 monitoring.
If you are looking for an alarm that can offer protection both at home and away from it, we recommend that you cast your eyes at the SureSafeGO and SureSafeGO Plus alarms. These mobile alarms can work at home, in the garden and also when away from your home. This could include while going for a walk, going to the shops or doing another outdoor activity that you enjoy. Both alarms also come with fall detection as standard, and include GPS tracking so that people know where you are when they need help.
If all of that sounds like too many options, or if you have any questions or would like any help in selecting the right alarm for you, then give us a call on 0800 112 3201. Our friendly team of panic button experts will be only too happy to help.