Recommended Reading:
Digital Alarms
Our digital personal alarms offer the most up to date technology and features, yet remain easy to set-up and use. They are 'future-proof' against BT's upcoming Digital Switchover and provide you with more features, greater reliability and better-quality alarms to be used to keep you or your loved ones living safely and independently.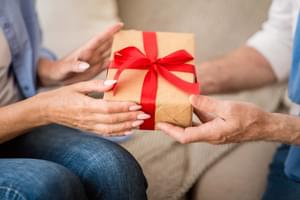 20 Best Gifts for the Elderly: Things You've Never Thought Of
We know that shopping for presents can be challenging, and finding the perfect gift for your elderly loved ones can prove particularly difficult. A seniors gift should be practical, but also meaningful.
We have put together twenty of the best gift options for seniors, ranging from more affordable ideas to gifts with a slightly higher price tag, so there is a gift for every budget and type of lifestyle. Some of our suggestions are to bring ease into their day-to-day life, and others to offer entertainment in the home or to help soothe aches and pains. You will be sure to find something on this list to suit your senior loved one.
Senior-Friendly Smartwatch
Smartwatches can be a great addition to a senior person's life. Lots of smartwatches are equipped with handy health tracking features, such as a heart rate monitor and step counter. Wearable technology can also provide family, friends and caregivers with peace of mind, such as the SureSafeGO Plus, which features automatic fall detection, an emergency SOS button and a GPS tracking system to allow your loved one to live independently and safely, providing them with the freedom, confidence and flexibility to enjoy life with an extra layer of protection in case of an accident or emergency.

Jar, Can and Bottle Openers for Seniors
Many people struggle to open jars, cans and bottles, and this can be even more difficult for elderly people who may struggle a little more with strength and grip, especially if they suffer from arthritis. You can find a variety of openers for different products online, most of which come at a very affordable price point of under £10. These can make all the difference in helping older people to feel more independent in the home, by just making the simple task of opening a jar, can or bottle much quicker and easier.

Puzzles
Jigsaws and brain teasers are both soothing and stimulating, which is great for the brain as we start to age. They can also improve wellbeing, communication and interaction, especially for those with dementia. You can look at jigsaws, or a book of brain teasers and puzzles – all of which are great for seniors.

Robotic vacuum
Making housework easier for those who are less mobile is probably one of the best gifts you could provide for someone who struggles to move around or experiences pain when cleaning. Robotic vacuums are a wonderful gift idea for your senior loved one. They allow the user to sit with their feet up while the vacuum does the hard work of clearing any dirt and debris.

Pill Dispenser or Organizer
If you're looking for a useful gift for someone who struggles with forgetfulness, or who needs to take medication at a certain time, a pill dispenser is a great idea. There is a range of automatic pill dispensers to choose from online, with different capacities, features, and price points. Most of them have around 12 large components to fill with daily medication or vitamins, and they can be set to alert and release medication multiple times a day. As a cheaper alternative, you could look at a pill organizer which is split into compartments for different times and days of the week.

Virtual Home Assistant
The use of virtual technology, such as smart speakers, is growing among seniors. Virtual home assistants like Alexa and Google Home are not only great for everyday tasks such as playing music, setting timers and reminders, making shopping lists etc., but they can also remind you to take your medication at a certain time, call emergency contacts and lots more commands that can be of great use to seniors.

The SureSafe Guardian is an in-home personal device for older people, equipped with the latest technology to help your loved one in a variety of ways. This device can bring increased safety and confidence to the user, with the ability to easily call for help in the event of an emergency. It comes with a small, lightweight button that can be worn either on the wrist or comfortably around the neck – when pressed, it will activate a call sequence of up to 5 chosen telephone numbers. Unlike other smart home devices, the Guardian can also offer periodic 'are you ok?' welfare checks, and can send a number of safety alerts like home temperature, and unexpected activity, to nominated contacts.

Non-slip socks
According to the NHS, falls can become much more common in those aged over 65. Bare feet or slippers don't offer slip protection and can pose a risk around the house, especially on kitchen and bathroom flooring. Non-slip socks for seniors are an inexpensive, simple way to help prevent falls and improve safety around the house.

Key Tag
We've all lost our keys at one point or another and it's incredibly frustrating when you need to be somewhere. As we age, we do start to become a little more forgetful, which can increase the likelihood of misplacing household objects such as keys or glasses. There are some simple yet innovative gadgets on the market which can be a huge help – key tags are little chains with GPS technology that, when alerted, will make a noise to allow your loved one to find them easier. You can also buy tags for other objects which can be easily lost, such as a pair of glasses or a remote control.

Massage pillow / heated neck wrap
You can't beat a good massage – we can experience more pain as we get older, especially around the back, neck and shoulders. A massaging pillow can allow you to enjoy the benefits of a massage from the comfort of your own home. They are a cheaper alternative to a massage chair while still offering some soothing benefits for aches and pains. A heated neck wrap is another great option to help sore muscles or soothe arthritis symptoms.

E-Reader
Devices such as the Kindle are fantastic for seniors, especially those who struggle with eye strain or who can't hold a heavy book. They allow you to adjust text size, are very comfortable to read from and are very light to hold, making your loved one's reading experience much nicer.

Wi-Fi digital photo frame
We're sure this gift idea will be a hit with your loved one – digital photo frames are a lovely way for someone to display their beautiful family photos while boosting their home's modern-day appeal. There are lots of simple and easy-to-setup options available for older people.

Window bird feeder
A window bird feeder is a perfect gift to provide endless hours of joy for older people – what better way to bring the natural beauty of garden wildlife closer to home, allowing your loved one to watch birds dine right before their eyes on the other side of the window, providing an up-close view of British birdlife – the ideal gift for birdwatchers or nature lovers.

Meal delivery service
This is a little different to other gift ideas on the list, but it can be a wonderful option if your loved one doesn't have the ability to shop or cook, and may eat more convenience foods such as frozen meals or fast food, which lack nutrients and can therefore cause harm to health. Healthy meal delivery services bring tasty, nutritious meals straight to the door, and require little to no prep.

Adult colouring book
Colouring is an activity that any person can enjoy; in fact, experts say that colouring is like meditation as it allows you to 'switch off', which can be helpful for those with dementia. It's also something that children and grandparents can enjoy together.

Battery-powdered salt & pepper grinders
A simple yet great gift idea for seniors, battery-powered salt and pepper grinders can help to limit any strain that comes from manually twisting.

Heater
We all start to feel the cold more as we get older, so a heater is not only great for keeping your loved one warm and toasty, especially in the winter months, but it is also a more cost-effective option as they won't need to turn on the central heating.

Flower subscription
Who doesn't love flowers? Flower subscriptions are becoming increasingly popular, and are a lovely option to add some pretty, bright décor to your loved one's home. While this may not be as practical an option as our other suggestions, this is a lovely gift to brighten someone's day and can be delivered as often as you like.

Recliner
One of the more expensive options on this list, a recliner can offer a variety of health benefits for the elderly. Not only are they incredibly comfortable to sit in, but by elevating the legs, recliner chairs can promote better circulation and help prevent further health problems.

Robotic companion pet
These have been proven to help alleviate social isolation, loneliness and cognitive decline, while delivering happiness and fun to elder loved ones. Interactive cats and dogs are incredibly real looking and feeling, with many offering a real-feel coat and calming heartbeat, interactive built-in sensors and authentic noises such as purring or barking.

Therapy resistance bands
These are strong, elastic bands which are perfect for seniors as they are lightweight and easy to carry. They allow you to strength train without adding any pressure to your joints. They can also be used for stretching or physical therapy to help strengthen muscles and encourage your loved one to exercise while being comfortable.
If you're looking for the latest technology to assist an older person, consider getting in touch with us to find out how our devices can help give you peace of mind. Browse our products or give us a call on 0800 112 3201 to find out more.