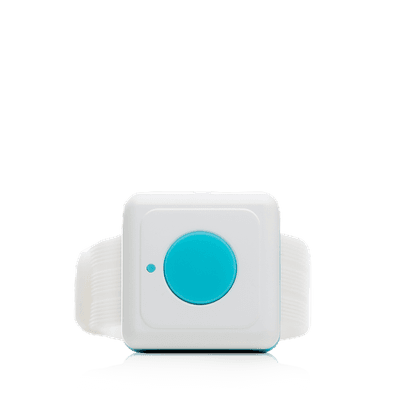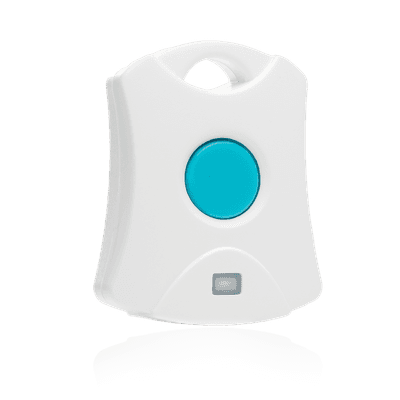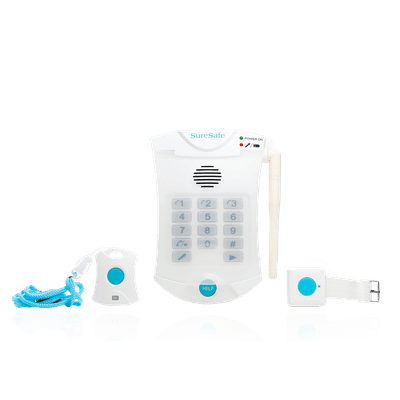 SureSafe Personal Alarm
One-touch Personal Alarm

Easy to Set Up and Use

Showerproof
Call Family and Friends with the Touch of a Button

Our friends & family monitoring option means that your alarm can call family & friends directly when you need help.

Add up to Three Nominated Contacts

Our friends and family monitoring option means that your alarm can call up to three chosen people when you need help.

No Monthly Fees

This alarm is a one-off purchase - there are no ongoing fees, ever!

Available as a Wristband or a Pendant

This personal alarm is available as a wristband or a pendant.

Intelligent Answer Technology

The alarm recognises when it reaches voicemail and will move on to the next number until it connects with a person.
Help Alarms for Seniors - Keeping you Connected to Loved Ones
This Personal Alarm is a help alarm for seniors that calls up to three nominated friends or family when triggered. So you can be reassured that somebody will always know when you need help.
Our advanced technology means that the alarm will keep trying the nominated telephone numbers until it gets through to somebody. It cannot be fooled, even if a call goes through to voicemail. Once you have reached a loved one, you can talk to them through the base unit.
This alarm pendant and wristband has a range of up to 50m from the base unit, giving you peace of mind wherever in your home or garden you may be. It comes with a showerproof wristband and pendant meaning you can wear it while in the shower. This is important because the bathroom is the highest risk place for a fall.
This help alarm for seniors uses a landline and comes with everything you'll need. It does not interfere with your existing telephone line, and it is super simple to set up and use.
As the alarm is set up to call family and friends, there are no ongoing costs or monthly fees. This is a very affordable personal alarm that provides peace of mind for you and your loved ones.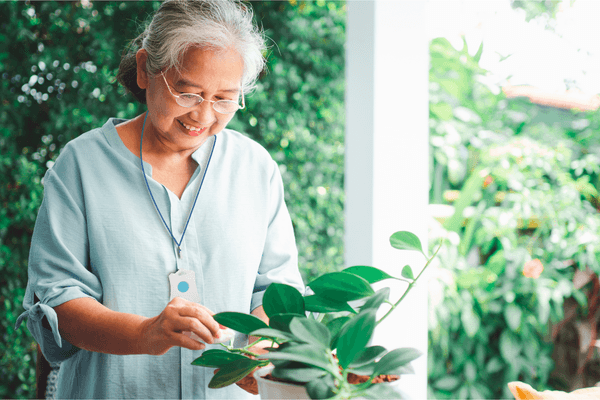 Reassurance at home
Our key product features are designed with you and your family in mind. Feel confident with a help alarm for seniors, knowing that your loved one has 24/7 access to the right support in the event of a fall or any incident which may threaten their safety.

Feature list
Features
One-touch Personal Alarm

Should you suddenly feel unwell, have a trip or fall, or any other type of emergency, get the help you need at the touch of a button.

Easy to Set Up and Use

Easy to set up and ready to use straight out of the box.

Showerproof

Suitable for use in high-risk areas such as the bathroom.

50m Pendant Range

This personal alarm has a 50m range for use in the home or garden.

Uses Landline

You will need a landline for this but you will not need a new telephone socket and it will not interfere with your phone.
Specification
Stylish & Discreet

This personal alarm help button for the elderly is lightweight, measuring 52 x 42 x 20mm and weighs only 29 grams. It also comes with a wristband. At just one touch of the SOS button, you can alert up to three nominated friends or family.

Intelligent Answer Technology

Once the help button for the elderly is pressed, the alarm will begin calling your nominated friends and family members. It will keep doing this until somebody answers. The alarm recognises when it reaches voicemail and will move on to the next number. This way you can be sure that you will always get through to someone.

Battery

The base alarm unit is mains powered but takes 4 x AAA batteries as a back-up. This means that it will always work, even if there is a power cut.

User Friendly

This Personal Alarm help button for the elderly is easy to set up and simple to use. This makes it a great product for those who want a simple way to stay connected to friends and family.
Read some reviews on our help buttons for the elderly
I bought an alarm as my friend had one; I cannot thank them enough for the help they have given me, this has helped me remain independent for longer in a time. They were so patient from start to finish. I would recommend anyone to have a suresafe alarm.
Marie Dowd
1 year ago
The SureSafe system that we purchased for use by my Mother not only gave us peace of mind, but also allowed my Mother to live in her home for longer than would have been possible otherwise. The system was easy to install and on the occasions that it had to be used it provided a very effective, efficient and reassuring service, with staff being supportive on all occasions and implementing the required action very efficiently. I would like to thank all at Suresafe for the service and the fantastic way it was implemented. Very many thanks.
Paul
1 year ago
The product arrived very quickly. It was very easy to buy. I now feel I have peace of mind. I would definitely recommend you to a friend, I wish all businesses/ companies had the same excellent service as SureSafe Alarms
Judith
1 year ago
Excellent service. Would recommend.
Tracy
1 year ago