Do Personal Alarm Devices for the Elderly Help Keep them Safe?
Safety when at home alone can be a big source of worry for many. By encouraging the use of a neck alarms for the elderly, you can help to put your mind at ease and help those living alone to feel safer and more secure by providing a simple way to call for help in the event of an emergency. When faced with an emergency such as a fall, a loss of consciousness, or a stroke, it may not be possible to reach or use a phone in order to gain assistance. With a personal alarm system for the elderly, help is just a button press away.
Our best selling personal alarm device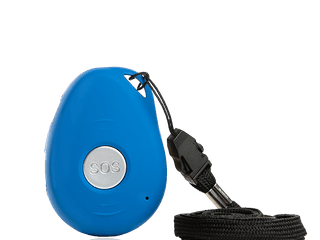 SureSafeGO Family Monitored
Mobile GPS tracker alarm. Be safe anywhere, SOS button, fall detection, calls family & friends
Fully Mobile

Automatic Fall Detection

GPS Tracking
Buy Product
How do Personal Alarm Systems for the Elderly Work?
Our personal alarm devices for the elderly work via a telephone-based system, allowing the user to immediately call for help in the event of an emergency. The user wears the alarm pendant around their neck; the pendant contains an emergency button which allows the wearer to call for help should they fall, feel unwell or require assistance. Many of our personal alarm systems also include automatic fall detection to ensure assistance can be gained even if the user is unconscious and unable to press the emergency button themselves.
In order to send out the alert, the personal alarm system is linked to a base unit; this base unit is usually the telephone landline in the home. We do however offer wearable alert devices which utilise mobile technology in order to allow the alarm to be used both inside and outside of the home. Mobile alarms are ideal for elderly people who wish to stay active and are often away from the house. Nevertheless, in both mobile and landline alarms, the result is the same. When the alarm button is pressed it activates the base unit, this in turn alerts a designated responder (usually a friend or family member), or alerts the SureSafe 24/7 response centre, who will be able to arrange the necessary assistance immediately.
Other personal alarm system options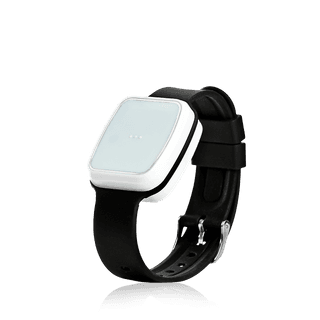 FallSafe
Wrist worn fall detector alarm that can detect a fall and get you or a loved one the help they need.
Helping People Stay in their Homes Longer

Showerproof

Uses Landline
View Details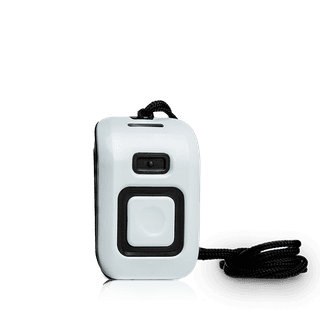 Fall Alert
Neck worn personal alarm that can detect a fall and call for help.
Helping People Stay in their Homes Longer

Showerproof

Discreet and Lightweight
View Details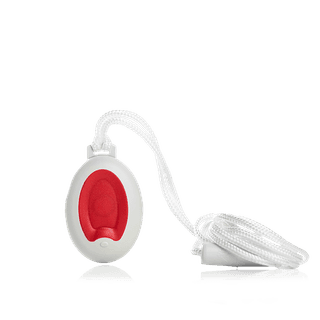 SureSafe 24/7 Connect
Monitored alarm system for the elderly giving 24/7/365 days peace of mind.
Bath & Showerproof

Available as a Wristband or a Pendant

Add Automatic Fall Detection at Any Time
View Details
The Benefits of a Personal Alarm Device for the Elderly
Personal alarm devices for the elderly have a wide range of benefits. The first and arguably most important benefit is helping to prevent sustained and more severe injuries. Studies in the UK have shown that the longer a person stays on the ground following a fall, the longer the recovery time will be. Lying on the floor with an injury for a prolonged period of time can result in further health complications, often causing lifelong ailments. This highlights one of the main benefits of personal alarms for the elderly. They allow immediate help to be requested. Studies also show that by gaining help immediately, the chance of making a full recovery increases to 80%. This shows how neck alarms for the elderly can be potentially life-saving devices in the event of an emergency.
In addition to this, wearable alert devices can help to reduce both worry and risk. It has been shown that those who are less confident and worry more about injuring themselves are more likely to. This is because they may be less keen to move around in fear of falling, however reducing movement also reduces mobility making falling more likely. Confidence is therefore key in helping to protect your elderly loved ones living alone. A wearable alert device for the elderly can be paramount in helping to restore this confidence, knowing that assistance is just the press of a button away.
Here at SureSafe, we offer a range of wearable alert devices for the elderly that can help individuals to live worry-free in the safety of their home whilst providing comfort and peace of mind for friends and loved ones. They help elderly people to maintain independence for longer and live a more fulfilling lifestyle.
To find the perfect option for your elderly loved ones, browse our full range of personal alarm devices for the elderly.
See what our customers are saying about SureSafe
We called SureSafe and spoke with Richard who was extremely helpful and patient. Nothing was too much trouble and he explained details very clearly about a personal alarm for my Mother. Thank you!
Sally Ann
2 weeks ago
Phoned to purchase a Fall safe alarm for my 95 year old Mum. It was needed quickly as she was being discharged from a home. Spoke to John, he was very helpful & the alarm arrived the following day. Mum is very happy with it especially as it is light to wear. We did the alarm test & I was very impressed with the politeness & speed of answer. Let's hope it is never needed, but I feel confident knowing that Mum has it & that help is there if she does.
Anonymous Customer
1 month ago
Contacted SureSafe to purchase a SureSafeGo personal alarm for my 90 year old mother. I spoke to John who was very knowledgeable and answered all my questions and was extremely helpful in setting up the alarm and posting it out the same day. We have had the alarm for 3 weeks now and it has reassured my mother and all the family as to her safety and well being. I can thoroughly recommend this product and company. John was friendly, helpful and provided exceptional customer service for which I am very grateful.
Anne
2 months ago
The team went a long way to trry to fix the issue and were patient and persistent.
Michael Rodrigues
2 months ago
Excellent customer service from Daniel, he was professional, helpful and ensured all my queries were resolved swiftly. Highly recommend this company, thank you!
Michelle
2 months ago
Today and over the last few days I received excellent customer service from Terry at suresafe. He addressed the issues I was having worked hard to address them and communicated as promised through out the process. Thankyou
FS
3 months ago
We had a few issues with my Dad, Looked into personal alarms and found Suresafe, from start to finish had great communication with all questions answered,we have been using it for about a month and just for peace of mind it is worth every penny
Monica
3 months ago
Really happy with dad's SureSafe alarm. It was really easy to set up and dad is happy that it doesn't look like an old person alarm. The staff at SureSafe have been really helpful when we needed them too. Would highly recommend.
Caroline
3 months ago
Super happy with the SureSafeGo, it has provided me and my family with a lot more peace of mind and independence for my Grandad. Wasn't too sure which product would be best for my Grandad but the customer service team were very good and helped us find the best product for him.
Thomas Jones
3 months ago
Excellent service. Richard Sheil was polite, patient and answered all questions. My Mum and I spent a long time asking lots of questions and we purchased the sure safe go 24/7 connect.
Louisa Houghton
3 months ago
What if I don't want something hanging round my neck?
Not everyone wants to have pendant hanging around their neck, not everyone feels comfortable with this. Don't worry though, SureSafe has a number of wrist worn options that mean you can still get the same safety and security of a personal alarm system, just worn a different way.
SureSafe's wrist worn alarm options include the SureSafeGO Plus alarm, the FallSafe and the SureSafe Personal Alarm. These three alarms offer a range of different features, all of which can be worn discreetly on the wrist. Whether you are looking for fall detection, 24/7 monitoring or an alarm that calls family and friends directly, these 3 wrist alarms give you plenty of choice at an affordable price.