Recommended Reading:
Lone Worker Alarms
SureSafe offers a range of lone worker devices designed to keep lone workers, or 'at risk' workers, safe. SureSafe offers tailored solutions to fit both your employees risk needs, as well as fit your organisation's operational needs. SureSafe allows employees to call for help in an emergency, tracks their location via GPS in case they get into any difficulty, can detect falls should employees have an accident, and helps you satisfy your workplace health and safety requirements.
Recommended Product:

SureSafeGO Family Monitored
Mobile GPS tracker alarm. Be safe anywhere, SOS button, fall detection, calls family & friends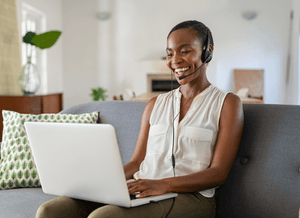 What safety measures are in place for lone working?
Article by

Daniel Westhead

Quick Links
Navigate to the section you want to read quickly by clicking on the quick links below:
For any business, ensuring employees' safety is always a primary concern.

However, for those who manage remote workers the elements of risk can be elevated thanks to both the fact that, should an issue arise, they may be unable to summon help, and the fact that, as a result of being alone, they can be more susceptible to risks such as accidents or violence.

Therefore, ensuring that you have safety measures in place for lone workers is vital.

A lone worker is defined as an employee who cannot be seen or heard by a colleague. With the growing number of lone workers in recent years, it is important to understand how a lone worker's safety may be at risk, and what measures are in place to help support and keep them safe.
Personal safety for lone workers
In June 2021, it was estimated that up to 8 million people in the UK were classed as lone workers, which equated to 22% of the nation's workforce. Additionally, while some workers may not always have a job where they are unsupervised, the ONS estimates that around 25% of the UK workforce undertake at least some form of lone working.

As more businesses change the way they manage their staff with remote and hybrid working structures, this is a figure which is likely to continue to increase.

Lone working doesn't necessarily mean that the worker is physically alone - the Health & Safety Executive (HSE) defines lone working as those who work by themselves without close or direct supervision.

A lone worker could work in any of these scenarios:
Working alone in a fixed place, such as a small office, shop or petrol forecourt.

Work with others but are left alone for long periods - such as a care worker or factory staff

Work alone outside of core business hours - for example as a cleaner or security guard.

Conduct visits to people in their home - housing workers, estate agents, GP's

Drive or provide delivery services.
Lone workers face the same workplace hazards as anyone else, however, there is a greater risk of these hazards causing harm because there may not be anyone to help or support them if something goes wrong.
Depending on the type of role, lone working risks typically fall into one of three categories:
People risk: involves proximity to individuals who may pose a potential risk.

Environmental risk: the work environment itself poses a risk to personal safety, for example, a farmer or a builder.

Task-based risk: arises from the nature of the task being undertaken such as operating machinery, for example a forklift driver or factory worker.
The hazards that lone workers face largely depend on the job role and industry. Some of the most common hazards include:

Working at height

Falls, slips and trips

Verbal or physical abuse

Working with harmful substances

Operating machinery and equipment

Driving for work

Falling ill while working alone
Of course, risk by its very nature cannot always be foreseen, however by implementing good safety measures you can help to mitigate the potential hazards for your workers.
Employers' obligations for lone workers
By law, employers are responsible for the welfare, health and safety of their workers and must control the risks of injury or ill-health. For lone working activities, employers must carry out a full risk assessment: Learn more about what the employer of a lone worker must do in order to fulfil their legal responsibilities.

Lone worker safety solutions
Lone worker protocols may have already been established for many industries, but countless others have only recently considered remote or lone working opportunities and may not yet have analysed the potential impact or hazards for employees.

There are a number of solutions available to help protect and keep lone workers safe:
Lone working policies
A lone working policy is a practical guide that employees can apply to their roles. This can encourage a strong safety culture among employees, reducing the risk of legal issues and keeping them safe.
Lone worker training
For certain types of lone working roles, particularly those that can be vulnerable to violence or injury, training can not only provide employees with the ability to identify and handle risks alone, but can also keep them safe from harm if an unexpected hazard or situation arises.
Personal safety alarms for lone workers
A personal safety alarm can be a valuable piece of lone working equipment. They provide peace of mind in the event of an emergency for your staff, while ensuring that you meet your obligations as an employer of lone workers.

All lone workers can benefit from having a lone worker device with them. They provide the potentially life-saving ability to get help when there is no one else to call for help if something happens, whether you're at risk from violence or abuse, accidents in high-risk jobs, or special medical conditions such as epilepsy, fainting spells or heart conditions.

Personal safety alarms are available in several forms, from button devices to more sophisticated smart style watch alarms.

Read more about what a personal alarm should be used for in lone working.

Lone worker safety monitoring
Knowing where your lone workers are, and ensuring that you have a good monitoring system in place will help you to quickly identify any issues as they arise. For example, if you know that an employee should be due back from a meeting by a specific time and they are not, you can take steps to check on them, and then follow your safety procedures should you fail to get in touch. Whereas if you don't have checks in place, should the worst happen it may be some time before the alarm is raised - putting your employee at far greater risk.

Additionally, if you are considering a lone worker personal alarm system, consider what type of monitoring suits your business

Self-monitored alarms
A self-monitored personal alarm can be an affordable option for businesses who have the infrastructure in place to respond to someone who uses it. As self-monitoring does not require an ongoing subscription, it can be an ideal solution for businesses with smaller budgets.

24/7 Monitored alarms
For complete peace of mind, monitored personal alarms are connected to a professional monitoring team who are available 24/7 to get the help needed should a lone worker raise the alarm. This solution suits businesses where there may not be resources available to consistently monitor and respond to calls for help.
Other features for lone worker alarms
Not only do personal safety alarms allow employees to call for help in an emergency, but they can also offer specific features to overcome certain inherent risks to your work environment and the needs of your employees, such as:

Having GPS tracking lets your emergency contacts know where you are if you get into difficulty. This is extremely helpful for those lone workers whose jobs are set around being out and about, such as electricians, construction workers and drivers, as you can get the help you need fast, wherever you are.

Alarms equipped with automatic fall detection can call for help automatically, should the device detect a fall, without the employee needing to press the SOS button. Not only is this a vital feature for those who work in manual jobs, but it's also important for those who suffer from specific health conditions that may cause falls and blackouts.

If you have a diverse remote workforce that faces different types of hazards, you may wish to use different types of personal alarms depending on your employee's specific risk profiles.

By putting in place robust safety measures around lone working, a business can ensure that they maintain their reputation both as a responsible employer and as a great place to work.


Call SureSafe's team of Lone Working experts on 0800 112 3201 to learn more about how you can help keep your team safe when at work.