Recommended Reading
Fall Alarms for the Elderly
An elderly personal alarm with automatic fall detection can detect a fall and call for help without you needing to push the button. This is vital is you are unconscious or immobile following a sudden illness or a fall. The call will automatically go through to either your nominated contacts or a SureSafe operator, depending on which service you have chosen. You will be able to get the help you need fast, even if you are unable to press the button.
Recommended Product

SureSafeGO 24/7 Connect
Mobile GPS tracker alarm. Be safe anywhere, 24/7 monitored with fall detection, talking pendant and family app.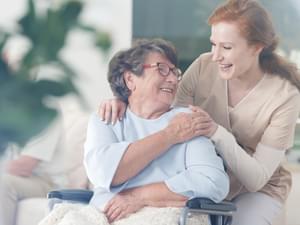 A Guide to Epilepsy Support for the Elderly
Article by

Daniel Westhead

Quick Links
Navigate to the section you want to read quickly by clicking on the quick links below:
For older people with long-term health conditions, medical treatment is often only one part of the healthcare picture. Finding the right supports to live well is often just as essential as medication.
In the case of epilepsy in the elderly, this holds true as well. In fact, since epilepsy can be so unpredictable, it's even more important to put good support in place, plan ahead and anticipate risks in advance.
So, if you're a senior with epilepsy or you're caring for someone with epilepsy, what sorts of support is available? In this piece, we explore the range of epilepsy support UK elderly patients and carers can access, including technological, social and financial supports.
What is epilepsy?
Staying informed about the condition is the first step to managing epilepsy as an older person.
In short, epilepsy is a medical condition characterised by sudden, disorganised electrical activity in the brain, which produces seizures. Although the causes of epilepsy are not fully understood, we do know that one quarter of all epilepsy diagnoses happen in people over the age of 65.
The NHS page on epilepsy is a great starting point for information resources.
Or read our other blog posts about epilepsy in the elderly:
Why might older people with epilepsy need support?
There are several ways in which epilepsy impacts older people differently.
Firstly, the elderly are more likely to have other health conditions that interact with epilepsy's effects or its medications. Older people are also generally more vulnerable to injuries from potential falls. For example, a fall in an elderly person who has osteoporosis might be more likely to result in a broken bone.
Secondly, elderly people tend to have a longer period of confusion after a seizure – this confusion might even last for days. And on average they are less likely to experience "auras," which are strange feelings that signal an oncoming seizure.
Lastly, medications for epilepsy can have the side effect of dizziness, which can have a stronger impact on balance for elderly people who may already struggle with balance and stability for other health reasons.
This combination of factors means that older people with epilepsy may be more vulnerable to the effects of seizures and may need help for a longer time after a seizure too. They'll need support to ensure they can go about their daily tasks safely.
Financial epilepsy support
The government offers several forms of financial support for elderly epilepsy care. People over state pension age who need frequent or constant care during the day or overnight may be eligible for Attendance Allowance from the government as a form of epilepsy support. UK elderly epilepsy patients are also entitled to free NHS prescriptions, as is everyone aged 60 or over.
Disabled people also may be eligible for VAT relief, meaning that they don't have to pay VAT on products they need to aid them with their disability (more about these below).
Elderly people with epilepsy may not be able to drive due to their risk of seizures. However, in England and Wales older people are eligible for a free bus pass (at differing ages depending on factors like location). The government also offers transport services for disabled people so that they can access shops.
For more information about support available for carers and elderly people being cared for at home, take a look at our article on help for the elderly living at home. Or see our blog post exploring a spectrum of care options for the elderly, including living at home, respite care and care homes.
Technological epilepsy support
There is a wide range of personal alarms that are designed to alert loved ones or a help centre when they detect a tonic-clonic seizure or a fall. Which one is best? That depends on each patient's individual needs: the types of seizures they experience, any other medical conditions they have, and more.
It's worth remembering that epilepsy in the elderly involves risks beyond a fall from a seizure. Elderly people may experience focal or partial seizures in which they don't fall, but they feel confused or wander. As confusion after seizures or dizziness from medication can also occur, a plan of epilepsy care for an elderly person should also keep these concerns in mind if they are relevant to the patient.
A personal alarm with GPS tracking may be helpful for an elderly person who experiences confusion after seizures. This way, even if the patient is outside the home, friends and family can locate them. Some wrist personal alarms even have functions like medication reminders and a geo-fence that sends alerts if the wearer leaves a set zone.
If falls are a worry, a fall alarm that automatically detects falls without the wearer's input can also be a good option.
Social epilepsy support
Like any other long-term medical condition, epilepsy can impact mental health too. If you're an older person with epilepsy or caring for someone with epilepsy, try taking a look at our blog post about mental health in the elderly to learn more.
Some people find it helps to meet up with others experiencing their condition and discuss epilepsy support. UK patients can try looking up epilepsy support groups in your area.
As stress is thought to increase the risk of seizures in some people, it's even more important to take good care of your mental wellbeing. Our articles on anxiety in the elderly and depression in the elderly offer some tips.
Feel more secure at home or out and about with SureSafe
With 4.8 out of 5 stars on review.io, SureSafe is a trusted provider of high-quality and affordable personal alarms that can offer increased peace of mind to elderly people with epilepsy. A family and friends personal alarm can be a convenient and simple way to call for help from loved ones if needed, while a personal alarm with 24/7 monitoring from SureSafe's Response Centre gives you the security of knowing that if you need help at any time, day or night, it will be on the way.
If you're an elderly person with epilepsy or caring for someone with epilepsy, why not give us a call to chat about how personal alarms can fit into your epilepsy care plan? We're available via phone at 0800 112 3201 or via live chat. Alternatively, you can request a call back.