Recommended Reading
Fall Alarms for the Elderly
An elderly personal alarm with automatic fall detection can detect a fall and call for help without you needing to push the button. This is vital is you are unconscious or immobile following a sudden illness or a fall. The call will automatically go through to either your nominated contacts or a SureSafe operator, depending on which service you have chosen. You will be able to get the help you need fast, even if you are unable to press the button.
Recommended Product

SureSafeGO 24/7 Connect
Mobile GPS tracker alarm. Be safe anywhere, 24/7 monitored with fall detection, talking pendant and family app.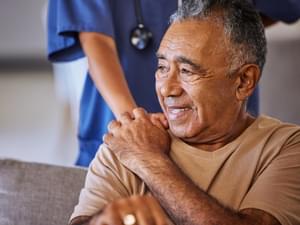 Care for the Elderly: What Help is Available?
Article by

Daniel Westhead

Quick Links
Navigate to the section you want to read quickly by clicking on the quick links below:
If you have reached a point in your life where you need extra support, or you are wondering how you can best help your elderly parents, rest assured there are options available.
Elderly care in the UK can either be in the home, with support from a family member or paid carer, or at a residential facility. Which option is right for you or loved ones will depend on factors including daily needs and the costs.
Finding out how to get help for yourself or when caring for an elderly parent can be challenging. This article takes a closer look at what support is available for the elderly in the UK, so you can access the right care services.
Elderly care: the main considerations
Before moving on to detail the available support for the elderly, it is important to outline some questions to consider. These can be broadly divided into the emotional and the practical:
What are your / their care needs (in terms of medical conditions and day-to-day support)?
What will it all cost?
Are you / they eligible for any financial support from the state?
How do you / they feel about the available elderly care options?
Admitting you need help, or raising the subject with an elderly relative, can be difficult. However, finding the right elderly care solution can improve a person's quality of life, allow them to remain independent for longer, and bring reassurance to their loved ones.
The following sections look at the main options for elderly care in the UK, so you can decide which might be the best for yourself or for a family member.
Care homes
A privately run or council-owned care home offers residential accommodation for the elderly, with meals, on-site support for their daily needs, and communal areas where residents can socialise. There are also homes that provide nursing care. A key consideration when choosing a home is ensuring it is equipped to provide the right levels of care. For example, if dementia services are required. Additionally, it is vital to visit the home in person to make sure it is suitable, before making a decision.
One of the most important practical considerations when it comes to care homes is how the costs will be covered. Care homes start from about £700 a week, rising to £850 for a nursing home. The cost will vary depending on the facility and the level of care required.
There are rules in place that determine the level of contribution the council is required to make to individual care services for the elderly. A funding decision will be made based on a financial assessment of factors including the person's savings and whether they own their own home. So, if this is something that you are considering for yourself or a loved one, it is important to be aware of the latest funding rules.
Supporting an elderly relative to remain at home
A residential facility is only one elderly care option in the UK. There are solutions that allow someone to remain in their own home. The options are to bring in a professional carer or home help assistant, or for a family member to assume care duties. Again, it is important to contact the relevant local authority to find out whether you or your loved ones are eligible for a financial contribution towards in-home care services.
Professional live in or live out carers
Paid carers can be brought in to help with such things as personal care, picking up medications, transport to and from medical appointments, and preparing meals. There are also home help assistants who perform housekeeping chores and other domestic (non-medical) tasks. You can expect to pay from about £20 an hour for home care, with a live-in carer costing upwards of £800 a week. However, this will depend on the level of care required.
The main advantage of in-home care is the flexibility. You can hire someone to come in a couple of times a week for an hour or two or as a full-time, live-in carer (or for anything in-between). Ensure you go through a reputable agency that screens their workers. For live-in carers, there must be suitable living accommodation available. From the elderly person's point-of-view, the main thing to think about is ensuring they genuinely like the carer and are willing to accept them into their home. This is especially true if it is a live-in arrangement.
Caring for an elderly parent or relative
If you wish to support your elderly parents or relatives to stay in their own home, finding a family member to become their in-home carer might be the right solution. On a basic level, this could mean simply popping in to check on them each day or running errands, such as grocery shopping or picking up prescriptions. Alternatively, they could need full-time, live-in care like a professional carer would provide.
This can be a cheaper option that allows the elderly person to stay in their home, while giving them the reassurance and familiarity of being cared for by a loved one. However, as much as you love them, providing care for an elderly parent is not easy. As well as being time-consuming and physically challenging, there is the emotional aspect. Seeing a parent or relative struggling, in pain or going through a terminal illness is tough. Likewise, some parents may be reluctant to let their children help with more intimate matters, such as bathing and using the toilet.
It is also important to recognise that while family members may be well-meaning, if they are not professional carers, there might be limits on how much they can help. For example, dealing with advanced dementia and other mental impairment may require specialist care. Other areas of concern include moving or lifting an elderly person and administering medication, both of which carry risks for the carer and the patient.
If you or a relative are considering becoming a carer for an elderly relative, it is a good idea to carry out some research into the practical and financial support available. There are also dedicated organisations that you can contact for guidance and support, such as the Carers UK charity.
Combining sources of elderly support
When it comes to elderly care, there is no uniform approach. A blend of flexible options might prove to be the best solution. This could include:
Respite care: utilising occasional professional support so an in-home family carer can take a break
Personal alarms: offering peace of mind by giving an elderly person 24/7 remote access to help in an emergency via a convenient personal alarm
Overnight care: employing a nurse or carer to come in just for the overnight period to give the family carer a rest
Likewise, it's important to recognise that a person's needs are likely to change over time, so the elderly care solution that works today may not be right six months or a year from now.
How to deal with elderly parents who refuse help
Finally, it is worth thinking about the appropriate response if your elderly parent or relative digs in their heels and refuses all offers of help, even if it is apparent that they need support.
While it may seem like they are simply being stubborn, their attitude could be masking a genuine fear of growing old, becoming frail, or losing their independence. They may also be too proud to ask for help. Many elderly people scrimped and saved to buy their own home in which to raise a family. Letting go of that home (and the memories it contains) can be hard. Similarly, they may be worried about the costs of care and about not being able to leave their children or grandchildren an inheritance.
These issues are serious and complex, so it is important to listen to their concerns and, ultimately, accept their wishes, rather than impose your ideas on them. The exception might be if their physical or mental health has deteriorated to a point where they can no longer safely live alone. If they are determined to stay in their own home, discuss all the available alternatives, such as those outlined above, and see if a viable in-home solution can be found that ensures they are safe, happy and well cared for.
How SureSafe can support elderly parents and relatives
Whether as a standalone solution or as part of a system of in-home elderly care, a SureSafe personal alarm can provide valuable peace of mind. Offering 24/7 access to assistance in the event of a medical emergency, a SureSafe alarm helps the user to retain their independence.
With various options available – including pendants and watch-style alarms – and features including fall detection, GPS tracking and bath/showerproofing, SureSafe products can provide a little extra support to help people to stay in their own home for longer.
If you would like to learn more about how our personal alarms can support you or a loved one, please get in touch today. You can call our friendly team on 0800 112 3201 or email [email protected].