Recommended Reading
Fall Alarms for the Elderly
An elderly personal alarm with automatic fall detection can detect a fall and call for help without you needing to push the button. This is vital is you are unconscious or immobile following a sudden illness or a fall. The call will automatically go through to either your nominated contacts or a SureSafe operator, depending on which service you have chosen. You will be able to get the help you need fast, even if you are unable to press the button.
Recommended Product

SureSafeGO 24/7 Connect
Mobile GPS tracker alarm. Be safe anywhere, 24/7 monitored with fall detection, talking pendant and family app.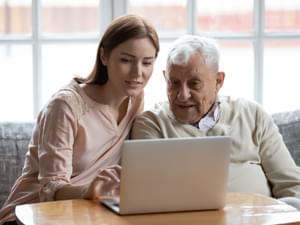 Elderly Care Costs: In-Home and Care Home Options
Article by

Daniel Westhead

Quick Links
Navigate to the section you want to read quickly by clicking on the quick links below:
Many people who are growing older will need care at some point as they age. The options available are wide-ranging – seniors might need someone to visit for an hour or two a day, a live-in carer or full-time support in a nursing home or care home.
However, the cost-of-living crisis affecting the UK is making decisions about care more difficult for elderly people.
A recent survey of people aged 75 and up from all over the UK found that 7 out of 10 respondents had experienced negative effects from the cost-of-living crisis in some way. More alarmingly, 1 in 5 seniors was "worried or very worried" about their ability to afford the basic necessities of life, such as food or fuel for their home.
As you'd expect, this means that many older people in the UK are finding that their choices about the right care for themselves are also being impacted by their ability to pay. In fact, 4 out of 10 of the elderly people surveyed said that financial concerns were affecting their care decisions.
Why getting the right care is so important
The survey's findings are concerning. A lack of proper care can be harmful to older people in ways far beyond the obvious.
Of course, a lack of in-home care for seniors who struggle with personal care tasks could result in health concerns like malnutrition, poor living conditions in the home and more.
But there can be knock-on effects too. If a senior tries to cook or get into the bathtub when their mobility is too poor for them to do these tasks alone, worse harms could result. That can include falls, which are especially dangerous to older people. A fall when no-one is nearby to help can also turn into a "long lie" – an hour or more spent on the floor, unable to get up. This can trigger a health decline ending in hospitalisation or a move to a care home.
What's more, if seniors try to pay for care by reducing their expenditure on essentials like heating or socialisation, there could be serious effects. Overly cold temperatures in the home can raise the risk of stroke and other blood-pressure-related conditions, while social isolation in seniors has been shown to increase the risk of numerous conditions ranging from heart disease to cognitive problems.
If family members end up having to reduce their paid work to take on care for their elderly loved ones, this can also have serious impacts. A 2019 report from the Office for National Statistics found that unpaid caring can reduce income because carers are working part-time rather than full-time – and it can also increase loneliness for the carer.
And what if the costs of in-home care or a live-in carer are so great that a senior is no longer able to live independently in their own home?
This type of change is largely not what older people want. According to the survey, 96% of elderly people preferred to remain living by themselves in their homes rather than moving in with family or to a care home.
That means that seniors who have to leave their homes due to a lack of care may feel a lack of dignity and autonomy, as well as emotional impacts from missing their familiar space and the memories associated with it.
On the other hand, for some seniors, such as those with significant health concerns or dementia, care homes are the best option. These older people should also be able to access the care that they need to stay safe and healthy, regardless of costs.
The bottom line – it's clear to see that getting affordable and appropriate care is essential for older people's wellbeing in every sense.
In this piece, we'll explore elderly care costs in the UK and how affordable the various options are. We'll also discuss what the government and individuals can do to help seniors to "age in place" – to stay in their homes for as long as possible.
How much does elderly care cost in the home?
Many seniors are able to live in their homes healthily and independently with just a low or moderate level of help. Here are some options that are available.
Home care services
A wide variety of care services are available, ranging from 'meals on wheels,' which are dropped off at the door, to services provided by carers or workers who visit an older person's home for short periods in the day.
'Meals on wheels' are hot, fully ready-to-eat meals delivered to your door. Meals on wheels services vary in availability and price across the UK. They may cost from around £3-8 per meal and usually include two courses. At the lower end of these prices, £21 per week, they may be a good and relatively affordable solution to ensure an older person is well-nourished. They can also be a good care support option for short periods of time when an older person cannot cook for themself, such as recovery from surgery.
Hiring someone to do tasks such as cooking, cleaning and gardening also falls under this category. This helps an older person to remain in their home but avoid strenuous work when their health no longer allows it. These types of work are paid at anything from £15-£40 per hour based on location and specifics of the task.
Lastly, professional in-home care for a few hours each day might provide help with personal care tasks such as bathing or dressing as well as cooking and cleaning.
If you think you might require this type of care, a care needs assessment from your local council will determine which type of care and how much care you need. Once you've received those results, you can have a means test to see if your council will pay for any elderly care costs for you. If your savings are below £23,250, the council will help pay for care – however, note that this benchmark changes significantly in October 2025. After that date, savings below £100,000 will mean you get some financial support with care.
For people who have just been discharged from the hospital, councils should provide a few weeks of help with daily tasks at no cost. This is called reablement, and it's meant to help an ill person transition back to caring for themself.
Otherwise, costs of in-home care paid by you will vary slightly based on the tasks required and the location you're in. As with most things, care in some areas such as London will cost more. The price of in-home care might be £15 per hour for more basic services and £20 or more per hour if there are more complex factors.
At £15 per hour for three hours each day, privately arranged in-home care would cost £315 each week.
The bad news? According to the aforementioned survey of people aged 75 and over in the UK, more than 74% of respondents found this £315 cost unaffordable.
Technologies
Devices and apps can be a great way to provide a little support to seniors who can otherwise live independently. They can also be an important component of a plan of care for an older person who needs other support too. Either way, they're often more affordable than paying a worker to come to your home.
Telehealth may be a great asset to older people who have long-term health conditions that need to be checked on regularly. Devices that allow people to do this themselves and then send the results to the doctor are often much simpler than arranging for a medical professional to come to the home to do the same task.
For example, an NHS team in Lothian, Scotland tried giving a telehealth tool called Florence to patients with high blood pressure. Patients took their own blood pressure and then sent the result to their GP through Florence which automatically flagged readings that were too high. The results? Lowered blood pressure in the patients.
More widespread use of these types of tools could be a great move by the government to help avert more serious health problems before they start – for example, addressing high blood pressure before it triggers a health crisis. That all adds up to keeping older people healthier and in their homes for longer.
Personal alarms are another helpful technology recommended by the NHS. If a senior lives alone, or if they have carers during the day but not at night, fall detection alarms ensure that a patient will never experience a "long lie" after a fall – help will be called automatically.
Sophisticated alarms like the SureSafe Guardian also include functions like apps to help families coordinate care for loved ones, medication reminders and a routine "check-in" that periodically makes sure the wearer is alright. The initial outlay of less than £35 for this device, plus a monthly £14.99 subscription, is minimal in comparison with many other elderly care costs. And this type of technology can also help family members of older people stay working for longer rather than reducing their paid work to provide care for older loved ones.
Home modifications
It's worth mentioning that modifications to the home can help older people continue to do tasks independently for longer. For example, older people who worry about their stability may find that grab bars in the bathroom or replacing a bathtub with a walk-in shower can make it easier for them to bathe by themselves.
Of course, these kinds of modifications vary greatly in cost. But your council may pay for modifications costing less than £1,000. They just need to do a home assessment to see what you need. A disabled facilities grant from the government might help pay for larger changes, too.
How much does elderly care cost with an in-home carer?
If a few hours of care per day is no longer enough to support an older person's needs, an in-home or live-in carer might be the next step.
Sometimes seniors who need this level of prolonged care end up moving in with family members who will provide care.
However, for older people who want to stay in their own home, a live-in carer can allow them to do that.
As you might expect, paying a carer to live in your home full-time can be expensive. Which? magazine estimates the cost of a live-in carer hired through an agency to range from £800 to £1,500 per week.
As the average cost of a care home can also be around £800 per week, a live-in carer might be a better bet for seniors who are choosing between a live-in carer and a care home.
Personal alarms with automatic fall detection can provide extra peace of mind for seniors with live-in carers as well. For example, if an older person falls in the living room while the carer is in the kitchen doing dishes or at night while the carer is asleep, the carer will be alerted at once. This function can be useful for dementia patients, who may not understand or remember that they need to call for help to do tasks.
How much does elderly care cost in care homes?
Last on our list of possibilities to explore are options for care outside an elderly person's original home.
Sheltered housing
Sheltered housing, such as retirement communities or assisted living, does not provide the full-time care of a care home or even a live-in carer. It's an option for seniors who want a bit more low-level support and are willing to move into a community of homes built around supporting the elderly.
Whereas many older people prefer to remain in their original homes to retain social connections with their community, sheltered housing such as retirement communities might be a good option for seniors who want to downsize from a larger home or are seeking a new social life in a new community.
Since homes can be bought or rented in a retirement community, the costs of this type of housing can vary significantly due to factors such as the size of the home and whether the older person is buying or renting. However, this type of housing usually has costs and charges for its services, and these should be taken into account in addition to purchase price or rent when considering it as an option.
Residential care homes and nursing homes
It's important to note the difference between residential care homes and nursing homes. Both provide help with personal care. However, nursing homes always have at least one qualified nurse available. That's why nursing homes typically cost more. But if an older person has significant medical needs, a nursing home may be a better option.
As always, elderly care costs for residential care homes and nursing homes vary according to factors such as location and the amenities provided. Residential care homes may cost from £600-800, while nursing homes might be around £800-£1,078 per week.
In the survey of over-75s, 9 out of 10 respondents felt that £800 per week for care homes and £1,078 for nursing homes were not affordable.
Yet a lack of in-home care support can mean that elderly people end up in nursing or residential care homes earlier than they need to be – which is even more costly!
Which option is best?
There is a very wide spectrum of older people's care needs, ranging from a generally fit elderly person who worries about being alone in their home to an older person with dementia who needs around-the-clock care. For this reason, elderly care costs also vary widely, and there's no one type of care that's inherently 'better.'
However, it is important for elderly people to have self-determination and to be in the type of housing they prefer for as long as possible. For the 96% of older people who prefer to live independently in their own homes, families and the government should do all they can to ensure this is possible. That means ensuring seniors can access all available supports to help them stay at home.
The Association of Directors of Adult Social Services (ADASS) also advocates for a 'Home First' strategy in which the care system focuses on individuals and their homes rather than on large institutions like residential care homes.
What has been done and could be done to help elderly people afford care?
The government has provided some help with various aspects of the cost-of-living crisis. For example, the Energy Bill Support Scheme, which ended in March 2023, gave households £400 toward their energy bills.
In winter 2023, the government's Warm Home Discount scheme, Cold Weather Payments and Winter Fuel Payment will help some elderly people afford energy.
In terms of elderly care costs, the government has said it plans to institute an £86,000 lifetime cap on the cost of an individual's care. This cap was initially set to begin in October of 2023, but it has now been delayed until October 2025.
As we've already seen, the government has also significantly increased the means-testing savings threshold for receiving financial support with care.
These are positive steps. However, more support is needed from the government to ensure all older people get the care they need in 2023 and onward, given that 40% of elderly people who say the cost-of-living crisis is affecting their care decisions.
Age UK's "We Can't Wait for Care" campaign calls for the government to address delays for social care caused by underfunding and a lack of available carers.
Additionally, according to the survey of people aged 75 and over, more than half of elderly people feel that the government needs to do more to help them face the effects of the cost-of-living crisis.
Government action to help more elderly people age in place at home could be a win for everyone. A package of funding for in-home care and care technologies such as personal alarms would allow more older people to stay in the housing they prefer. Family members would need to do less unpaid caring, meaning they'd be more able to do paid work to combat the effects of the cost-of-living crisis for themselves. And care homes would be available for the elderly people who truly need them most.
What's most apparent is that older people in the UK need help with elderly care costs now. No-one should have to decide between paying for essentials like food and fuel, and no-one should have to leave their own home because of a lack of care funding. But with proper care and supports, elderly people can age with dignity, a high quality of life and the greatest wellbeing possible.