Recommended Reading
Fall Alarms for the Elderly
An elderly personal alarm with automatic fall detection can detect a fall and call for help without you needing to push the button. This is vital is you are unconscious or immobile following a sudden illness or a fall. The call will automatically go through to either your nominated contacts or a SureSafe operator, depending on which service you have chosen. You will be able to get the help you need fast, even if you are unable to press the button.
Recommended Product

SureSafeGO 24/7 Connect
Mobile GPS tracker alarm. Be safe anywhere, 24/7 monitored with fall detection, talking pendant and family app.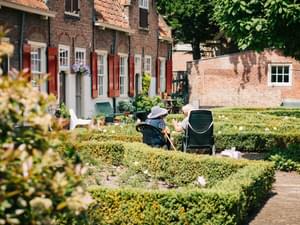 96% of Elderly People Want to Stay in Their Own Home for Care
Article by

Daniel Westhead

Quick Links
Navigate to the section you want to read quickly by clicking on the quick links below:
There's no place like home. So, it's no surprise that 96% of elderly people would prefer to remain living on their own in their homes, rather than moving into a care home or into a family member's home. That's according to our recent survey of people over aged 75 in the UK.
Why are these findings important? Sometimes older people find they have to leave their homes – against their wishes – because they aren't able to fully take care of themselves independently.
Yet a little bit of support can make a huge difference. With support like in-home care, and the introduction of some helpful technology, seniors can stay in their comfortable and familiar homes.
That's important for so many reasons. Firstly, older people should have the ability to live where they want to. That's an essential component of human dignity.
But secondly, it can actually be much better for seniors' wellbeing if they can stay in their own homes. Let's explore why…
Social connections and cognition
"Home" can mean the house or flat that a person lives in. But it can also mean their neighbourhood or even their town.
"Home" in all of these senses is important because it provides familiar social connections – a long-term friend, a cheerful neighbour, the cashier we chat with at the corner shop. Social interactions with people we know and like gives our lives meaning. And studies have found that socialisation can help seniors' cognitive abilities and thinking too.
In contrast, social isolation in older people can increase the dangers of serious health conditions ranging from heart disease to Alzheimer's disease. If an older person has to move out of their familiar home and neighbourhood to the home of a family member in a different area, or into a care home or nursing home, they're at risk of becoming isolated and lonely.
Movement and activity
It's essential for seniors to stay active and move around. That's because a lack of movement and activity can lead to muscle weakness, which creates a vicious cycle where seniors find it more difficult to move. They don't move, so they find it more difficult to move, and so on. The end result of this cycle can be an increased likelihood of falls, which can be very dangerous for the elderly.
Physical activity has even been shown to improve memory in the elderly and decrease the likelihood of getting dementia.
That's why it's important for elderly people to be in a location where they feel they can move around comfortably. That might mean taking a walk on an old path that they have walked along for decades, driving on familiar roads and knowing where the local post office is. Or it might just mean knowing how to navigate around the home with poorer vision. Either way, all of these things may be easier to do in a place you know well – and in a place where you have friends to visit.
In other words, if an older person is more comfortable moving around and being active in their own home and neighbourhood rather than living with a relative, then remaining at home could be hugely beneficial to them.
How we can help older people stay at home for longer
As we've seen, the 96% of over-75s who want to stay independently in their own homes have very good reasons for feeling that way. For many elderly people, aging in place is a choice that's cost-effective and good for mental health and physical wellbeing.
How can we ensure that elderly people can do this for as long as possible? The key is thinking ahead.
There are a number of reasons why older people may end up moving out of their own homes. These include struggles with personal care or worries about safety and falls. But many of these problems can be addressed by planning ahead.
For example, even small supports like Meals on Wheels or a few hours of care a day can help things to run smoothly at home for an older person. They prevent small struggles with personal care from developing into serious issues.
Likewise, seniors who are worried about safety can install features like grab bars to help prevent falls. They can also purchase personal alarms with automatic fall detection to ensure that if a fall happens, they won't face the harmful health effects of a "long lie," which is a period of more than one hour lying on the floor. In more serious situations, such as a heart attack, a personal alarm can be the difference between life and death as help can be summoned in an instant.
Find out more about personal alarms
Curious to learn more about how personal alarms can fit into a care plan for older people who are living independently? Chat with us at 0800 112 3201 to talk about the supports that SureSafe personal alarms can provide. You can also talk with us through live chat or request a call back.