Recommended Reading:
Digital Alarms
Our digital personal alarms offer the most up to date technology and features, yet remain easy to set-up and use. They are 'future-proof' against BT's upcoming Digital Switchover and provide you with more features, greater reliability and better-quality alarms to be used to keep you or your loved ones living safely and independently.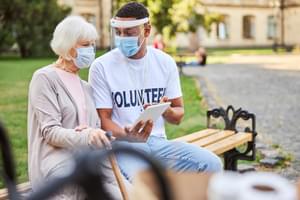 Elderly and the Digital Divide during COVID-19: Technology for the Elderly
Article by

Daniel Westhead

Quick Links
Navigate to the section you want to read quickly by clicking on the quick links below:
Since the beginning of the COVID-19 pandemic, many of us relied on technology a lot more. However, not everyone has access to these tools to support their well-being and daily life at home.
Digital communication platforms enabled us to work, speak with loved ones and continue our hobbies or exercise routines. Some people, particularly older adults, struggled - either because they didn't have access to this technology or necessary platforms, or lacked the skills to use them. This has widened the divide between those able to access modern technology and online support.
In this blog, we explore the increased negative effects the digital divide had on the elderly during the pandemic, and ways that technology can benefit the elderly.
What were the impacts of the digital divide on the elderly during COVID-19?
According to studies, people suffered from increased anxiety, depression, and loneliness as a result of the pandemic and lockdowns, especially the elderly population. Furthermore, depression in the elderly has been linked to subsequent cognitive decline, which increases the risk of Alzheimer's disease.
In addition, access to regular healthcare for non-COVID-related illnesses or problems during this time was interrupted, meaning that elderly people with non-COVID-related disorders were hugely affected as they were told not to enter high-risk areas. As a solution, there was a further shift of healthcare into the digital world, whereby video consultations and phone appointments took place over the majority of in-person appointments.
It was suggested that around 40% of elderly individuals were unprepared to use telehealth resources, primarily due to a lack of digital literacy skills found amongst the elderly compared to younger ages – this is what is referred to as the digital divide.
How did older people manage throughout the pandemic?
During the pandemic, the digital divide was further amplified, and it was clear that immediate action was needed to address this issue. Some older people didn't have the means to buy their own devices or internet connection, or they didn't feel they had the confidence or knowledge to purchase the correct product.
And yet, throughout the pandemic, people were usually expected to go online to do the same tasks that they had done offline pre-pandemic, such as shopping or booking a GP appointment. So, how were these challenges managed during the pandemic?
To start, organisations such as Age UK had to find new ways to deliver services and help to those in challenging circumstances. This included reaching people through referrals, mainly via social media campaigns and providing older people with printed resources.
Raising awareness of and making resources available to less technologically aware individuals was vital, whether digital solutions for the elderly were encouraged by the government or by care homes.
Also, many old people without access to the technology needed to live life 'normally' during lockdown relied on family, neighbours, friends and the community to help with grocery shopping, prescriptions etc.
Why is digital literacy important for the elderly?
As the world is more connected via the internet and mobile devices, seniors are expected to use internet-based services to manage their health, finance and even communication. Digital literacy is essential for the elderly as it can have a direct impact on their quality of life – not only does it save time on daily tasks and provide access to see long-distance family via video call, but it can also provide tools to better manage their health.
There are lots of programs and projects in place to help the elderly with their digital literacy skills, such as Age UK's Digital Inclusion Programme. These are in place to provide older people with the confidence and ability to use all types of modern technology, from smartphones and tablets to laptops and smartwatches.
According to the Census 2021, 6.3% of adults in the UK had never used the internet in 2020, and only 54% of adults aged 75 and over were recent internet users. Post-pandemic, the world has moved even more into the digital realm, with QR codes and contactless payments becoming the new norm. Many shops are now cashless, and lots of restaurants, cafes and pubs now ask people to scan a QR code to access the menu, order and pay.
For a long time, the elderly have depended on assistance from loved ones or caregivers to help with tasks such as paying bills and shopping. It's important that older people have the knowledge and confidence to take on these tasks independently, as and when they need to, rather than relying on someone to help them.
Digital literacy can improve the quality of life for the elderly in several ways, including:
Access information
At the click of a button, one can easily access the news, weather forecast and information on all subjects with the internet. It is important to ensure safety features are set up on their device to avoid misinformation and scams.


Keep in touch with friends and family
As we get older, we can become more vulnerable to feelings of loneliness and isolation. With applications like FaceTime, WhatsApp, and Skype, it's possible to keep in touch with family and friends whenever and wherever you are.


Daily tasks become quicker and easier
Once older people are equipped with the knowledge and confidence to use digital platforms, daily tasks that once may have required queuing for a long time or waiting on the phone - such as booking a doctor's appointment or heading to the bank -become much easier and quicker. With access to a smartphone and the internet, you can now easily pay bills online, make a hotel booking, book a medical appointment, and make financial transactions online.


Manage health
It's important that we manage our health, especially as we get older, to minimise the risks of developing health conditions. Over the pandemic, lots of elderly people used their devices to find senior-friendly workouts, subscribe to online gym memberships and research nutrition-related information such as foods that boost immunity or what to eat to help with their health conditions.
Check out our Essential Guide to Digital Skills for Seniors.
How can technology benefit the elderly?
Technology is emerging at a rapid pace, and there are a wealth of new technologies that can benefit ageing and longevity, whether living at home or in an assisted living facility. New technology can not only improve communication, but it allows for greater independence and keeps the brain active.
Some examples of technology that helps the elderly include:

Mobile phones with large buttons and easy-to-use interfaces
Video calling apps like Facetime or Zoom
Medical alert systems
These technologies can help the elderly in several ways. Mobile phones can help seniors to keep in touch with their loved ones, as can video calling applications. Medical alert systems can help them get the medical care they need, and GPS tracking devices can help them stay independent by allowing them to go wherever they like, safe in the knowledge that their loved ones can find them if they became in need of help.
Technology is constantly evolving – there are new innovations, products and applications being developed constantly, meaning there are always new ways for the elderly to benefit from technology.
Health monitoring devices for the elderly
Smartwatches and Pedometers
A healthy and active lifestyle can help to prevent and even cure certain health conditions. A fitness tracker such as a smartwatch or pedometer are great for those in need of some fitness motivation or you're looking for accountability to your health and fitness goals. They are stylish, comfortable and lightweight, making them perfect for daily use to track your daily movement and calories. Some smartwatches can also monitor other key health indicators such as heart rate, ECG monitoring, sleep and nutritional intake.
Our SureSafeGO Plus is easy to set up and use, making it a fantastic choice for seniors – it is equipped with many useful features such as automatic fall detection and GPS tracking, while also offering a 'no movement detected' alarm which texts nominated family and friends with an alert if the alarm doesn't detect any movement for a while.
Personal Alarms
Personal safety alert devices are designed to help seniors live independently in their own homes, safer and for longer. Our personal alarms are available in a selection of different styles, equipped with helpful features to suit your needs, such as automatic fall detection, GPS tracking and a talking pendant, all the while being discreet and lightweight. They offer reassurance for you and your loved ones that someone will be there if you need it.
If you're looking for the latest technology to assist an older person, consider getting in touch with us to find out how our devices can help give you peace of mind. Browse our products or give us a call on 0800 112 3201 to find out more.