Recommended Reading:
Digital Alarms
Our digital personal alarms offer the most up to date technology and features, yet remain easy to set-up and use. They are 'future-proof' against BT's upcoming Digital Switchover and provide you with more features, greater reliability and better-quality alarms to be used to keep you or your loved ones living safely and independently.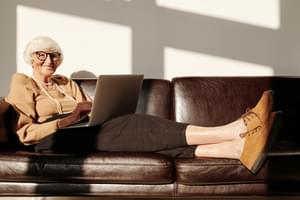 Digital Inclusion and what it means for the elderly
Article by

Daniel Westhead

Quick Links
Navigate to the section you want to read quickly by clicking on the quick links below:
Whether we notice it or not, our everyday lives are dominated by being able to use technology.
From paying our bills to communicating with friends and family, many personal and business interactions now take place primarily online.
But what can this mean for those who don't have easy access to the internet, or are unsure or wary of using online platforms? We explore what digital inclusion is, and what it can mean for older people.
What is digital inclusion?
Digital inclusion is about making sure that people have the access and capability to use technology such as the internet to properly participate in social and economic life. With BT's upcoming digital switchover, digital inclusion is becoming more important than ever before.
In an era where access to many services and activities is reliant on being able to get online, those who are not able to do so are being left behind. We are seeing banks closing, big businesses moving to email rather than paper billing and updates, and job applications being online only. For those who have trouble accessing the internet this can lead to an inequality in being able to access things needed for everyday life.
The Government Digital Service undertook research that has shown that some sections of the population are more likely to be digitally excluded than others. These are:
older people
people in lower income groups
people without a job
people in social housing
people with disabilities
people with fewer educational qualifications
people living in rural areas
homeless people
people whose first language is not English
There are several elements which can contribute to an individual being digitally excluded, namely:
Digital skills
If someone is unable to use a smartphone or computer or is unsure of how to connect to the internet this may lead to them being digitally excluded.
Connectivity
Actually being able to access the internet through broadband or mobile services is a barrier for some individuals. With the upcoming digital switchover, telephone lines will run through broadband lines. As a result, you will need to think about devices such as personal alarms with digital alarm features.
Accessibility
Some people will not be able to access certain online services due to disability. If websites or online services are not designed to meet all user's needs, such as those who depend on assistive technology, this forms a barrier to being digitally included.
What is the digital inclusion scale?
The UK Government's Digital service has developed a digital inclusion scale which maps individuals digital capability on a scale from one to nine from those who never go online at all, to digital experts.
As mentioned previously, some sections of the population are more likely to be excluded than others.
Over the past seven years, the Lloyds Bank team have researched how digital the UK really is and undertakes the UK's largest study of our digital and financial lives. This gives some insight into who is digitally excluded in the UK.
Why is digital literacy so important for the elderly?
The reality is that we now live an era where most day-to-day activities will involve using some form of technology.
While the idea that all older people struggle to get online is a myth, a report by Age UK in 2018 showed that around 4.2million people aged 65 or over are offline or have never used the internet.
And while many older people are online, pre-pandemic, people over the age of 65 were still less likely to use online shopping, look for health information or access internet banking than the rest of the population. While these figures are likely to have changed in a post-Covid world, there are still large numbers of the population who do not regularly go online.
The need for digital literacy was certainly exacerbated throughout the pandemic. In many cases, fulfilling simple basic needs was suddenly at the mercy of being able to use a computer. For example, filing for an online prescription or using online grocery apps to get shopping.
Many of those who were both unable to use the internet for these services and also medically vulnerable or shielding had to rely on either friends and family or volunteer services to get access to food or medical supplies.
And it's not just having access to services that's important. Being able to get online also offers many older people access to social activities. From "meeting" with friends and family over Zoom, to being able to find and book social activities in their local area – being digitally included helps older people to remain socially connected and can alleviate loneliness.
Why do older people struggle with tech?
There's no simple answer as the reasons can hugely vary – it can be fear, disinterest, or the fact that, as we age, learning new skills can become more difficult.
Motivation is often an overlooked factor when it comes to older people adopting new tech. There are often several factors that contribute to disinterest.
One is that, when it takes longer to learn something, and no clear benefit is immediately available, a person may choose not to invest their time in adopting something new. Younger people tend to seek new skills because they may become relevant later and help to forward their careers or lives in general. As we age, we tend to focus more on the "here and now" and therefore have different goals such as enjoying time with friends or family. In turn, this means that learning new skills becomes less of a priority.
From a purely practical point of view, dealing with a smartphone or a computer can become physically harder as we age too. As eyesight diminishes and fine motor skills deteriorate, it can become more difficult to see the phone screen or use a mouse or a keyboard.
Combatting a fear of technology
For many older people, it's less that they lack the ability to learn digital skills, and more a fear of technology. And who can blame them? The news is awash with stories of people being scammed, hacked or tricked online.
And most of us have a fear of the unknown when it comes to the online world. After all, how would you feel if asked to create a TikTok video? Or what are your thoughts on the Metaverse?
Often the fear of technology is actually rooted in a fear of failure. No one wants to try and fail. And as phones and computers become "smarter" many older people state that the complexity of devices makes them difficult to use.
If you have an older relative or friend who is worried about using technology, there are a number of things you can do.
Show not tell
When encouraging someone who is nervous of getting online – one of the best places to start is with your own devices. Show them websites or apps that they will likely respond well to. That could be anything from showing how WhatsApp can help them to stay in touch with family groups, to accessing a site that is about a hobby they are interested in.
Keep is simple
When showing someone how to use the internet, keep it simple. Do one thing at a time and break it down into clear and easy to explain steps.
Don't forget the basics
We are often so used to getting online that it's easy to miss straightforward steps such as how to access your web browser, or how to get into your email account. Don't forget that things that are part of our everyday lives, such as clicking on cookie consents will be new to someone accessing the internet for the first time, or after a long break.
Get help
There are many services across the UK which are dedicated to helping older people get online. These include free lessons in local libraries, or many local authorities run simple courses. Additionally, if your loved one has any at-home care, often carers will be able to provide some lessons around using the internet.
Accessing the internet
As discovered by the digital exclusion scale - not all issues around digital exclusion are solely related to not being able to use technology – often it's around connectivity. There are still areas of the UK where access to broadband is difficult and where 3G or 4G signal for phones is not available or poor.
Additionally, digital poverty can be a factor – as the cost of living rises, paying for mobile phone data or a broadband contract may not be a priority for an older person struggling with money.
There are some broadband services which are created specifically for those who are older or are on benefits. This includes BT basic which gives heavily discounted line rental and standard broadband.
While not every older person will be affected by digital exclusion, if you are worried about a loved one, the best thing to do is speak to them directly. While not every older person will want to be "upskilled" showing the benefits of being digitally active can help an older person live a more sociable and connected life.
Call SureSafe's team of experts on 0800 112 3201 to learn more about the digital personal alarms we offer, to keep your elderly loved ones safe.