25th of July is the World Day for Grandparents and the Elderly
A time to honour and celebrate grandparents and the elderly
Now, more than ever, it is important to pay care and attention to elderly loved ones. It is thought that Pope Francis' direct address to Grandfathers, Grandmothers and Elderly Friends is in response to what has been some very challenging months.
We all know that the pandemic has been most challenging for older people who have been forced to shield themselves. Isolation has meant that more older people than ever are feeling the impact of loneliness. In his address, Pope Francis assured elderly listeners that they now have a new job to do - to help rebuild the world.
If you have been supporting an elderly relative, his words will ring true. You might feel like you spend a lot of time teaching your loved one to get to grips with things like technology as it changes so quickly, but there's actually still a lot we can learn from our parents and grandparents.
Resilience
With older age comes resilience and strength. They have probably seen many changes and faced difficulties over the years, power cuts, strikes, financial hardship and the Austin Allegro! This generation of elderly have learnt to cope and adapt and that is something we should keep in mind as we make our way out of this difficult situation we have found ourselves in.
Patience
Have you ever noticed that your parents are more patient with their grandkids than they ever were with you? They also seem to let them get away with more. The truth is, they've been there and done it all raising you, which took patience and they are now ready to enjoy time with their grandchildren.
Hard work
We've probably all got skills that we have learnt from our grandparents. That could be baking, DIY or just how to get stuck in with the gardening. There are things that we could pick up from the internet that are much better learnt from our elderly loved ones, it creates memories and passes on a legacy.
As well as the precious memories, our elderly relatives have taught us so many lessons over the years. It goes without saying that we should value and appreciate them every day. But at the same time, isn't it wonderful that the struggles they've endured are being acknowledged? Not just this, it also sends a clear message that they still have such an important role to play in supporting and guiding us?
On July 25th, why not take some time to get in touch with your elderly loved one? Find out what they need and what things they'd like to do to help out in the family. Think about what you can do to support them to continue to live independently. Take the opportunity to learn from them and make more memories.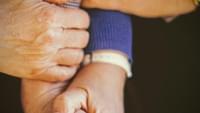 Elderly health & careline personal alarms
We saw the first careline alarms in the 1970s and they have come a long way since then. Technology has advanced a lot and personal alarms are used by people of all ages and, with features such as fall alarm, they can help support a range of conditions. They still play an important part in elderly health care and they can offer reassurance for both the wearer and their loved ones.
Are you looking for an elderly person alarm for their safety?
Once you start looking into them, you'll find that buying pendant alarms for the elderly is an easy process. You can compare the different types of alarms to see which model works best for your family. Do you need a personal alarm and GPS tracker, a wrist worn fall detector or a personal safety alarm necklace?