What is the best KeySafe?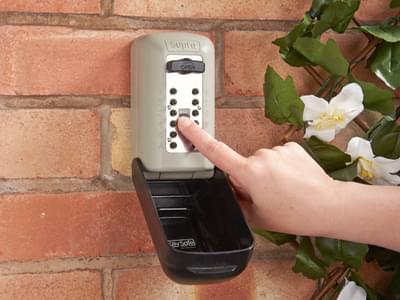 Choosing what the best KeySafe is can almost be as difficult as choosing the best personal alarm. Security in our loved ones homes is vital to keep them feeling safe and for peace of mind. A personal alarm is a great way to keep your loved ones safe, but what if they use their SOS button to call for help, and no one can get into their home to check if they're ok? This is where a KeySafe comes in handy.
There are many on the market, which you can get from high-street retailers, but to ensure maximum security, you are best to look out for a 'police approved KeySafe'. This means that the KeySafe has achieved Police Preferred Specification from Secured By Design. The KeySafe by SureSafe is also big enough to hold 6 keys which is great as it means you can keep your loved ones keys for multiple entrances all together.
The best KeySafe on the market is undoubtedly the C500 KeySafe. This KeySafe is a mix between a combination KeySafe and a push-button KeySafe, giving you a double layer of protection and has undergone rigorous tests which makes it officially as 'attack resistant as a domestic front door'. The 'LPS1175' security rating this KeySafe holds is recognised by many different home insurance companies if it is installed into brick or into dense concrete to ensure police accreditation. Along with accredited security ratings and insurance approval, this KeySafe also allows you to have over 4,000 code combinations changing as many times as you'd like to keep the security maximised at all times.
By having a KeySafe it prevents forced entry into the house being necessary when your loved one presses the button on their SOS button and needs help. If your loved one has a fall, or suddenly feels unwell, and cannot get to the door to open it, the only way in is to break in. This adds to the stress of the situation as it can take longer to get the help your loved one needs, plus there is the inconvenience and cost of having to repair or replace the door or window afterwards.
A key safe rules out damaging a door or window and also saves the fright of your loved ones. The great thing about buying a personal alarm and a KeySafe as an add-on is that we can make sure that the KeySafe combination is on our system. This means that if your loved one presses the SOS button to call for help, or an alert is activated through a fall; whether it's a friend, relative or emergency services, we can pass on the KeySafe combination to allow safe entry into the property if they were not to have a key available.
Our KeySafe's are priced at £89.95 plus VAT and if you need one of our professionally qualified engineers to install it for you and demonstrate how it works, it's an additional £59.95 plus vat. We can then arrange for the engineer to come at your earliest convenience to fit it for you on an external wall.