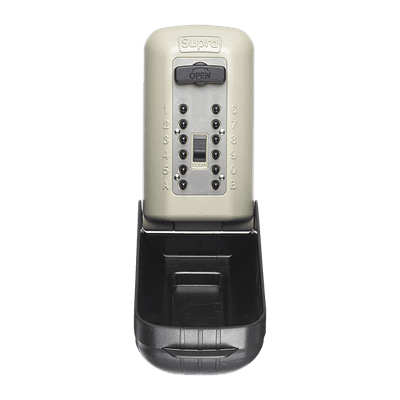 Key Safe from SureSafe
A key safe lock box - A safe way to store keys outside
A key safe box is a safe way to store keys outside of your home that can give quick and easy access to friends, family and the emergency services in the event of an emergency. Get the help you need, fast… and prevent the need to force entry by having your keys easily accessible in a key safe lock box.
When choosing a key safe lock box for you or your loved ones home, be sure to check that it is secure. Our key safe box has a ''LPS1175' security rating, which means it has passed a series of thorough tests and is officially as 'attack-resistant as a domestic front door'. This key safe box accreditation is recognised by multiple home insurance companies if it is installed into brick or into dense concrete to ensure police accreditation.

The Key Safe includes a weather cover to protect the steel from rainy days, as well as being rust & water-resistant dealing with temperatures from - 32°C to 68°C. To install, quite simply drill it to the exterior wall. It comes with 4 x wall tapping screws that go straight into the wall without needing wall plugs for ease of installation. You will need a T30 Screwdriver and a 5mmx110mm Drill Bit to install your key safe box to your wall.

This Key Safe holds up to 6 keys and allows you to have over 4,000 code combinations. Not only this, you can change the code as many times as you'd like to maintain a good security level.