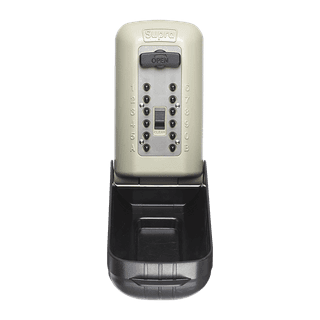 Key Safe from SureSafe
A key safe lock box - A safe way to store keys outside
A key safe box is a safe way to store keys outside of your home that can give quick and easy access to friends, family and the emergency services in the event of an emergency. Get the help you need, fast… and prevent the need to force entry by having your keys easily accessible in a key safe lock box.
When choosing a key safe lock box for you or your loved ones home, be sure to check that it is secure. Our key safe box has a ''LPS1175' security rating, which means it has passed a series of thorough tests and is officially as 'attack-resistant as a domestic front door'. This key safe box accreditation is recognised by multiple home insurance companies if it is installed into brick or into dense concrete to ensure police accreditation.

The Key Safe includes a weather cover to protect the steel from rainy days, as well as being rust & water-resistant dealing with temperatures from - 32°C to 68°C. To install, quite simply drill it to the exterior wall. It comes with 4 x wall tapping screws that go straight into the wall without needing wall plugs for ease of installation. You will need a T30 Screwdriver and a 5mmx110mm Drill Bit to install your key safe box to your wall.

This Key Safe holds up to 6 keys and allows you to have over 4,000 code combinations. Not only this, you can change the code as many times as you'd like to maintain a good security level.


Frequently Asked Questions
What is a KeySafe and why should I have one?

If your elderly family member wants to keep their independence and live in their home a personal alarm will enable you to get them help if they need it. But how do you and others access your family in their home when the door is shut, and they can't move?

Close family will sometimes have a key. But what if you need to send someone else round to check on your relative because you can't? Or you want the emergency services to be able to get into the house?

The solution to this problem is to have a key safe outside your home. The key safe is kept secure with a combination code that you need to tap in before the safe will open.

If your elderly relative has a key safe it means you can give the combination to the emergency services or another member of the family to allow them to gain access. This cuts down the amount of time your relative has to wait for assistance. With a medical situation like a stroke, heart attack or fall, minutes matter. It's vital to get someone that is suffering from an illness or injury medical assistance fast.

The SureSafe KeySafe is made from strong metal that can be installed into the concrete or brickwork outside your relative's home. The metal is soft and malleable, so if someone tries to hit it, it will bend but stay in one piece. It will not shatter and open.

You should change your key safe regularly and especially after it has been used in an emergency by police or ambulance. Don't give the combination code out to a lot of people. It is best if only one or two people know the code and can give it to someone else in an emergency.

Are key safes easy to break into?

Key safes are perfectly safe and our SureSafe key safe product has gone through rigorous testing to attain its security rating.

One feature that makes our key safe very difficult to break into is that it is made of a soft, as opposed to a brittle, metal. This means if someone tries to break it open by hitting it, the casing will absorb the impact rather than shatter and expose the keys.

If you still have concerns you can reduce the risk of someone looking to target your key safe by not installing it in plain view.

Ideally, the key safe should be placed away from plain sight and not by your front door, to prevent burglars from trying to break into it.

How do you open a locked key safe?

We offer a number of user guides and instruction manuals to help you operate your key safe and personal alarms.

Should you need further assistance, don't hesitate to call us on 0800 112 3201, and a member of our customer services team will be happy to assist you.

How safe are key safes for the elderly?

The SureSafe key safe box has gone through thorough testing and has passed a number of tests. It is officially as 'attack-resistant as a domestic front door' and has a ''LPS1175" security rating.

To ensure police accreditation, the key safe box must be installed into brick of dense concrete. The accreditation is also recognised by multiple home insurance companies.

You can feel safe and secure with a key safe from SureSafe. This will allow the emergency services to gain access to your property quickly in an emergency, without needing to damage and doors or windows to gain entry.

Where is the best place to put a key safe?

Many individuals will mount a key safe at the back of their property, or out of sight from the front of the property that the keys are used for. This is to deter anyone from trying to crack the code or gain access to the keys in the box to enter the property.