What is telecare? Everything you need to know
What is Telecare?
Figures show that there are more than 12 million people over the age of 65 in England; that was 18% of the population in 2016. This highlights the need for telecare equipment like alarm pendants and other personal alarms for the elderly. This is because, as our society ages, more people are susceptible to falling, illness, or other emergencies which require support. Telecare devices like SureSafe alarms are designed to ensure that elderly or vulnerable people are not left without this essential lifeline aid.
The use of telecare equipment has also been encouraged by health and social care professionals for a number of years, in order to take care of our elderly loved ones. The use of technology has helped to elevate many sectors, but it has been especially transformative to the health sector, where the use of devices like the personal fall alarm pendant means that people can get urgent help much sooner.
Telecare is one of the most innovative solutions created and plays an important role in healthcare. People are busier than ever and constantly watching over our elderly loved ones is not always possible. Telecare Equipment removes the need for this, connecting your loved ones to yourself or to a 24/7 monitoring centre to ensure help is never more than the push of a button away. One of the challenges is that not many people know the answer to question, what is telecare? Without knowing what is telecare, most people have no understanding of what it is, or if they or a loved one needs it.

Does my loved one need an alarm pendant for the elderly?
You may think that your elderly loved ones don't need telecare equipment, after all, they've been fine up to now. But what would happen if an emergency did occur and there was no one around to help? Would a wrist worn fall detector help them or reduce panic?
There are huge amounts of emergency hospital admissions of elderly Britons every year. According to a study published by the NHS, around 1.3 million people from the age group of 65-69 years were admitted to hospital in 2015/16. Falls are also one of the leading causes of death among elderly people and surveys have shown that many of these deaths could have been avoided with immediate clinical assistance.
The earlier that someone can get to a person who has had a fall, the better their chances of recovery will be. We know that you or careers can't always be with a loved one 24 hours a day and so fall alarms with automatic fall detection are usually the next best thing.
These fall alarms can be life-saving as they call for help automatically, without the need to even press the SOS pendant. Not only does telecare equipment ensure help is received quickly but they are also thought to help to prevent falls because feeling safe and secure increases confidence.
But how does a fall alarm for elderly people prevent falls? It is thought that because the wearer feels safer they are more confident and so they move around more frequently. This movement helps them to maintain their level of balance and mobility. Improved confidence also means that with a personal alarm elderly people report better wellbeing.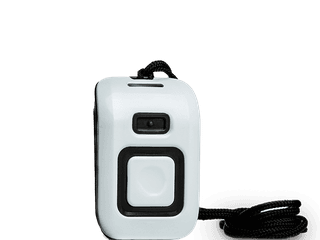 Fall Alert
Neck worn personal alarm that can detect a fall and call for help.
Helping People Stay in their Homes Longer

Showerproof

Discreet and Lightweight
Buy Product
What are the experts saying about what is telecare and how it can help?
Liam Byrne, a member of the UK Parliament stated that:
"An estimated 90% of older people want to live in their own home. Approximately 500,000 older people, however, live in care homes. Research funded by the Department of Health suggests that as many as 35% of those people could be supported to live at home or in extra care housing schemes through the use of telecare."
Through the use of telecare services, you can support your elderly loved ones in living alone, maintaining their independence and allowing them to live within their own home for as long as possible.
How do pendant alarms for the elderly work?
SureSafe telecare services designed to be easy to set up and use in just a few steps. They can be really useful in helping us to take care of our elderly loved ones. They are also easy to use, with a wide range of available features to suit any need, telecare is the only way to ensure your loved ones can gain help at any time of the day.
When you need help you need only press the SOS pendant or button on your wrist personal alarm. If you have an elderly fall alarm, it will automatically sense a fall. With these alarm pendants for elderly people, you can talk directly to a person using the device.
What are the key features of SureSafe telecare services?
Easy Installation and Setup
Telecare devices are easy to set up and install, ready to use straight out of the box. This allows users and their families to feel safe right from the get-go, feeling the benefits of their investment. This also means that there is no aged alarm installation charge, making them even more affordable.
Portable
Whilst all telecare devices are portable in terms of protection around the home, telecare equipment such as the SureSafeGO 'Anywhere' Alarm, empowers elderly Britons to live independently both at home and away from it. These alarms can be used anywhere where a mobile signal is present allowing users to visit friends or go to the shops knowing that help is just the "click-of-a-button" away.
GPS Enabled Alarms
SureSafe provides highly functional alarms with incorporated GPS tracker technology. GPS alarms for the elderly can be used to locate a loved one in the event of an emergency. Mobile GPS Tracker Alarms like these can be effectively used to provide peace of mind both for the wearer and for his/her loved ones.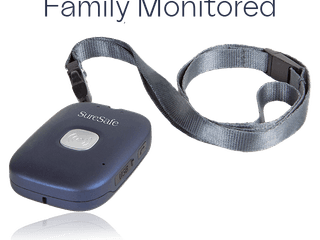 NEW SureSafeGO Family Monitored
Mobile GPS tracker alarm. Be safe anywhere, Family monitored with fall detection, talking pendant and family app.
Fully Mobile

Automatic Fall Detection

GPS Tracking
Buy Product
Automatic Fall Detection
Telecare services such as our fall detection alarms measure factors such as airspeed and pressure to determine when a fall has occurred. These inbuilt sensors will call for immediate medical assistance if a fall is detected. As a result, wearers have a significantly increased chance of making a fast and full recovery.
So there you have it, you should now know what telecare is and how it can help you or your elderly loved ones.
Browse our full range of telecare devices, or speak to a member of our expert team if you have any questions on how telecare equipment could help you, or need any more general telecare help and advice.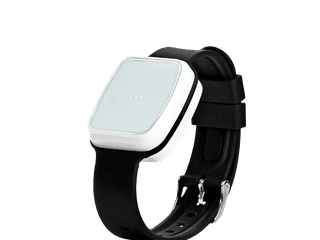 FallSafe
Wrist worn fall detector alarm that can detect a fall and get you or a loved one the help they need.
Helping People Stay in their Homes Longer

Showerproof

Uses Landline
Buy Product