How much does a care home cost in the UK?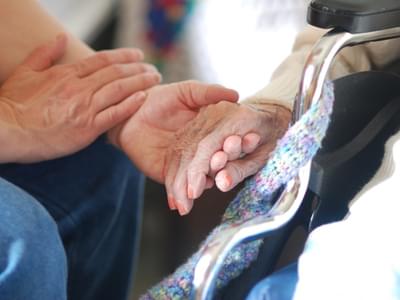 Choosing the best support
It's a challenge facing many UK families. Is it time for mum (or dad) to move into a care home? Maybe they have had a fall or perhaps they've developed dementia. They could have a condition that means they sometimes have seizures. Meaning that they need extra help to stay in their own home. Residential care is often the last resort; it's important to understand the costs and what other options are open to you.
How much do care homes cost in the UK?
The costs you pay for care homes can vary widely across the UK and it will also depend on what your needs are. A place in a residential care home costs around £700 per week. A nursing home, where you are looked after by qualified nurses costs just under £900. Costs could be higher if more specialist care is needed.

To get an idea of costs in your area, ring around and ask for prices or ask if they are allowing visits so you can get a better understanding of how they are run and what sort of treatment your loved one will receive.
Will the UK government help with the cost of care?
If your loved one is finding it difficult to look after themselves they may need some extra support and funding may be available. You have a right to a Care Needs Assessment so if you think they'd benefit from one, get in touch with your local authority to find out more. Keep in mind, there could be different help available depending on whether you are of state pension age or under the age of 65.
In deciding if you or any of your family will get support for care home fees, the people making the decision will look at the finances of the person seeking care. This will include assets like property, although this may not be the case if you have a partner living there.
They carry out what they call a 'means test'. The test looks at things like the home value of the person needing care, their savings and any interest earned on them and private and state pensions.
Currently, the thresholds for 2021/22 are:
£23,250 for both Northern Ireland and England.

£50,000 for wales

£28,750 if you live in Scotland.
If your relative has a specific health condition or illness, they might be entitled to NHS continuing healthcare funding and so we'd definitely recommend looking into this yourself. You might also hear the health condition called a primary health need; it includes things like terminal illness and complex medical conditions.

With the thresholds generally being low, it is understandable that many people end up paying for their own care costs. They may do this by selling their property or setting up a deferred payment agreement that sees them paying the costs out of their estate at a later date.
Some families decide to rent their elderly relatives property out. This is a good way to keep a property and generate some income. But this is not for everyone as it creates a whole new set of responsibilities.
There are lots of benefits to residential care but alongside the cost implications, there are many reasons why people prefer to stay in their own homes. This can be because of familiar surroundings, local support networks or simply because the idea of change makes them a bit anxious.
Alternatives to care homes
If your loved one just needs some extra support to stay home we may be able to help. Our personal alarms are helping people across the Uk stay independent in their homes for longer. Secure in the knowledge that help is available at the touch of a button. They offer a lifeline.

Or with a pendant fall detector without even needing to press the button as it will alert us when it detects a fall. Your elderly relative will not need to press their SOS pendant. The alarm notification will go directly to a trained Response Centre Operator or a nominated contact depending on what sort of monitoring you choose. As you may know, the quicker a person gets help after a fall, the better the chance of recovery will be so those minutes matter.
So if your loved one wants to stay at home pendant personal alarm or panic alarm may provide them, and you, with the reassurance that help is never far away when they need it or if they panic. Choosing one with features like fall detection can provide a lifeline for loved ones who are at risk of falling.

SureSafe have a wide range of suitable personal alarms that use fall detection, including many with GPS tracking to help keep your loved one safe when they are out and about.
Information correct as of 22 July 2021.