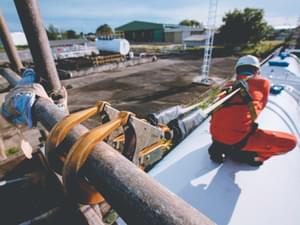 4 Best Lone Worker Apps for Safety & Protection
Article by

Daniel Westhead

Quick Links
Navigate to the section you want to read quickly by clicking on the quick links below:
It's estimated that there are between six to eight million lone workers in the UK, and their work spans a vast range of professions. According to the UK's Health and Safety Executive, a lone worker is anyone who works alone without close or direct supervision. That includes people whose occupation requires them to:
Work night hours in workplaces that are full during the day, such as cleaners or guards
Drive around alone, such as taxi or delivery drivers
Enter people's homes alone, such as healthcare workers or utility company employees
Handle a small shop or front desk alone
Work from home alone
The rules for lone working in the UK state that employers have a responsibility to perform risk assessments, monitor and keep in communications with lone workers, and respond to any problems they encounter. This is especially important because a problem that might be minor for someone working in a busy workplace can be significantly riskier for someone working alone.
So how can technology help protect lone workers and ensure that help will be on the way if needed? Some workers use a lone working app on their phone, while others use personal alarms for their safety. Despite having some benefits, it's worth noting that apps alone are typically limited in terms of the protection they offer compared to a personal alarm – some of which come with an app.
In this guide, we'll take a look at the four top lone working apps that offer functionalities to call for help and detect emergencies, as well as some other approaches that are used to protect lone workers. Each lone working app listed here is available in the Apple App Store for iPhone as well as the Google Play store for Android.
Safepoint: Lone Worker Safety
Rated 4.3 stars out of 5 on the Apple store, the Safepoint lone worker alarm app:
Allows lone workers to sound the alarm about an emergency with a tap of the screen
Allows managers to check in with workers and creates alerts if workers miss a check-in
Shares the GPS location of the worker with management
With the purchase of Safepoint wearable devices, offers other features such as detecting falls in a worker
At a higher subscription tier, connects the worker to a 24/7 monitoring service.
The Safepoint lone worker safety app is free to download and includes a free trial period. However, it is not a free lone worker app because its functionalities require a paid subscription after the free trial period. This costs £10/month at the standard level and £12.50/month to include the 24/7 monitoring service.
Ok Alone
Ok Alone is rated 5 out of 5 stars on the Apple App Store – although there are only 2 ratings providing the total score.
The Ok Alone lone worker app offers the following functionalities:
Allows scheduled check-ins between lone workers and managers
Detects falls or a lack of movement in the lone worker
Uses GPS to share the lone worker's location with managers
Allows the lone worker to call for help with a single tap
Ok Alone describes itself as a lower-cost lone worker safety app. While the app is listed as free on the Apple App Store and Google Play, Ok Alone is not truly a free lone worker app as its functionalities require a subscription. Its pricing is available via contacting their team, although its website mentions that prices start at £4 per month.
StaySafe Lone Worker
StaySafe Lone Worker is rated 4.1 on the Apple App Store and 3.0 on Google Play. However, several critical reviews on Google Play appear to come from users who downloaded the app without registering for a free trial on the StaySafe website first and then found that the app doesn't work for them. As before, this is not a free lone worker app because while it is free to download, it requires a subscription in order to function.
The StaySafe Lone Worker app:
Has timed session and welfare check mechanisms
Detects falls and automatically sends an alert
Allows workers to call for help at the tap of a button, and also allows a discreet call for help using the phone's power button
Features a "driving mode" that says it prevents workers from being distracted during driving, while still keeping the app operational for alarm purposes
Includes a "duress" functionality that allows workers to pretend that their alarm has been cancelled.
The StaySafe app doesn't list GPS tracking among its functionalities, but StaySafe does offer wearable devices with GPS functionalities. StaySafe offers a 2-week free trial obtainable by contacting their team through an online form. Pricing beyond the free trial period isn't listed.
Lone Worker Safe Hub
Rated 3.3 stars out of 5 on the Apple App Store, the Safe Hub lone working app offers:
The ability to raise a "red alert" at the tap of a button and get help from a monitoring centre
The ability to note a "yellow alert" and leave a voice memo
Scheduled welfare checks, with red alerts automatically triggered if a check is missed
With additional hardware, the app detects falls and raises an alert
GPS tracking, including the ability to set alerts for specific map zones
This lone worker safety app is a part of the Totalmobile platform and also works with a number of wearable devices. The app is free to download, but as before, it isn't a free lone worker app as a paid subscription is involved. Pricing isn't listed on the website, but a demo is available by contacting the Safe Hub team via an online form.
Benefits and drawbacks of a lone worker app
The one-touch alarm functions, GPS tracking, and worker fall detection offered by a smartphone lone working app are an important step toward keeping workers safe when they perform their jobs alone.
However, the weak link in every lone worker safety app is the smartphone. Phones are fragile and complex devices, and a frozen or broken phone at the wrong moment could be a real problem. Not to mention that some workers may not have the latest smartphones that can handle these apps well. Some reviews for these apps also say that they caused users' smartphone batteries to run down quickly.
It's worth noting, too, that many of these apps appear to be designed for use by large organisations. Only SafePoint clearly offers an option for a customer like a small business owner who wants to protect just one or a few lone workers, or a user who wants to ensure their own protection.
Workers who are sometimes by themselves at work (yet not considered lone workers) might also want protection that their employer doesn't offer. Self-employed workers who visit clients' homes alone also need to be able to send an emergency message to family if needed. And workers who perform particularly dangerous work or who have serious health conditions such as epilepsy or heart problems that can strike at any time might want functionalities like automatic fall detection or a red alert button, even if they aren't considered a lone worker.
For employers who don't want to rely on smartphones, individuals who want a back-up option for their safety in case their mobile phone fails, or those who aren't provided protection from their employer, a great solution is a wearable personal alarm.
How can personal alarms help lone workers?
Rated 4.7 out of 5 stars on TrustPilot and 4.8 out of 5 on Reviews.io, SureSafe personal alarms offer a variety of functionalities, including the core functionalities of:
Advanced functionalities are also available like check-in features and geo-fencing that sends an alert when a worker leaves a certain zone.
Users can choose whether they want their call for help to go to a monitoring centre or the phones of colleagues or family. SureSafe devices' battery lives are counted in days rather than hours, so there's less worry of running out of battery while you're out and about. And SureSafe personal alarm devices can come in the form of a discreet and stylish smart watch that draws no attention while you're lone working.
Learn more about SureSafe personal alarms for lone workers
Lone workers experience some additional risks when they travel alone or perform their work without someone else around to help if needed. Workers who are alone during some of the day, who do dangerous work, or who have health conditions may also benefit from supports that are designed for lone workers.
SureSafe devices provide simple to use and affordable protection for lone workers, offering a range of features including 24/7 monitoring and the ability to talk to your contacts or our response centre directly through the alarm.
To learn more about how SureSafe can offer safety and peace of mind while you, your employees, or your loved ones are at work, give us a call at 0800 112 3201 or try our live chat. You can also request a call back via our easy online form.