Recommended Reading
Fall Alarms for the Elderly
An elderly personal alarm with automatic fall detection can detect a fall and call for help without you needing to push the button. This is vital is you are unconscious or immobile following a sudden illness or a fall. The call will automatically go through to either your nominated contacts or a SureSafe operator, depending on which service you have chosen. You will be able to get the help you need fast, even if you are unable to press the button.
Recommended Product

SureSafeGO 24/7 Connect
Mobile GPS tracker alarm. Be safe anywhere, 24/7 monitored with fall detection, talking pendant and family app.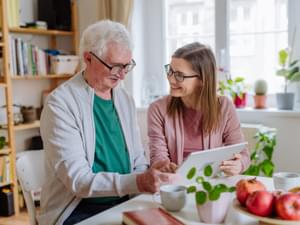 What is a Care Plan for the Elderly?
Article by

Daniel Westhead

Quick Links
Navigate to the section you want to read quickly by clicking on the quick links below:
As our loved ones age, their needs change. They may require assistance with daily activities, medical care, or just a little extra support to help them lead a healthy and happy life. A care plan for the elderly is an essential tool to make sure they receive the best care possible.
In this article, we will explain what a care plan is, why it's important, and how you can create one to suit your loved one's individual needs. We will also cover different types of care plans available and common concerns that arise with them. Whether you are caring for your parents or grandparents, or are a professional caregiver, this guide will provide you with all the information you need about care plans for your elderly loved ones.
Understanding care plans for the elderly
As we grow older, our bodies and minds begin to change and require more specific care. To make sure that elderly individuals receive the necessary support and care, healthcare professionals may create a detailed document known as a care plan. A care plan is a personalised roadmap created based on an assessment of a person's needs, abilities, and preferences.
It outlines an elderly person's medical history, current health status, medications, and any special needs they may have. It will include various types of support services such as medical, social, and emotional assistance. By having a care plan, caregivers can provide tailored services that meet the unique needs of each elderly person. Care plans are created collaboratively with the elderly person and their family members to see that all aspects of their health and wellbeing are taken into consideration.
Benefits of having a care plan for the elderly
Having a personalised care plan for the elderly can provide numerous benefits, both for the individual and their caregivers. One of the most significant advantages is that care plans are tailored to meet the unique needs of each individual. This means that they receive comprehensive and customised care, including medical and non-medical support, which can improve their overall quality of life.
Additionally, regular monitoring and preventative measures can help avert emergencies and ensure consistent care from healthcare providers and caregivers. Overall, having a care plan can provide peace of mind for both the elderly person and their family members.
Creating a care plan for the elderly
Identifying the specific needs and preferences of a person is crucial to creating a comprehensive care plan. Some common considerations for making a care plan may include determining the frequency and type of care required, such as medical or personal care, and involving family members and healthcare professionals in the process. By working together to create a personalised care plan, caregivers can provide elderly individuals with consistent and effective care that meets their needs.
Who should be involved in creating a care plan for the elderly?
It's important to include the elderly person themselves and their family members in the process to make sure that their preferences and needs are considered. In addition, healthcare professionals such as doctors, nurses, and social workers can provide valuable insights into the person's health status and help create a comprehensive care plan.
What should be considered when creating a care plan for the elderly?
When creating a care plan, it's important to consider a person's physical, emotional, and social needs. This includes any medical conditions or disabilities they may have, as well as medications and daily activities. Additionally, social and recreational activities should be included to promote mental wellbeing. The goal of a care plan is to ensure that the elderly individual receives effective care that meets their needs and preferences.
How to implement a care plan for the elderly
Implementing a care plan for the elderly can be a complex process that requires careful consideration of their specific needs. The first step is to assess their physical, emotional, and social requirements to develop a customised plan.
Depending on the individual's requirements, the care plan may include medical support, assistance with daily activities, and emotional support. Regular review of the care plan is necessary for it to remain effective and relevant to changing needs. Care plans can be implemented by professional caregivers or family members with support from healthcare professionals.
The importance of reviewing care plans for the elderly
Regularly reviewing care plans for the elderly is crucial so that their needs are being met effectively. It's imperative to note any changes in the person's health or lifestyle that may require adjustments to their plan. This can be particularly important if the individual has a condition such as Alzheimer's or dementia, which can cause their needs and abilities to change rapidly.
Caregivers should communicate regularly with the elderly person and their family members keeping their care plan up-to-date and relevant. By doing so, they can help them receive the best possible care and support for their individual needs.
Different types of care plans for the elderly
When it comes to caring for the elderly, there are various types of care plans available:
Medical care plans are designed to manage a senior's medical needs, such as medication management and doctor visits.
Personal care plans address an individual's daily living requirements, including meals, hygiene, and mobility assistance.
Memory care plans are tailored for seniors with memory-related conditions like dementia or Alzheimer's, while socialisation care plans aim to keep people engaged in social activities.
Hospice care plans provide comfort and support for seniors with terminal illnesses.
Understanding the different types of care plans available can help caregivers select the right plan to suit their loved one's unique needs.
Nursing care plans for the elderly
Nursing care plans for the elderly are designed to provide round-the-clock medical support to those who need it. These plans often include medication management and administration, and assistance with daily living activities such as bathing, dressing, and eating. Nursing care plans can be provided in a nursing home or assisted living facility, or at home by a trained caregiver.
Dementia care plans for the elderly
Individuals with dementia require specialised care plans that cater to their needs. These plans focus on creating a safe and secure environment that helps them maintain their cognitive and emotional well-being. Activities that stimulate their memory and cognitive function are essential components of these care plans. Caregivers of individuals with dementia need to be trained in managing challenging behaviours and providing emotional support.
Alzheimer's care plans for the elderly
Caring for seniors with Alzheimer's can be a challenging task, but Alzheimer's care plans can help alleviate some of the stress. These plans provide a structured and safe environment for those with memory loss or cognitive impairments while maintaining their cognitive function. Regular check-ins with healthcare professionals and medication management are also critical aspects of an effective Alzheimer's care plan.
Common concerns about care plans for the elderly
As families begin to consider care plans for their elderly loved ones, several common concerns may arise. One of the most significant concerns is ensuring that the care plan meets the unique needs of the individual. This can include everything from medical needs to social and emotional support. Another concern is cost, as many families worry about how they will afford long-term care for their loved one. Additionally, families may be concerned about finding trustworthy caregivers for their loved one to receive quality care.
To address these concerns, it's important to work with healthcare professionals and take advantage of available resources. This can include researching potential caregivers thoroughly before hiring them. By addressing these concerns early in the care planning process, families can help ensure a smoother transition for their loved one into long-term care.
How to check if staff are following a care plan for the elderly
Regularly checking if staff members are following the care plan is an important part of making sure your loved one receives the best possible care. One way to monitor this is by observing the daily routine of the elderly individual and comparing it with the care plan to see if there are any discrepancies.
Communicate with staff and make sure they understand the importance of adhering to the care plan. Regularly review and update the plan so it continues to meet the needs of your loved one over time. By doing so, you can help them receive consistent, high-quality care from their healthcare provider or caregiver.
Incorporate a personalised alarm into a care plan
A care plan is vital to ensuring elderly people receive the best possible care. It involves creating a personalised approach that caters to their specific needs and preferences, and this may include the use of a personal alarm.
At SureSafe we offer a variety of wearable personal alarms to help people maintain their independence with GPS tracking, fall detection and prompt connection to support when it's needed.
If you have any questions, please don't hesitate to get in touch with us today on 0800 112 3201. You can also use our live chat or request a call back.