Recommended Reading
Fall Alarms for the Elderly
An elderly personal alarm with automatic fall detection can detect a fall and call for help without you needing to push the button. This is vital is you are unconscious or immobile following a sudden illness or a fall. The call will automatically go through to either your nominated contacts or a SureSafe operator, depending on which service you have chosen. You will be able to get the help you need fast, even if you are unable to press the button.
Recommended Product

SureSafeGO 24/7 Connect
Mobile GPS tracker alarm. Be safe anywhere, 24/7 monitored with fall detection, talking pendant and family app.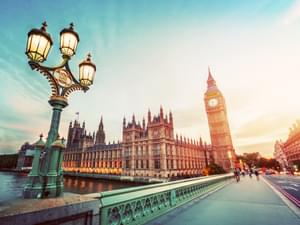 Majority of Over 75s Think Government Elderly Support is Lacking
Article by

Daniel Westhead

Quick Links
Navigate to the section you want to read quickly by clicking on the quick links below:
Does the government need to do more to support elderly people in the UK as the cost of everyday essentials rises?
According to a recent survey of elderly people in the UK – yes, it does. Over half of the over-75s surveyed said that the government needed to do more to support them through the cost-of-living crisis.
While there are some benefits available to older people, these supports aren't sufficient to counteract the high prices in supermarkets, on energy bills and more.
What is lacking in the support currently available? We'll explore below.
Why looking at income isn't enough
Supports such as Pension Credit are available to older people on a lower income. Some other benefits, such as help with heating costs, are available to elderly people who are on Pension Credit.
Older people can also request a needs assessment of accessibility in their home, which can provide them with up to £1,000 to make home modifications.
However, what these benefits don't account for is that older people on any level of income may routinely have higher day-to-day costs of living. Older people who don't fall into the lower-income group might still struggle with these high costs. And people who are considered to be lower income may need more financial support than the government thinks.
For example, older people with arthritic stiffness or weakness in their hands may struggle to cut up ingredients to make a meal from scratch. Elderly people with fatigue, weakness or back pain may find it difficult to spend longer periods of time leaning over a countertop to cook too.
Partially prepared ingredients like pre-cut vegetables and fruit or jarred pasta sauces are a perfect way for these seniors to continue living independently without risking harm to themselves – but these ingredients are more expensive than whole, uncut fruits and vegetables or sauces made from scratch.
This is just one example. Many daily tasks can be more expensive for older people with long-term health conditions. Medical devices and helpful machines like electric tin openers all run on electricity, which adds to energy bills. Older people who struggle to walk around a supermarket or shop may opt to have items delivered, which also carries a charge. Elderly people who are quite mobile but just less strong or dextrous than they used to be may still need to pay for help with laborious tasks like gardening and maintenance.
Rather than looking only at income, the government needs to understand that elderly people may face small, higher costs like these each day, and these costs often slip through the cracks of government support. While each individual cost may be relatively small, over a year they can add up to a significantly higher cost of living for older people.
Why ageing at home matters
Something that many of these minor costs share is that they help older people to stay living independently in their own homes for longer – and that's really important.
According to the same survey of over-75s, a massive 96% of respondents said that they would prefer to remain living independently rather than move to a care home or to a family member's home. It's better for everyone else if seniors can live in their own homes too – it means that family members don't have to give up their paid work and careers to provide care.
In fact, the Association of Directors of Adults Social Services (ADASS) also says that ensuring people can live at home for as long as possible is one of its policy priorities.
The government needs to recognise the importance of living independently at home for older people. And it should introduce policies that help support that goal – including ensuring that elderly people are able to pay for the costs, both small and large, of staying in their own familiar homes.
That must include paying for care at home and technology like personal alarms that can supplement care. For example, if a carer visits during the day, a personal alarm with 24/7 monitoring ensures that an older person who falls at night can still access help quickly.
How else can personal alarms complement other measures that help older people to stay in their homes for longer? To learn more, you can talk with our expert team at 0800 112 3201. Alternatively, reach out to us via our live chat, or request a call back.