Recommended Reading
Fall Alarms for the Elderly
An elderly personal alarm with automatic fall detection can detect a fall and call for help without you needing to push the button. This is vital is you are unconscious or immobile following a sudden illness or a fall. The call will automatically go through to either your nominated contacts or a SureSafe operator, depending on which service you have chosen. You will be able to get the help you need fast, even if you are unable to press the button.
Recommended Product

SureSafeGO 24/7 Connect
Mobile GPS tracker alarm. Be safe anywhere, 24/7 monitored with fall detection, talking pendant and family app.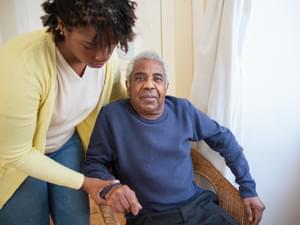 74% of Over 75s Think Home Care Support is Unaffordable
Article by

Daniel Westhead

Quick Links
Navigate to the section you want to read quickly by clicking on the quick links below:
In 2023, the cost-of-living crisis is hitting the UK hard, and elderly people have been seriously affected. Our recent survey on the cost of living has found that 70% of people over the age of 75 have felt its impact, and 20% have struggled to afford basics such as food and heating.
It's no surprise, then, that it's become more difficult for the elderly to afford care too. This becomes a serious problem when elderly people are unable to pay for care to keep them in their homes. Older people may end up moving to care homes when a few hours of support each day with bathing, cleaning and food could have let them remain in the comfort and dignity of their own homes.
It's also been widely publicised that elderly people are going into hospital and staying in hospital for longer due to a lack of available care at home. This exposes them to illnesses in hospital as well as needlessly keeping them in an uncomfortable environment.
The cost of in-home care
How much do in-home carers cost? Three hours of care per day adds up to £315 per week or more. In a recent white paper, we reported that 74% of over 75s said this price was not affordable based on their current income.
Given this heavy financial toll, families that want to avoid an unnecessary move to a care home may end up caring for an elderly loved one themselves – without pay. Yet a recent poll from Age UK found that this unpaid care can take a mental and financial toll on family members, who struggle to manage the obligations of their own jobs, caring for their own children and caring for loved ones too.
What is the government doing to help?
In 2021, the government announced that there would be an £86,000 cap on the amount that any person in England paid for their own care over their lifetime. This cap was originally due to be implemented in October 2023.
However, in 2022 it was announced that the cap would not come into effect until 2025.
What can families do?
A 2022 Age UK poll found that one in 10 people over the age of 60 had cut back on or was planning to cut back on their personal care due to rising costs. But this lack of care brings serious risks for the elderly – they may be at risk of falls or forgetting to take medication, for example.
Obviously, the ideal situation is that all elderly people who need in-home care receive it. However, if financial circumstances make this impossible, sometimes technology can help to fill in some of the gaps.
For example, a personal alarm with fall detection can alert family members or trained monitoring staff automatically if it detects that its wearer has fallen – with no input from the wearer needed. This can provide some peace of mind for older people living independently who fear falling and hitting their head or being unable to call for help.
Wrist alarms can also come with additional features to help seniors living alone. A smart alarm watch can provide medication reminders while its family and friends app helps family members to coordinate care for their elderly loved one.
Staying secure at home for longer with SureSafe
Many elderly people find it important to continue living in their own home for as long as possible. It's a familiar place full of memories, their own space where they can do as they wish independently. The beauty of in-home care is that it allows elderly people to do this while also providing support for those who are frail, weak or have long-term health conditions.
A personal alarm from SureSafe can give elderly people living alone and their families peace of mind because it ensures that help will always be on the way if it's needed. With 24/7 monitoring, you can rest assured that you can get in touch with help at any time, even after a fall in the middle of the night. And a personal alarm with GPS tracking means that elderly people don't have to stay home to be safe – help can find them even while they're out and about.
To learn more about what a personal alarm can do for an elderly person living at home, why not give us a call at 0800 112 3201? Alternatively, take a look at our elderly cost-of-living crisis whitepaper to find out more about how older people are being affected.