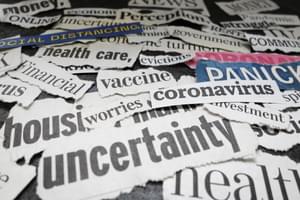 How to deal with Anxiety and Vulnerabilities post -covid?
Article by

Daniel Westhead

One of the things that we are hearing more nowadays is how common anxiety is, especially with the Covid 19 pandemic. There is no guarantee when this will become a 'post-Covid world', but with over 20 million people in the UK having been given the booster jab, we can start visualising how things will look in the future. Here, we focus on ways to enable people to overcome Covid-induced anxiety and feel reassurance day-to-day.

The recent covid announcement (08/12/21) from Boris Johnson stated that we are going into a 'Plan B' instead of a 4th lockdown. For the foreseeable future, we are required to wear masks in public places (cinema, shops, hairdressers etc), people are asked to work from home where possible and to use the NHS Covid pass to allow access into events for more than 500 people. Those who aren't vaccinated can present a negative lateral flow test.
Although the tightening of restrictions is to keep us all safe and well, the latest news can create both positive and negative reactions in people. With a lot of people thinking the worst was behind us, going back to more restrictions can create further anxiety, prompting people to ask the question "when will we get back to normal"?
Here are 5 tips we think can help you in order to regain your confidence and lessen your Covid anxiety.

Go at your own pace & set yourself manageable targets
Allow yourself to set the pace. Rome wasn't built in a day and everyone will experience different feelings around the restrictions lifting. It's only normal after spending months in lockdown, right? Set yourself targets that are manageable to you. This may be going into a shop alone or seeing someone one on one for a coffee. It will be tough at first but slowly introducing yourself back into a more relaxed environment will make it less overwhelming.
Also, you can make sure you have a face mask and sanitiser in each bag or coat pocket to help you feel protected.

Don't be afraid to speak about how you're feeling
Anxiety can manifest from lack of communication. If you are not talking about your feelings, they can quite easily turn into anxiety and create further negativity. If you don't have any close family or friends that you are comfortable to talk to, you can use a website like Let's Talk Loneliness to help give you the support you need.
Buy a personal alarm to feel reassured
Personal alarms are a great way to give reassurance to the alarm wearer and their family. It gives the alarm wearer more independence by helping to alleviate anxiety, especially mobility and health anxiety. If they were ever to need assistance they can simply press the SOS button and either a nominated contact or a response centre will assist them. We have an extensive range of personal alarms to suit every need; ranging from fall detection alarms to GPS alarms. Alarms that allow the wearer to speak directly to their family & friends, and alarms that call through to a response centre with 24 hours a day monitoring. Our alarms start from £89 so it's a very inexpensive way to keep you or your loved one feeling safe and reassured.
See our best-selling personal alarms: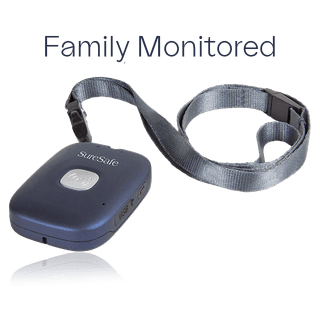 NEW SureSafeGO Family Monitored
Mobile GPS tracker alarm. Be safe anywhere, Family monitored with fall detection, talking pendant and family app.
Fully Mobile

Automatic Fall Detection

GPS Tracking
View Details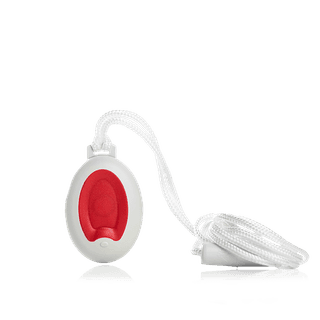 SureSafe 24/7 Connect
Monitored alarm system for the elderly giving 24/7/365 days peace of mind.
Bath & Showerproof

Available as a Wristband or a Pendant

Add Fall Detection (Additional Purchase Required)
View Details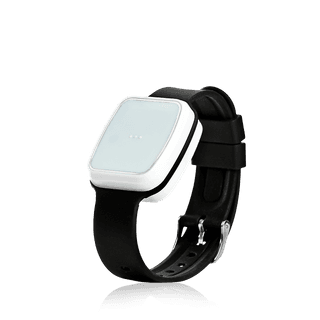 FallSafe
Wrist worn fall detector alarm that can detect a fall and get you or a loved one the help they need.
Helping People Stay in their Homes Longer

Showerproof

Uses Landline
View Details
Make time to relax and calm your mind
When you feel anxious, sometimes you can forget to breathe. Calming your mind through the art of breathing sounds pretty simple but it's something that takes skill, and one that can be very beneficial. If you are ever feeling anxious in a situation, allowing yourself to breathe in for 4 counts, hold for 7 counts and breathe out for 8 counts over the course of a few minutes will calm your heart rate right down and relax your body and mind. For more information about breathing techniques and most specifically meditation, see our blog here.
Another way to relax is to do an activity that fulfills you and encourages you to relax away from the hectic day-to-day. This could be taking a walk in nature, reading a book you haven't picked up in a while, or a nice hot bath with candlelight; whatever grounds you.

Stay present & mindful of Social Media triggers
Social media and the press/media is known to be the trigger of a lot of people's anxiety. We are more connected than ever, but at the same time, we can find ourselves more disconnected than ever before too. We constantly live in the online world; receiving notifications from apps, reading opinions in the media, and creating online communities through social channels, yet we are so disconnected from the real world. By being aware of the amount of time you spend online, and staying in the present moment, you will feel less triggered by what you read and hear. Allow yourself to analyse what you read online with intent and always remember that what you read may not always necessarily be what you believe.
Although another tightening of the restrictions may seem frightening, especially after having such an aggressive vaccine program, remember that this is just a process, and managing any anxiety you feel should make everything much easier.