Recommended reading
Mobile Alarms with GPS Tracking
Mobile alarms can be taken anywhere with you, unlike traditional alarms that will only work at home. With a mobile alarm you can be safe at home, in the garden, or 'out and about'. This means you can have peace of mind walking the dog, visiting friends and going to the shops. GPS tracking in your elderly personal alarm means that we will know where to send help to when you press the SOS button.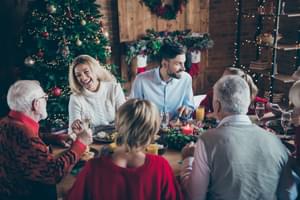 Best Christmas Gifts for the elderly 2022
Article by

Daniel Westhead

Quick Links
Navigate to the section you want to read quickly by clicking on the quick links below:
The festive season is rapidly approaching and now is often the time we turn our attentions to gift buying for those we care about.
But when it comes to buying for an older person, it can be tricky to get the balance right. Long gone are the days of poupurri and lavender perfume for grandma, but it also can be great to give a practical present that is well suited to someone's time of life.
With this in mind, we have searched high and low for the latest gifts that are suited to older friends and family.

A trip down memory lane
As we grow older, memories become ever more precious. Choosing a present designed to evoke times gone by can be the perfect conversation starter on Christmas day.
They're also a great option for those who may be suffering from dementia. Reminiscence (reviewing past events) is often used as a therapy for dementia patients, as it can help to connect the patient with the past in a positive way.
Here are some ideal presents that step back in time
This fun wall map is ideal for those who have enjoyed travelling. This colourful wall map allows them to scratch off the places they've visited. Featuring a gold foil top layer that gets removed for any place the traveller has visited to reveal bright colours and fun facts underneath.
Digital photo frames
All too often our old photos are either up in the attic or stored in our phones. A digital photo frame gives your loved one the ability to see a wide range of photos without taking up lots of space individually. If you want to make it super special, consider getting some old photos scanned professionally.
Guided Journals
Provoke memories and record them for future generations.
Take a look at Grandmothers journal – this guided journal gives lots of prompts to allow the older person to record their memories, add their experiences and collect memorabilia to pass back onto their grandchild.

Make life easier
Let's be honest, we all like to take a little shortcut when we can. Choosing a gift for an older friend or relative which makes their lives a little easier is sure to be a winner.
Giving a practical present which is designed to save time or effort is sure to be gratefully received.
Robot vacuum cleaners
Robot vacuum cleaners, such as the Roomba can make an ideal gift for an older person. They are easy to operate and can make life much easier for the recipient, especially anyone with mobility problems who may struggle to keep floors clean. Also, who can fail to smile when seeing a robot vacuum scoot across the floor!
Assistive gadgets
For older people who are perhaps less dexterous than they used to be, or suffer with arthritis, assistive gadgets – those gizmos which are designed to make everyday tasks a little easier, can make a huge difference to day-to-day life. From electric tin openers to key turners, a little gadget can make a big difference.
Home Organisers
From finding a place to keep their remote controls, to a bedside organiser designed to hold a mobile phone, glasses and watches, home organisers don't just serve a functional purpose, they can look great too – with designs that are made out of a range of eye-catching materials.

Tech gifts for older people
It feels like every Christmas there are even more gadgets available to buy as presents. While there are some technical gifts which are ever popular for older people, such as Amazon Alexa, or smart TV's, we've picked some which are great for 2022.
Apple air tags
We've all had that moment where we can't find our keys, our bag or even our Kindle. For those who have an apple device such as an iPhone or Mac, Apple air tags are an ideal way to keep track of those belongings we have a tendency to misplace.
Does your loved one love a warm cuppa? The Glowstone is stylish bone China mug that has the ability to keep a tea or coffee hotter for longer. It even has a little light bar which shows the ideal drinking temperature. Perfect for those who love to linger over their hot beverage, but without losing heat.
Ring Doorbell
A ring doorbell can make an ideal gift for an older friend or relative as it offers both convenience and security. It's also ideal for those who may be a little harder of hearing and may miss the sound of a knock or a traditional doorbell.

A comfortable Christmas
As we grow older, little niggles or aches and pains can start to play a part in our everyday lives. There are plenty of presents that can help to make your older loved ones a little more comfortable at home, and these can make both a thoughtful and practical gift at Christmas.
Heated mattress pad
Keeping cosy and warm during the winter months can be a must. A heated mattress pad or topper is an ideal way to make bedtime even more comfy. Heated mattress pads can also offer some potential health benefits including improved sleep quality and pain relief – especially for those who suffer joint pain.
Sleep sound machine
As we get older, our sleep patterns can become a little more erratic, and many find it harder to drift off, or find themselves waking in the night.
There are a variety of sleep sound machines which emit soothing sounds designed to help the listener drift off to sleep. Some will come with warming night lights, designed to gradually lull you off.
Massagers and pain relief
There are a wide range of massagers now available for home use. From massage guns which are made to be used at different points on the body, to devices which use infra-red to treat pain from arthritis.

Gifts for those who want to be out and about
Have an older friend or relative who embraces the outdoors? Then why not get them a present related to their passion? Staying active as we get older has a wealth of benefits, and some of the best exercises for older people involve getting out and about.
Here are some great presents for those who love to explore the world.

SureSafeGo Plus
The SureSafeGo Plus offers all of the benefits of an activity tracker watch. It includes a step counter, heart rate monitor and an attractive watch face. But, unlike other smart watches it's a personal alarm too.
With a wealth of features including GPS tracking, fall detection and the ability to summon help at the touch of a button, this gift offers style and safety all in one.
Have someone in your life who loves to get into the great outdoors? The dryrobe is taking the outdoor world by storm. Designed to be a weatherproof changing robe it's used by anyone from sea swimmers to campers, so makes the ideal gift for those who love to explore nature.
Passport cases
Why stick with a boring passport case when there are so many snazzy designs on offer? If you have globe trotting grandparents, or a friend who loves to travel, why not choose an unusual passport case as a present? From personalised passport holders with matching luggage tags, to designer versions, it's a great gift that will travel the globe with your loved one.
Here at SureSafe we provide a range of personal alarm devices for older people and their carers. If you'd like to learn more about how our devices can support you or a loved one, call SureSafe's team of experts on 0800 112 3201 to discuss the available options.