Does your elderly loved one live alone?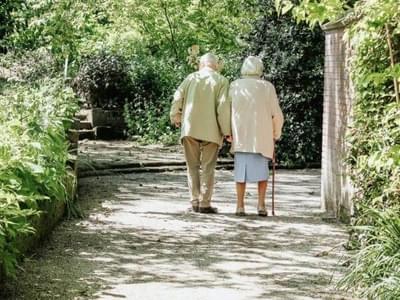 There are over 2 million people over the age of 75 living alone in the UK. Of this 2 million, 1.9 million older people have reported feeling ignored or invisible from time to time. In addition to this, 1 million older people state that they have gone for over a month without speaking to a friend, relative or neighbour. It is clear from these statistics that many older people within the UK are currently suffering from loneliness. This can have a detrimental effect not only to a person's mental wellbeing but also to their physical health.
As people age, they become more vulnerable to loneliness. This may be due to factors such as leaving work, the death of a spouse, illness or reduced mobility, making it harder to leave the home. It has been proven that loneliness in elderly people can lead to a multitude of health issues including depression, impaired cognitive function, sleep problems, heightened vascular resistance, stress and mental health problems. It is due to these reasons that we must take steps in order to help combat elderly loneliness, allowing them to live a more fulfilled and happy lifestyle. With this in mind, people often look for ways to make their elderly relatives feel happy and safe in their own homes.

How do I know if an elderly person is lonely?
There are a number of ways in which to identify whether somebody is suffering from loneliness. They may not always be willing to tell you if they are feeling lonely in fear of feeling like a burden or due to the stigma surrounding loneliness. It is therefore important to familiarise yourself with the signs of loneliness so that you are able to identify if your elderly loved ones are in need of help.
Conversation: Whilst your elderly loved ones may not explicitly say that they are lonely, there may be some clues in what they say. If they say things such as they are missing certain people, or they don't want to be a burden, this is a sign that they may be feeling lonely. It is important to ensure that you are really listening when they speak so that you are able to pick up on the possible signals.
Isolation: Sometimes when people are feeling lonely, the natural reaction is to withdraw and isolate themselves further. Loneliness often comes with feelings of inadequacy or that nobody cares. When feeling like this, an elderly person may not see the point in reaching out to people and therefore may worsen the issue in the process.
Ill Health: As loneliness can cause a variety of health issues, frequent complaints of ill health could signal loneliness. This may simply be complaints such as feeling under the weather or an inability to sleep. If this is the case, it is always worth speaking to your elderly loved ones to gauge whether they are feeling lonely or if there is anything further you can be doing in order to help ward off loneliness.
Reduced Appetite: This may be difficult to assess as the appetite of many older people dwindles with age however, if you notice any significant changes to your elderly loved one's appetite, they may be feeling lonely. Loneliness often comes with a lack of purpose and thus a lack of motivation. They may not feel up to cooking meals for just one person as mealtimes can often highlight loneliness further.
Substance Abuse: In severe cases, a person may turn to alcohol or prescription drugs in order to help get through the day. As a coping mechanism, whilst this can help them to forget their feelings of loneliness, it can also be extremely damaging and dangerous to health. If you notice that your elderly loved ones are frequently using alcohol or any other substance, you should immediately get them help from a GP or counsellor.
How can I stop an elderly relative feeling lonely?
It is essential that we take steps in order to combat elderly loneliness, not only for their mental wellbeing but also for their physical health. We have put together a few ways in which elderly people can ward off loneliness and find a new sense of purpose in life.
Find a New Hobby: Finding a hobby can help elderly people to connect with like-minded people, with similar interests. This can help them to feel part of a community and allow them to make friends in the process. In addition to this, having a hobby to fill the time can help to structure the day and give elderly people a purpose.
Keep in Touch: Keeping in touch with your elderly relatives and friends is a must. We understand that modern life is busy and it can be difficult to find the time to visit your elderly loved ones frequently. A good idea may be to set up a regular time and date dedicated to visiting them. This not only gives them something to look forward to but helps to ensure that too much time between visits does not pass without you realising it. If you live far away from your relatives and friends, a weekly phone call can never go amiss. If your elderly loved ones are tech-savvy, you could teach them how to use platforms such as skype. This will allow them to see your face whilst they are speaking to you, helping them to feel less alone.
Volunteering: Volunteering can be a great way to get your elderly loved ones out of the house. Many older people volunteer at charity shops or soup kitchens in their spare time. Not only does this allow them to help other people, gaining a sense of purpose, but it can also help them to connect to other people within the community.
Get a Pet: Pets are great companions and have been shown to reduce stress and feelings of loneliness. Dogs, in particular, are great for helping to get elderly people out of the house and exercising. If they are less mobile and unable to get out of the house, a cat may be more appropriate as they require less care than a dog would.
Contact a Designated Charity or Organisation: There is a range of charities and organisations operating within the UK that are dedicated to combating loneliness in elderly people. Services include chat lines that allow elderly people to speak to a friendly voice when they are feeling down or visits from volunteers for those without friends or family close by.
All of these things can help to combat loneliness in elderly people and therefore help to improve their quality of life. As a lot of these suggestions involve leaving the house, you may be worried about the safety of your elderly loved ones when out and about. Personal alarms for the elderly can help to alleviate these worries.
Our 'GO Anywhere' personal alarm systems include an SOS pendant that can be pressed, no matter the wearer's location, in order to call for help. Using mobile technology, the emergency pendant itself acts as the base unit, allowing your elderly loved ones to be connected to our 24/7 monitoring centre at all times. Through this, you can be confident that if they should injure themselves, become ill or find themselves in an emergency situation, they can receive help rapidly.

How can a personal alarm system make my loved one feel safe?
Sometimes just knowing that someone is there at the touch of a button can give an elderly loved one peace of mind, prevent panic and make them feel safe in their own home. Sure Safe Alarms has a range of personal alarms that can be monitored by loved ones or by our trained Response Centre Operators.
Our range of Family Monitored wrist worn and pendant alarms are designed for anybody who wants reassurance for themselves or a loved one. Simply programme in the names of nominated contacts and they will be contacted whenever the personal alarm device is triggered.
Alternatively, you can choose a 24/7 Monitored alarm that connects to a fully trained Response Centre Operator any time of the day or night. We will talk to your loved one using the pendant and reassure them while arranging appropriate help for them.
We also have a range of talking alarm pendants that let the wearer talk using their wrist worn fall detector or pendant alarm. They can talk to someone from around the home and garden or, where the alarm uses a mobile signal, anywhere where there is a reliable mobile phone signal. These devices can increase confidence and offer a lifeline to the wearer.
It is never nice to think about an elderly loved one being lonely, browse our personal alarms to find a device that helps you feel better connected to your loved one.