How to use a personal alarm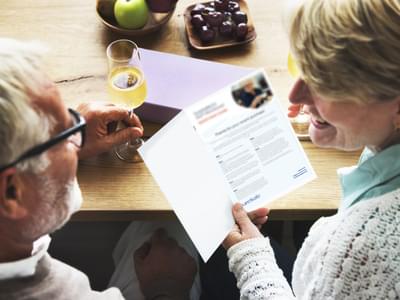 Sometimes buying a personal alarm is overwhelming due to not being sure about how to use it, or how easy it'll be to set up for the user. Personal alarms are an integral piece of equipment for the elderly in order to help them stay in their homes for longer and sometimes can seem a little scary about how to use them. We have compiled all the information you need about how to use a personal alarm, and the different types available for your or your loved one.
A personal alarm is usually an alarm button on a pendant or a wrist strap with a base unit that they can talk through for help in an emergency. The market has advanced a lot over recent years and now there are types of personal alarms which have a pendant that you can talk directly into if you're in need of assistance plus some other great features.
We have 7 different types of personal alarms available in our range. Our range consists of wrist-worn smartwatch devices through to very simple family & friends alarms. How to use them is very similar for all our alarms, with a few small differences depending on the model that you choose. With all models, the SOS button is triggered with a touch of a button that will then call through to the nominated contacts (that have been programmed into a family monitored device) or a response centre which will respond to the call 24 hours a day. Our UK based response centres are staffed with trained Response Centre Operators meaning that when your call is answered, they will know exactly what actions to take next depending on the individual's circumstances.
How to use a personal safety alarm with a base unit
The main difference with the different types of personal safety alarms we offer is where you communicate with the person the alarm calls. This varies between the base unit and the pendant or wrist watch. The SureSafe Personal Alarm is a family and friends device that you press the button on your wrist strap or pendant, with two-way communication through the base unit directly to your friends or family. With our 24/7 Connect, FallSafe and Fall Alert alarms you will also talk through the base unit, but you will be connected to our Response Centre Operators, not to your nominated contacts as these safety alarms have 24/7 monitoring included for optimal safety and peace of mind.
How to use talking pendant/talking smartwatch alarms
We have three SOS alarms that you can talk directly into the pendant or smartwatch, so how to use these are a little different.
We have the SureSafeGO which is our most popular device. This is a best-seller for many different reasons from being fully mobile and being able to pick up the wearer location accurately through GPS tracking, to being really easy to set up without no installation needed. It was also the first mobile alarm onto the UK market and has sold tens of thousands since 2015 meaning that it is tried and tested, and is an alarm that is trusted by thousands of people across the UK to keep them safe. It has a simple press and hold button that allows you to call for help and talk directly to your nominated contacts (Family Monitored version) or the response centre (24/7 Monitored version).
The TalkSafe is our classic talking pendant. You can talk through both the pendant and base unit which gives the user great flexibility to still wear the pendant around the home and garden, and to still feel safe and reassured.
Our newest addition to the personal alarm range is the SureSafeGO Plus. This is a high-tech smartwatch alarm with many great features including an activity tracker, heart rate monitor, voice command prompts, uses the 4G mobile network and it is also fully mobile like the SureSafeGO. To activate the alarm, simply press & hold the button on the side and a voice prompt will tell the user that the alarm is calling for help. Just like the SureSafeGO, this smartwatch alarm has two way communication via the watch itself meaning you don't need to be near a base unit to use this functionality.


Each of our personal alarms come with a helpful 'how to' user guide which gives you instructions on how to set-up each device and programme in your nominated contacts (if needed).We have also created some helpful videos explaining the features of our best-selling personal alarms, and how to use them.

Click on the links below to play the videos:
Alternatively, visit our knowledge hub and view our user guides here.
For more information on our personal alarms, click through to our products below.