Home fall detection for the elderly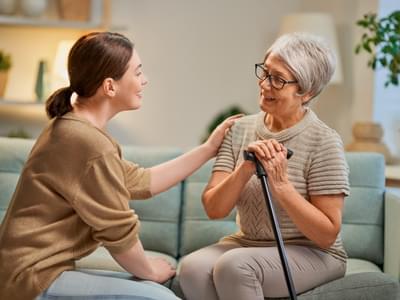 What is automatic fall detection?
When a person falls, the fall detection device senses it and calls for help. How does it actually sense the fall? The pendant notices the change in air pressure and speed of movement and knows that something is wrong, triggering the elderly fall alarm sometimes called a lifeline alarm.
Should the fall alarm be triggered, our Response Center Operators are fully trained and will manage the situation to make sure you or your loved one gets the best possible care. They will notify nominated contacts that the personal fall alarm has gone off and the so pendant has been triggered and if it is ever needed they will contact the emergency services.
This type of personal alarm for the elderly really is a life-saver. Having something like a wrist worn fall detector means that if you are unconscious or cannot talk, there will be somebody there to arrange help. This is sure to give both you and your loved one peace of mind.

How can automatic fall detection help recovery?
When you or someone you love has a fall, minutes matter. The quicker they can get help the quicker and better their chance of recovery is.
Just knowing that you have a wrist alarm for elderly loved ones can give you peace of mind but it also increases their confidence and reduced panic. It has been reported that people who wear an old persona fall alarm are more likely to get up and about which, over time, can make them more stable on their feet again.
Can it help with fall prevention in the elderly? Some people believe that just having fall alert devices makes them confident because they know they can get help if they need it. Having a lifeline makes them get up and about more - both the increased confidence and activity is thought to make people more steady on their feet, possibly helping with fall prevention.
What if there's a false alarm?
This technology has come a long way since the 1980's. One of the problems with older pendant fall detector devices used to be that of false alarms. Casual movement such as bumping into things would trigger a false alarm.
Nowadays, a pendant can detect a difference between regular movements and a fall. The accuracy of these devices has improved significantly giving the wearer peace of mind.
What if I accidentally trigger the alarm? This is not a problem at all - simply tell the person on the other end that it was an accident. At Sure Safe, we always say that our favourite type of alert is a false alarm!
Can I use automatic fall detection outside of the home?
If you want to be able to use automatic fall detection when out and about we'd recommend using a personal alarm with a GPS tracker. This advanced alarm system uses mobile phone technology. You will be able to find these fall alarms anywhere where there is a reliable mobile phone signal. You can also use the alarm pendant to communicate with your loved one.
At SureSafe we know that everybody has different needs. That's why we have many alarms with loads of helpful features. Explore our full range to find the ideal alarm for you or your loved one.