Will my elderly parents be excluded from a cashless society?
We all started to notice the closure of local banks way before the pandemic and Covid-19 only served to speed this process up with many shops and other businesses only accepting cashless transactions. But where does that leave our elderly relatives? And how can you help your loved ones to feel like they still have independence in a world that seems to be changing so rapidly?

You'll remember reading stories last year about people being refused service because they wanted to pay for goods with cash. One such person was a 94-year-old Nottingham pensioner who tried to purchase bread with cash. The confused shopper tried to explain to staff that she'd never used her card in her life!
Now, Age UK, a national charity that supports and offers advice to people later in life, is calling on banks and businesses to do better. They have put together a twelve-page report that says that a lack of access to cash and the increase of card payments is one of the most important issues facing older people today. They feel that cash lets them fully engage with society. They have included a range of other key points and recommendations:
They're arguing that many older people rely heavily on cash - some are completely dependent.

They are calling for the government to get involved. They say that they should provide a solution that is sustainable and guaranteed and that this should meet the needs of local people depending on their area.

They want a single regulator in control of the cash network.
The charity highlights the problems that some people have had using cash in recent times. It uses interviews with elderly people who have had problems getting cash explaining how important it is to people in rural areas and those who rely on others to do their shopping.

The report argues that banks should also be providing easy and affordable cash processing for small businesses so that they always have a cash payment option. They say that cash handling and processing is more expensive for small businesses and this should be tackled rather than simply forcing a business to accept cash.
Taking this sort of approach, they feel, will make people more accepting of cash which should mean that elderly people will be less excluded by smaller businesses.
How can I help my elderly loved one feel less excluded from society?
It is hoped that AgeUK has some success with their consultation response, after all, it's not only the elderly who feel the impact. It will affect poorer and more vulnerable people in society as well as those who are digitally excluded.
To help your loved ones in the meantime talk to them and try to understand how they feel about the situation. Once they understand how it works and how it could affect them, they might be more open to using a card to buy their shopping.
Over the course of the next few months, the limit on contactless payment is expected to increase to £100. This means it will be easier to use a contactless card when shopping. You should keep in mind though that, while there is no limit on the number of times you can use contactless, the bank will ask you for your pin every so often.
If they are struggling, it might be a good idea to help your elderly parent change their pin to something memorable for them and go out with them for a 'trial run' to make sure that they can use the pin pad easily and can cover it while doing so.
It is understandable that older people will want to keep their independence and still get out and about. This can cause family members to panic or worry about them - whether they use chip and pin or go about with a purse full of cash. You might be concerned about their safety and knowing where they are.
A pendant personal alarm might make your loved one feel safer offering a lifeline - especially if they have a GPS personal alarm. This is because you'll be able to locate the pendant device no matter where the wearer is. They will also have the reassurance that they can use their SOS pendant or wrist worn fall detector to talk to you directly.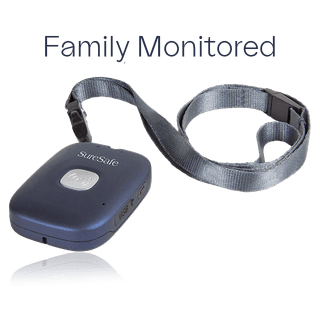 NEW SureSafeGO Family Monitored
Mobile GPS tracker alarm. Be safe anywhere, Family monitored with fall detection, talking pendant and family app.
Fully Mobile

Automatic Fall Detection

GPS Tracking
View Details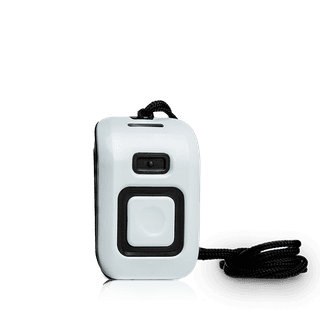 Fall Alert
Neck worn personal alarm that can detect a fall and call for help.
Helping People Stay in their Homes Longer

Showerproof

Discreet and Lightweight
View Details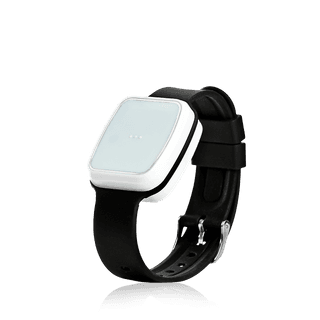 FallSafe
Wrist worn fall detector alarm that can detect a fall and get you or a loved one the help they need.
Helping People Stay in their Homes Longer

Showerproof

Uses Landline
View Details
The SureSafe GPS personal alarms also have fall alert devices in them; so if your loved one was ever in the situation where they couldn't press their emergency button, either yourself, a nominated contact or one of our trained Response Centre Operators would be alerted - who gets the alert depends on the type of package you go for.
This means that your elderly parent can continue to visit the local cafe knowing that help is available at the touch of a button at all times - no need to panic. Using a pendant fall alarm also means you will receive an alarm if they have a fall or become unconscious.
While it won't solve the cash problem, a personal alarm will help your elderly relative feel more confident when they're out and about. These types of devices are easy to use straight out of the box and are activated with a simple touch of a button. So your loved one is able to keep doing the things that they love and will feel less excluded from society in general.
SureSafe alarms come with a wide range of features to meet the needs of the wearer. This can include fall detection, GPS tracking and one-touch pendant communication. Simply choose the personal alarm to suit you or your loved one.