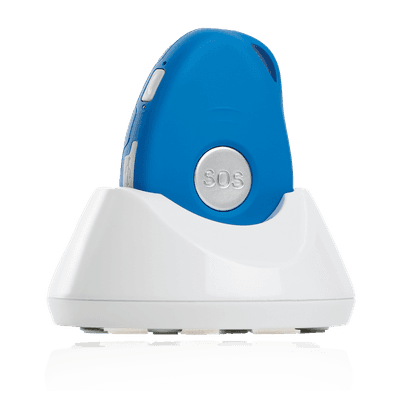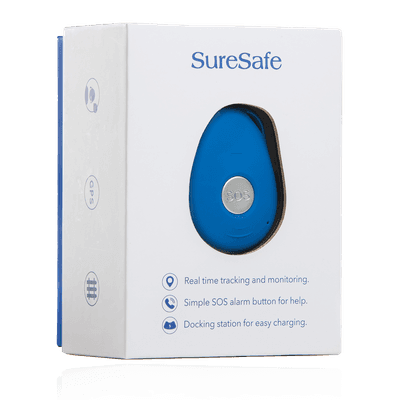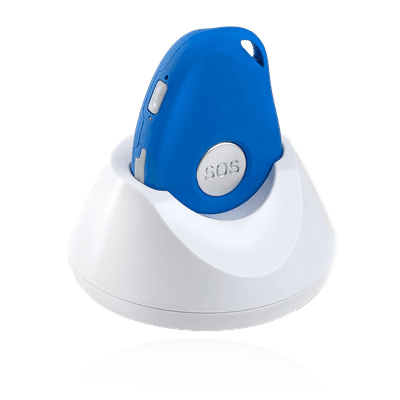 SureSafeGO
Fully Mobile: Use at Home or on the Go

Links to a Trained Response Centre Operator with the Touch of a Button (24/7 Monitored)

Call Family and Friends with the Touch of a Button
SureSafeGO 24/7 Monitored
Find out why the SureSafeGO is our best-selling 24/7 monitored alarm and how easy it is to set up by watching the video.
An alarm that goes wherever you go
The SureSafeGO has more features than any other alarm available. The alarm is fully mobile which means that you can use it in the home, garden or even when out and about. You do not need a landline to use it.
This personal alarm uses a GPS tracking system, so respondents know where to send help in an emergency. It comes with a SIM card which will work anywhere in the UK where there is a mobile phone signal. This enables you to continue with your day-to-day life without disruption.
The alarm also uses built-in fall detection. It measures changes in air pressure and the speed at which the wearer moves and calls for help when it detects a fall. This means that if you fall, someone will be alerted even if you are unable to press the SOS button.

SureSafeGO 24/7 Monitored

The SureSafeGO 24/7 Monitored links the wearer to one of our Response Centre Operatives at any time of the day or night. They will speak to your loved one to fully understand the situation and determine the appropriate response. This might mean calling a family member, the emergency services or just giving a bit of advice.
Our fully monitored option means that no call goes unanswered no matter the time of day or night. With our SOS button, you'll be able to talk to one of our Response Centre Operatives, with just one touch.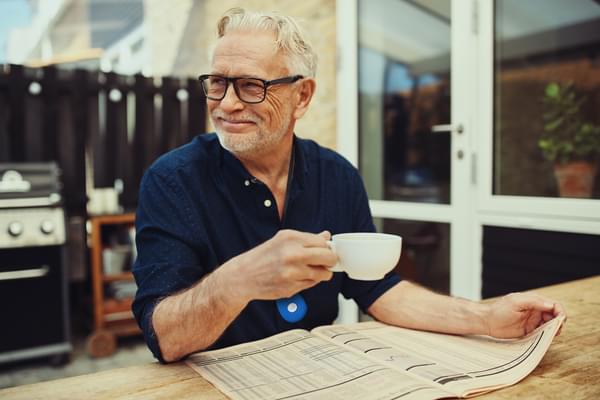 Confidence at your fingertips
Our key product features are designed with you and your family in mind. Feel confident in knowing that your loved one has 24/7 access to the right support in the event of a fall or any incident which may threaten their safety.
Features
Fully Mobile: Use at Home or on the Go

There is no need for a landline as it is fully mobile which means that you can use it in the home, garden or even when out and about.

Links to a Trained Response Centre Operator with the Touch of a Button

Our trained Response Centre Operatives are experienced when it comes to supporting people with limited mobility or conditions like diabetes, dementia, epilepsy and many more.

Low Battery Reminder

The user will receive a text when the battery is low.

Easy to Set Up and Use

Easy to set up and ready to use straight out of the box.

Showerproof

Suitable for use in high-risk areas such as the bathroom.

Discreet and Lightweight

This personal alarm is small, discreet and lightweight. You won't even know you're wearing it.

No Landline Needed

This personal alarm uses a GPS tracking system and comes with a SIM card which works wherever there is a mobile phone signal. That means there is no need for a landline.

No Installation Needed

Easy to set up and ready to use straight out of the box.
Specifications
Stylish and Discreet

The SureSafeGO talking pendant is lightweight, measuring 61 x 42 x 16mm, and weighing only 35 grams. You can talk to one of our trained Response Centre Operatives, at just one touch of the SOS button.

GPS Technology

Advanced GPS technology means that the alarm will send its location whenever it calls for help. It lets your our trained Response Centre Operative know exactlty where you are when you need help.

Up to 7 Day Battery Standby

Battery life is between 4-7 days. It is quick and easy to charge, simply place it into the desktop charging cradle. We recommend you charge the device overnight next to your bed to make you feel reassured that the personal alarm is nearby. The device will also send our response centre low battery alerts via text so we can get in touch and remind you to charge your device if needed.

User Friendly

Ready to use - includes a pre-installed SureSafe Mobile SIM card; ready to use straight out of the box.
See what others think of the SureSafeGO 24/7
My grand daughter bought me an alarm for my birthday, I can talk through it and it tells the lovely people at suresafe if I have a fall and I can press a button. I can now walk my dog further and for longer. In a world gone mad with Covid, you can still be sure SureSafe will keep you safe,
Hilda
11 months ago
Recently purchased a SureSafe Go for my mother in law. Found it very simple to set up, took about 2 minutes. My wife feels very confident to leave her mother at home on her own now. Makes my life considerably easier. Donald Bravington
Donald
11 months ago
I recently purchased SureSafe Alarm, 5 weeks after it was installed, at 4 o'clock AM, I lost my balance as I got out of Bed, Thank goodness i had alarm button around my neck, on pressing it I had response reply immediately, They contacted my Daughter, she was with me in 25 minuets, also Paramedics. Thank You SafeSure, Without there help, I could have laid on the floor for hours. Mrs M.
Pamela Matthews
4 years ago
From my initial enquiry to actually getting the alarm, everything was very straightforward and Daniel was an immense help. The service was first class and we even got a phone call when the battery needed charging. I wouldn't hesitate in recommending SureSafe and will use them again if the need arises.
Janet
2 years ago
I recently purchased a Suresafe Go Anywhere alarm on behalf of my mother. I have seldom dealt with a more helpful and professional company. The alarm arrived as promised and was pretty easy for my parents to set up. It gives them and me confidence that she is only a button away from help wherever she may be. Highly recommended!
Chris
1 year ago
Only been installed fr about a month but we were very impressed with the speed of delivery when the need for the alarm became urgent. Spoke to Suresafe one afternoon - the device arrived lunch time the next day from Northern Ireland to Bradford! The device has already been used once "for real" and the time before the ambulance arrived was very short. So far so very good.
John White
4 years ago